More than six months after the then-new Salesforce Transit Center was forced to shut down when workers discovered fissures in its steel beams, work continues to proceed apace. 
On Wednesday, officials updated the public on the construction effort, announcing that the hydraulic jacks currently supporting the building will come down within the next few weeks.
The repairs to the beams are expected to be completed in less than two months, on June 1. But no official reopening date has been announced yet.
"We are making satisfactory progress," Dennis Turchon, a senior construction manager at the Transbay Joint Powers Authority (TJPA), told the Examiner. 
But reopening the $2.26 billion Transit Center won't be an easy process. Before it can welcome commuters once again, transit officials will need to conduct extensive inspections and get the proper permits from city and state agencies, and bus operations must be transitioned from the Temporary Transbay Terminal at Howard and Main streets.
The facility will also undergo an independent review by the Metropolitan Transportation Commission, the nine-county Bay Area transit authority, which was called for by San Francisco mayor London Breed and Oakland mayor Libby Schaaf at the time of the Transit Center shutdown.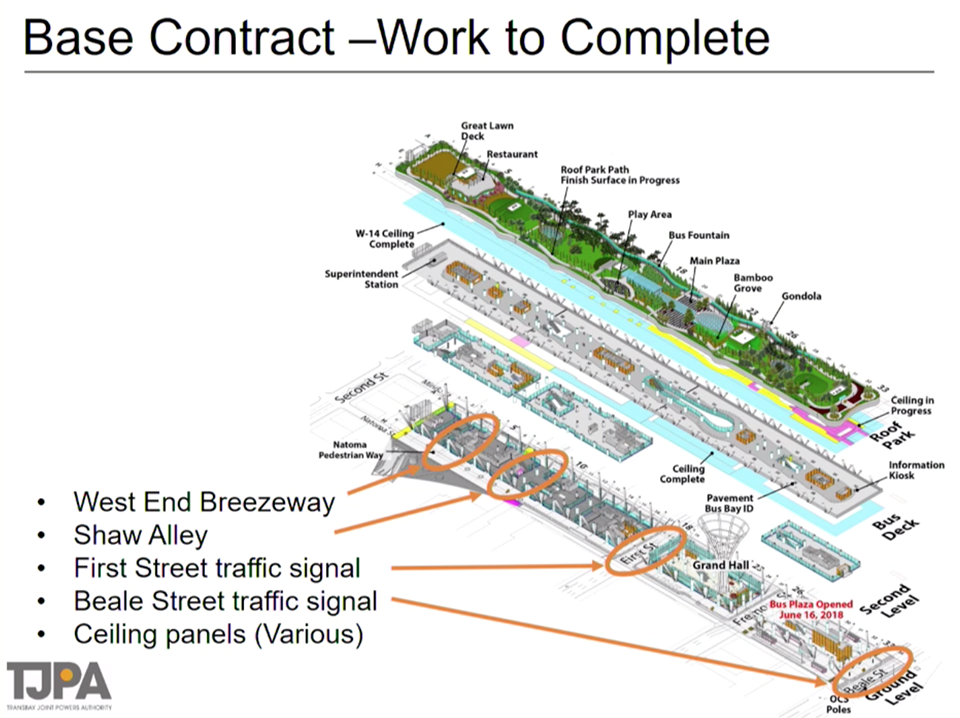 In an update posted on Wednesday, TJPA said that it's hard at work repairing the damaged beams, which are located on the bus deck above Fremont Street. As a precaution, it also plans to reinforce a similarly designed set of beams above First Street, which haven't showed any signs of fissure yet.
Both of these repairs are scheduled to wrap up by June, with the steel plates that will be used to reinforce the beams having already made their way from Pennsylvania to the work site.
After installing the plates, some ceiling panels will have to be put back up, fire sprinklers will need to be put back in place and shoring must removed at Fremont and First streets. 
PG&E also has some necessary items for traffic signals on First and Beale streets on backorder, which won't be delivered before the end of May. 
At Thursday's Transbay Joint Powers Authority board of directors meeting, Turchon said that a building-wide review is ongoing, and no other issues have been discovered. But he said "some minor work" will continue until September 1, even if the Transit Center reopens between June and September. 
Until the reopening, the 5.4-acre park on the Transit Center's rooftop will remain closed to the public. For now, AC Transit, WestCAT, Greyhound, Muni and Golden Gate Transit riders will continue to board buses at the Temporary Transbay Terminal.