By
Hoodline
- Published on May 17, 2019.
Miami Beach residents will start to see the effects of voter-approved city beautification projects before the end of the year.
Last Friday, the city broke ground on street pavement and sidewalk repairs, the first construction project approved as part of the Miami G.O. Bond Program. 
"I'm excited to share that only six months after overwhelming voter support for these bonds, shovels will be in the ground in record time," said Mayor Dan Gelber. "This project is the beginning of greatly enhancing, beautifying and protecting our city further."
After a year of community input, Miami Beach voted in November to support the issuance of $439 million in G.O. bonds to finance 57 city beautification projects, including street pavement and sidewalk improvements.
The projects were split across three separate measures on the ballot: a $169 million bond for improving parks, recreation facilities and cultural facilities, a $198 million bond for neighborhood and infrastructure, and a $72 million bond for police, fire and public safety. The three measures each received approximately 70% of the vote.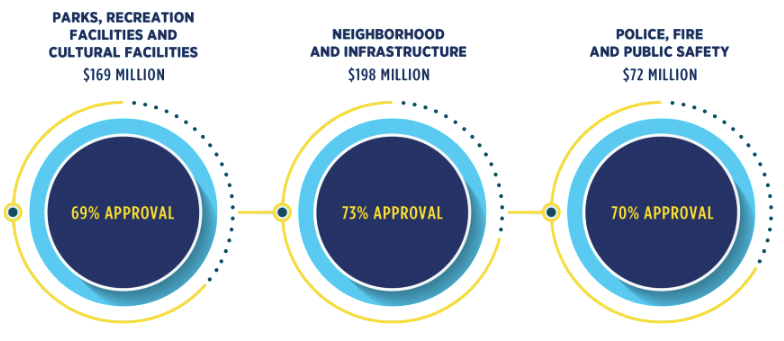 General obligation bonds are a way of raising money for city projects by selling debt to investors. The city will pay investors back after the completion of the project through taxation or other means of raising revenue.
The first step in tackling these projects post-election was selling the G.O. bonds to investors. City Manager Jimmy Morales and CFO John Woodruff traveled to New York City on April 16 to oversee the first day of the sale process on Wall Street.
The City of Miami Beach's G.O. Blog reported that the "pricing of the G.O. Bonds generated tremendous investor interest," and less than a month later construction has begun.
In this first street pavement and sidewalk improvements project, over 25% of the city's sidewalks will be repaved and all street cracks will be filled and resurfaced. Construction started at Meridian Avenue between 5th and 15th streets, where the city determined roads were in the worst condition. Meridian Avenue improvements are expected to be completed within six weeks.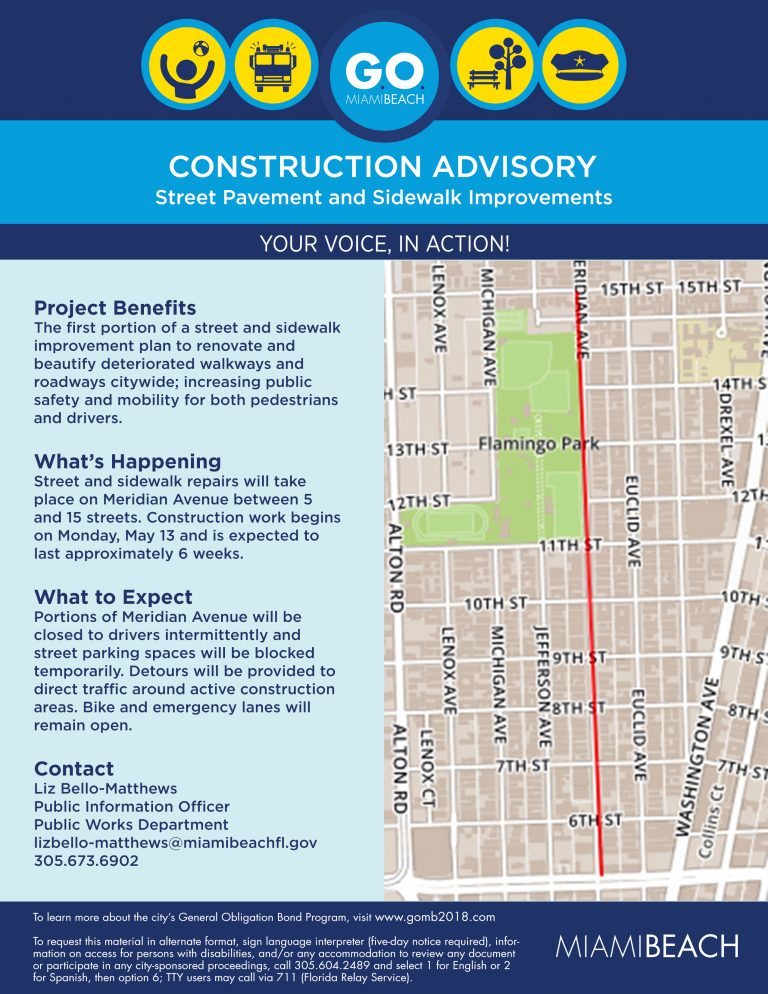 Residents can view all the streets and sidewalks that will be repaired within the next year here.
Other non-construction G.O. bond projects are already underway. The city is already working on installing license plate readers in strategic locations across the city and replacing the outdated public safety radio system that is used by first responders.
The suite of all 57 city beautification projects are set to be completed in the next 10 to 12 years.
For more information on the G.O. Bond Program, visit gomb2018.com.