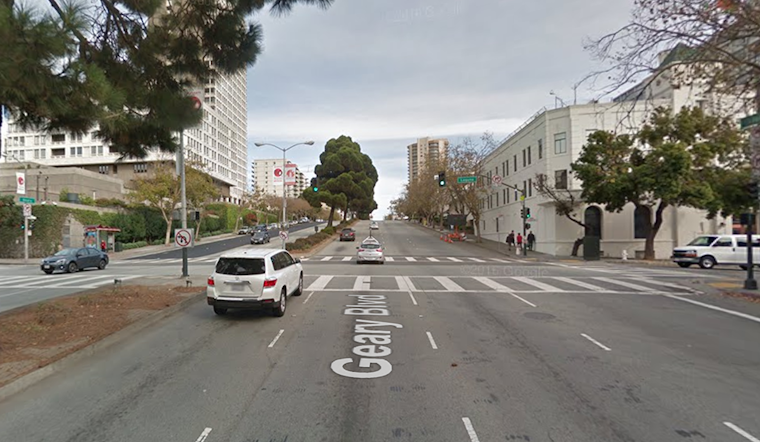 Published on June 03, 2019
A 70-year-old female pedestrian died on Friday, after being struck by a driver on Geary Boulevard two days earlier. 
According to police, the pedestrian was hit around 5:25 a.m. on Wednesday, by a driver headed east on Geary (at Laguna). She was hospitalized in life-threatening condition, and passed away from her injuries on Friday. The office of District 5 Supervisor Vallie Brown confirmed the death to SF Weekly. 
"Another pedestrian struck and killed in District 5 — the third in the past 10 months," Brown said on Twitter.
In fact, as SF Weekly noted, she is actually the fourth. 77-year-old Galina Alterman was hit by a Toyota dealership truck driver at Divisadero and Sutter streets earlier this month; 84-year-old Lucy Morales was struck by a driver at Haight and Stanyan streets on New Year's Day; and last October, 60-year-old Norman Tanner was killed by a hit-and-run driver while in a crosswalk at Oak and Baker streets. 
The Japantown intersection, with four lanes in each direction, has been identified as a high-injury corridor under the city's Vision Zero plan, which aims to eliminate traffic fatalities by 2024. 
Sup. Brown said the San Francisco Municipal Transportation Agency and the San Francisco Police Department, as well as the State of California, all have a role to play in "eliminating traffic deaths to reach Vision Zero."
Walk SF, the city's advocacy organization for pedestrians, expressed grief over the woman's death.
"There is a crisis on our streets and it must be addressed as such," the organization added, noting that the pedestrian joins Alterman and 66-year-old Mark Swink as the third pedestrian to die in San Francisco in May alone. Swink died after he was struck by a Golden Gate Transit bus driver in the Tenderloin.