Four months after True Sake (560 Hayes St.) took aim at a new neighborhood parklet with a window display, the shop is at it again. Its target this go-round: San Francisco's meter maids. 
Hoodline tipster Natalie D. alerted us to the sake shop's new display, which popped up sometime last week.
The display takes aim at the San Francisco Municipal Transportation Agency (SFMTA), which monitors cars and distributes parking tickets. The enforcement division was once known as the Department of Parking and Traffic (DPT), though it dropped that moniker when it merged with the SFMTA in 2010. 
Featuring sake bottles draped in official SFMTA parking tickets, the sign rebrands the DPT as the "Department of Public Taking." 
"Small business loves cars," it argues, noting that "cars = customers." By contrast, the sign alleges, "San Francisco hates cars."
The sign also offers a 20% discount on a bottle of sake to anyone who brings in a "fresh" San Francisco parking ticket.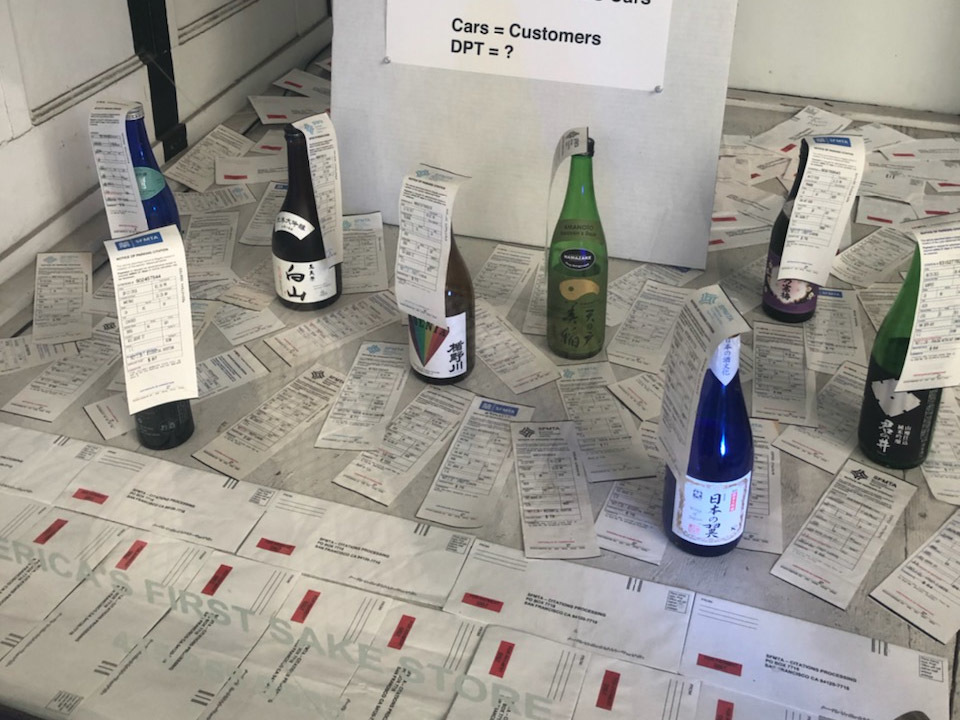 Reached via email, True Sake owner Beau Timken declined to comment. But it seems that efforts in the neighborhood to police parking or reduce the number of parking spaces are a sore spot for him. 
Back in February, True Sake installed a sign decrying a recently installed parklet across the street at 517 Hayes, which removed three parking spots from Hayes Street. 
"A parklet for personal profit literally 30 feet from an actual park — perfect!" read the sign, referencing nearby Patricia's Green. Repurposed sake bottles underneath spelled out the hashtag "#SoSanFrancisco."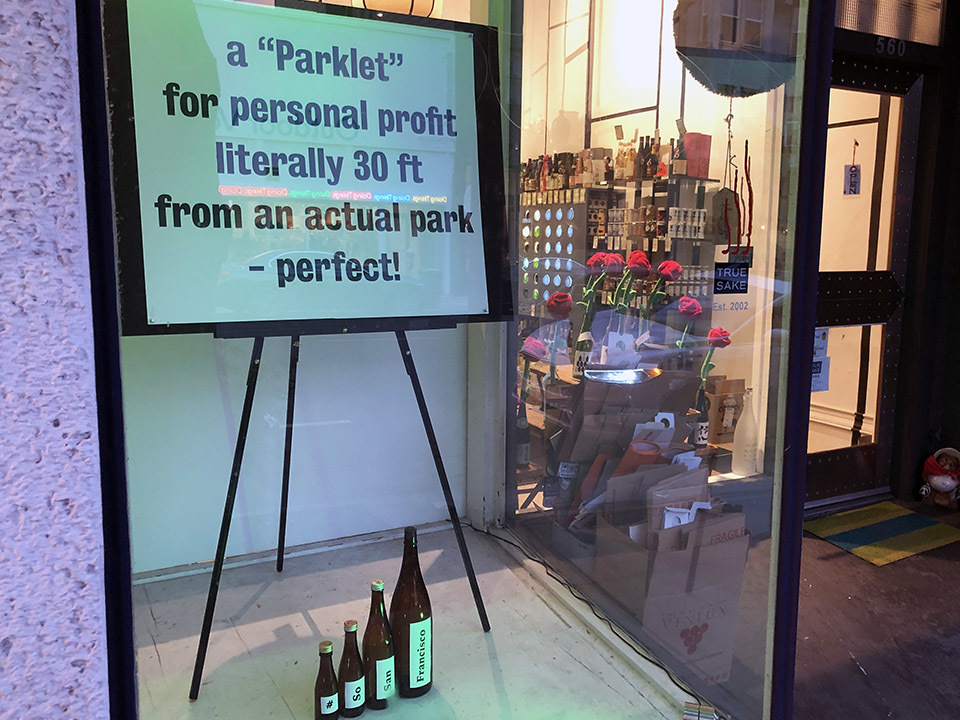 Though Temken also declined to comment on that sign, the "personal profit" alleged was likely that of Souvla, the Greek restaurant that adjoins the parklet.
Souvla's owner and CEO, Charles Bililies, spearheaded the parklet effort, though the parklet itself is open to the public, not just the restaurant's customers. It's unclear whether Temken registered any formal complaint during the parklet's extensive four-year approval process.
---
Thanks to Hoodline tipster Natalie D. See something interesting while you're out and about? Text Hoodline and we'll try to find out what's going on: (415) 200-3233.