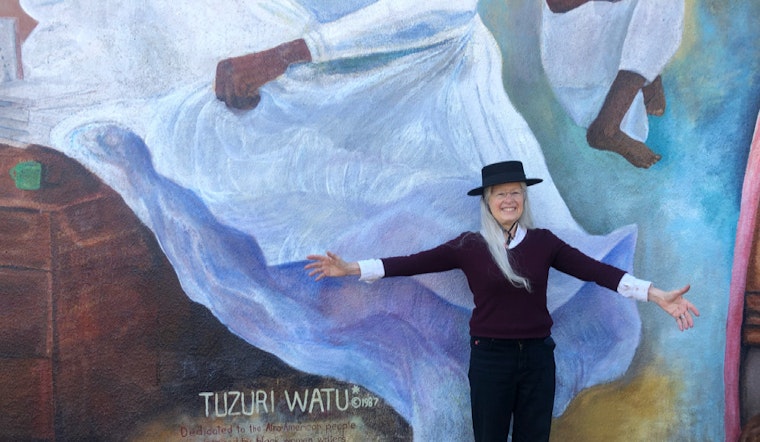 Published on September 19, 2019
If you're curious about what the Bayview District was like in the '80s, San Francisco based artist Brooke Fancher's mural titled "Tazuri Watu" will give you an idea.
The mural, painted in 1987, depicts a thriving African American community complete with preachers, teachers, business owners, doctors, and performance artists.
Fancher recalls the neighborhood as being "mellow," but told Hoodline that "the people she interacted with created the excitement in the neighborhood." 
Tazuri Watu has covered the side of a building located at the intersection of 3rd and Palou for three decades. Over time, the historical work of art has faded, and vandals have defaced portions of it.
Earl Shaddix, executive director of Economic Development on Third, was the first to call for a restoration.
Shaddix applied for a $25,000 grant from the city through the District 10 Participatory Budgeting program, spearheaded by former Supervisor Malia Cohen's office. The program allows residents of a few districts in San Francisco to vote on funding one-time neighborhood improvement projects.
After a successful campaign, the city awarded the money in 2018, and planning for the restoration began.
"I read about how Precita Eyes restored a mural in the Castro and figured they could work on Tazuri Watu, so I contacted the organization and connected with the founder, Susan Cervantez," Shaddix told us. "She was happy that I showed interest."
Cervantes connected Shaddix not only with Fancher,  but a team of artists to restore the mural. On the team was Yano Rivera, who spearheaded the restoration with guidance from Fancher.
"I gave him a hard time at first," said Fancher, "But he did an excellent job."
Work finally began on the restoration in June, and last weekend Fancher, Precita Eyes and members of the community gathered to celebrate the unveiling of the fully-restored Tazuri Watu.
Among the community members present at the unveiling was Doris Vincent, who has a long history of community involvement in the Bayview.
"Enjoy the mural, but don't deface it," Vincent told a group of young community members.
"You can find your own story in this mural," she continued. "It speaks to the people who lived here in the 70s and 80s. Each person in this mural lived in this neighborhood - some who are still in the community."
"We are teaching young people in the Bayview to be the best they can be," she added.
District 10 Supervisor Shamann Walton echoed Vincent's remarks, and encouraged the group to continue beautifying Bayview with murals.
"When beautiful pieces like this get defaced, it takes forever to restore it," he said. "We have to continue to inform people about the importance of art and our culture in this community."
Fancher, now 71, was a part-time nurse, but spent her weekends in 1987 working on Tazuri Watu. It took her three months to complete. 
"There was a citywide program commissioning artists to paint murals in different neighborhoods, and the Bayview was given to me," Fancher told Hoodline. "I didn't know anything about the neighborhood, but I was happy when I got here," she added. "My original design and concept focused on the dark side of what life was like for African Americans in San Francisco." 
The "dark side" concept didn't sit well with some members of the community, who often stopped by while Fancher was painting. Many told her to revisit the idea and focus on something more positive. With that in mind, Fancher scrapped her original work and started over. 
"Tazuri Watu represents the diaspora, joy of living, and relationships in the Bayview," she said. "It's about people helping each other, teaching and the creative arts. It was truly the community that led the process of the mural from beginning to completion."