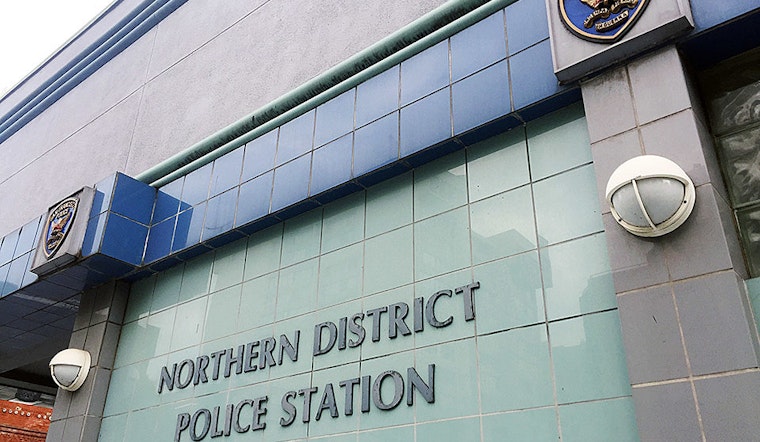 Published on October 08, 2019
Here's a selection of crimes that have occurred in Hayes Valley and the Western Addition since our last roundup. All reports were provided by SFPD, unless otherwise noted.
Late-night carjacking near Raymond Kimbell Playground
A carjacking incident occurred on September 25 at 11:30 p.m. at Pierce and O'Farrell streets, near Raymond Kimbell Playground. Three men in their twenties stole a 32-year-old woman's car at gunpoint. The car was later recovered, but no arrests have been made.
Car catches fire
On the same day, around 5:30 a.m., the San Francisco Fire Department arrived at Gough and McAllister streets to find a 29-year-old woman's car on fire. The firefighters extinguished the fire. No further details about the incident were released.
Woman hospitalized after laptop robbery
On September 23 around 8 p.m., a 20-year-old man pushed a 49-year-old woman to the ground at Grove and Laguna streets before taking her laptop and purse. The victim suffered non-life-threatening injuries from the encounter and was transported to a hospital. No arrest has been made.
Car robbery suspect threatens to shoot car owner
On September 18, a 60-year-old man witnessed two boys, both 16, breaking into his car. He intervened and struggled with one of the suspects for his backpack. But after one of the suspects threatened to shoot the car owner, he backed off. Both suspects were able to flee the scene with the backpack, containing clothes and a tablet.
Public safety meeting
The Hayes Valley Neighborhood Association invites residents to its monthly public safety meeting on Monday, October 7. Topics presented at the meeting will include Narcan training, a discussion of the work of Project Homeless Connect as well as an update on recent public safety concerns and stayaway order letters by the SFPD's Northern Station.
The meeting will take place at 7 p.m. at the Korean American Center (745 Buchanan St.)
Northern Station monthly community meeting
Residents interested in learning more about crime and safety in the area are invited to attend SFPD Northern Station's monthly community meeting, held at the station (1125 Fillmore St.) at 6 p.m. on the second Thursday of each month. The next meeting will take place this week, October 10.
---
Anyone with information about any of the incidents listed above is asked to call the SFPD tip line at (415) 575-4444 or Text-a-Tip to TIP411 and begin the text message with 'SFPD.' Tipsters can remain anonymous.
Did we miss anything? If you have any information on any crime or safety-related issues in the neighborhood, feel free to text Hoodline at (415) 200-3233.