After several years of planning, the Page Street Bikeway Improvements Pilot is now moving to its final round of feedback before it goes up for approval at the San Francisco Municipal Transportation Agency (SFMTA) board of directors hearing on November 19.
The central component of the plan is closing Page to eastbound traffic from Octavia Boulevard to Laguna Street, and removing 20 parking spaces on those blocks. The extra space will be converted into a protected downhill (eastbound) bike lane. An uphill (westbound) bike lane will also be added, extending an extra block to Webster Street.
Left turns, as well as westbound through-traffic, will be prohibited at Octavia Boulevard. Drivers will also be barred from entering eastbound Page Street at Webster, to calm traffic near John Muir Elementary.
If the plan is approved in November, a pilot project could launch as soon as early 2020, with temporary materials such as signs, paint, and plastic posts.
The temporary additions would remain in place for up to 18 months as the agency collects data and performs community outreach. After that, the board of directors will need to approve the project a second time to make it permanent.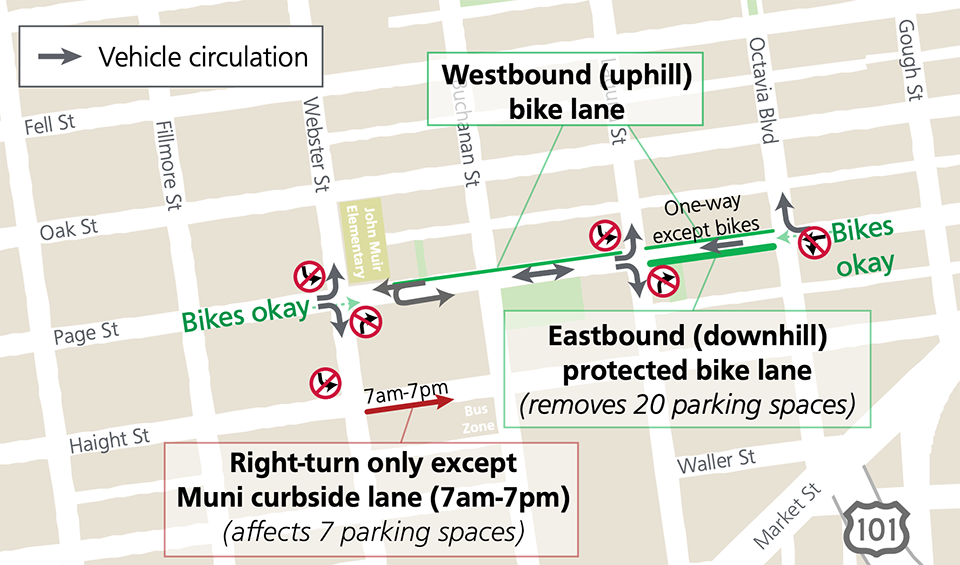 The plan has already been altered from its original form to accommodate Haight Street neighbors, who said they needed more daytime access for parking and loading. Parking restrictions on the south side of Haight Street (between Webster and Buchanan) have been reduced to 7 to 10 a.m. and 3 to 6 p.m., from the original plan's 7 a.m. to 7 p.m.
A new proposal would also expand the territory for residential permit parking holders for area S, allowing them to park on the east side of Webster Street (between Fell and Page), the east side of Webster Street (between Page and Haight), the west side of Buchanan Street (between Page and Haight) and on Haight Street between Webster and Buchanan. 
That proposal is still under review, though, and won't be presented to the SFMTA board until December.
For those who have questions or concerns about the project, staff will be on-hand next week for consultations in the neighborhood. Locals can drop in for a chat on Wednesday, November 6 from 5 to 7 p.m. at Café International (508 Haight St.) or Thursday, November 7, from 8 to 10 a.m. at Mercury Café (201 Octavia St.).
The board of directors meeting to approve the Page Stre project will be held on Tuesday, November 19 at 1 p.m., in room 400 at City Hall. Those unable to attend can send comments beforehand via email to [email protected], with the subject "SFMTA Board of Directors."