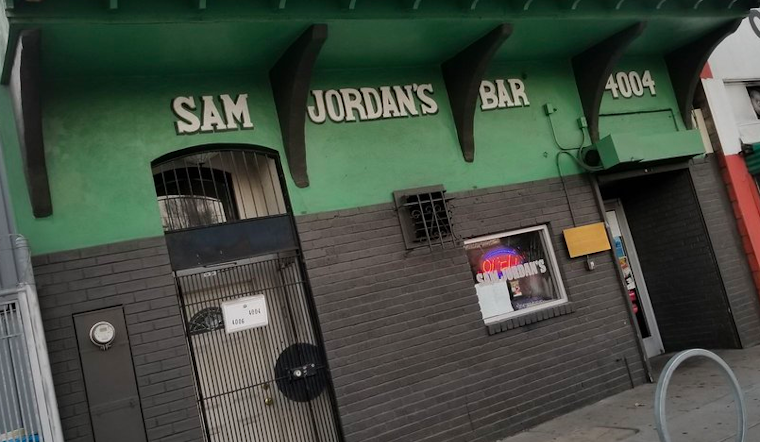 Published on October 17, 2019
After 60 years in business, Bayview's historic Sam Jordan's Bar & Grill is set to close next month.
Co-owner Ruth Jordan, the daughter of the bar's namesake founder, said the bar will serve its final customers on November 2. 
Established in 1959, Sam Jordan's is the oldest African-American-owned bar in San Francisco, and received landmark status from the city in 2013. Its eponymous owner, a former Golden Gloves boxing champion and prominent community activist, was the first black candidate for San Francisco mayor.
For decades, the bar has been an iconic gathering place for Bayview's community. Last year, its block of Galvez Street, between Phelps Avenue and Third Street, was even renamed as Sam Jordan's Way.
But in recent years, Sam Jordan's has struggled financially. In 2016, it received a major facelift from Spike TV's hit bar makeover show "Bar Rescue" — in an episode in which the Jordan family revealed that they were more than $500,000 in debt. 
The Jordans tried everything: the remodel, lunch and happy hour specials, and live music. But ultimately, Ruth Jordan said, none of it was enough to keep up with costs, even with financial and managerial assistance from the city.
In May, the Jordans listed the bar's building for sale, then pulled the listing after community outcry. But the outpouring of support, even from city officials, still wasn't enough to make the bar's finances work, Ruth Jordan said. 
"Everyone has been wonderful," she said. "The city did things I didn't even know was possible."
City representatives expressed grief over the loss of the historic bar. 
"This is terrible news to lose a historic venue that has been much more than a bar in our community," said District 10 Supervisor Shamann Walton. "I can remember when my grandfather would get dressed and go down to Sam Jordan's on the weekends ... Sam's legacy will never be forgotten, and the memories will last a lifetime."
"It is heartbreaking to see a beloved family-owned business close their doors, especially after many years of contributing to the vibrancy and nightlife of the Bayview and the city," said Joaquín Torres, director of the SF Office of Economic and Workforce Development, in a statement. 
A predatory lending deal from Sequoia Mortgage Capital was a major contributor to the bar's financial woes. While Ruth Jordan declined to go into further detail about the loan, it's common for such lenders to target black-owned businesses. 
"This is an important reminder for small businesses, like Sam Jordan's, to seek support and guidance early on from city and nonprofit experts to help identify healthy financing options for support, and access resources that may stabilize their business," Torres noted in his statement.
Sadly, that support has come too late for many black-owned small businesses in the city. In September, Jay Foster, the former owner of two now-closed San Francisco restaurants — the Fillmore's Isla Vida and the Tenderloin's Farmerbrown — wrote a stirring op-ed about the challenges he faced as a black restaurateur in San Francisco, where the black population has declined from 13 percent of the city in 1970 to about 5 percent today. 
"We could feel the neighborhood changing. We could see the tech companies coming in and raising rents," he wrote. "We didn't have the community support like before. The spaces the black community had carved out, the restaurants we'd established, the communities we'd become a part of, were all fading out."
Now, Sam Jordan's is fading out as well, with a "last call" block party set for November 2 from noon to 5 p.m. 
"I love the Bayview and I have taken this business as far as it can go," Ruth Jordan said. "I am tired, but I want to make sure we go out with a big bang. I hope everyone joins us."
In the meantime, city officials are encouraging locals to support black-owned businesses like Sam Jordan's with their dollars. 
"As we think about the economic vitality of our black community, remember the best thing that we can do is to financially support our businesses consistently," Supervisor Walton said.