As of today, the Panhandle Park Playground (Ashbury Street between Oak and Fell) is back open and ready for play.
The reopening is the culmination of years of planning and fundraising by the city, through the San Francisco Recreation & Parks Department and the SF Parks Alliance's collaborative LetsPlaySF! Initiative. The $3.2 million overhaul was the first major work done on the playground in over 20 years. 
The public-private funding partnership aims "to more quickly transform San Francisco's most timeworn playgrounds into modern hubs of imaginative play and community connection," said Rec & Park spokesperson Tamara Aparton in a statement.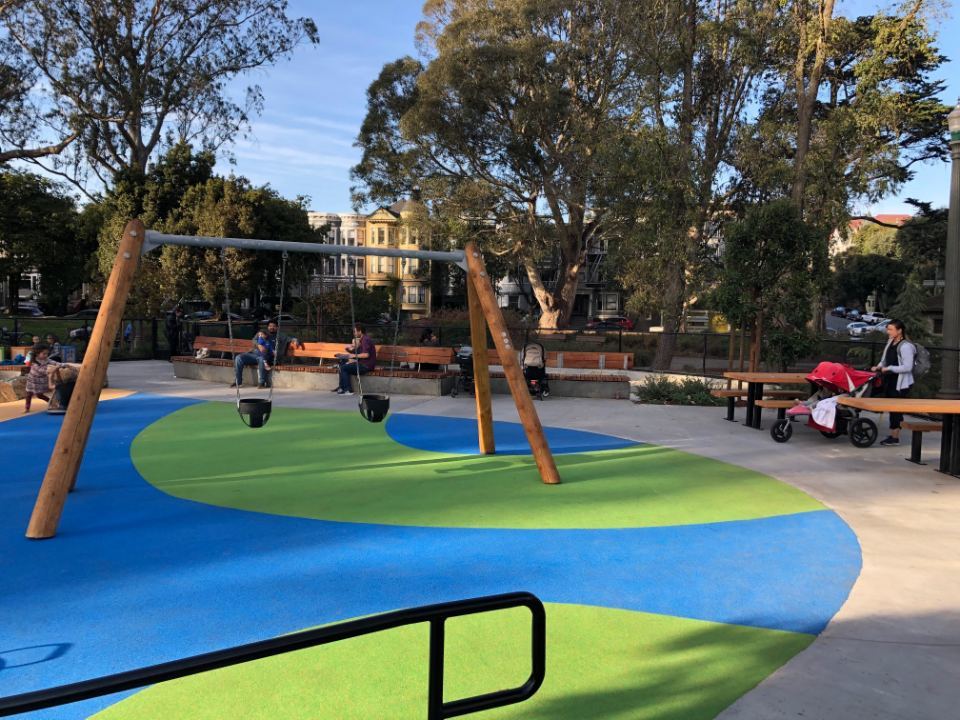 The playground overhaul broke ground earlier this spring, and the reopening is right in line with Rec & Parks' estimated project horizon, as announced in April.
Today's reopening ceremony was attended by District 5 Supervisor Vallie Brown and Rec & Park General Manager Phil Ginsburg.
It included the unveiling of a memorial bench dedicated to longtime local business owner Konstantinos "Gus" Vardakastanis, who founded the nearby Haight Street Market (now part of Gus's Community Markets).
Vardakastanis was tragically killed in 2017, after being struck by a hit-and-run driver on a trip to visit a produce wholesaler in Bayview. A suspect in the case was arrested in July, nearly two years after his death.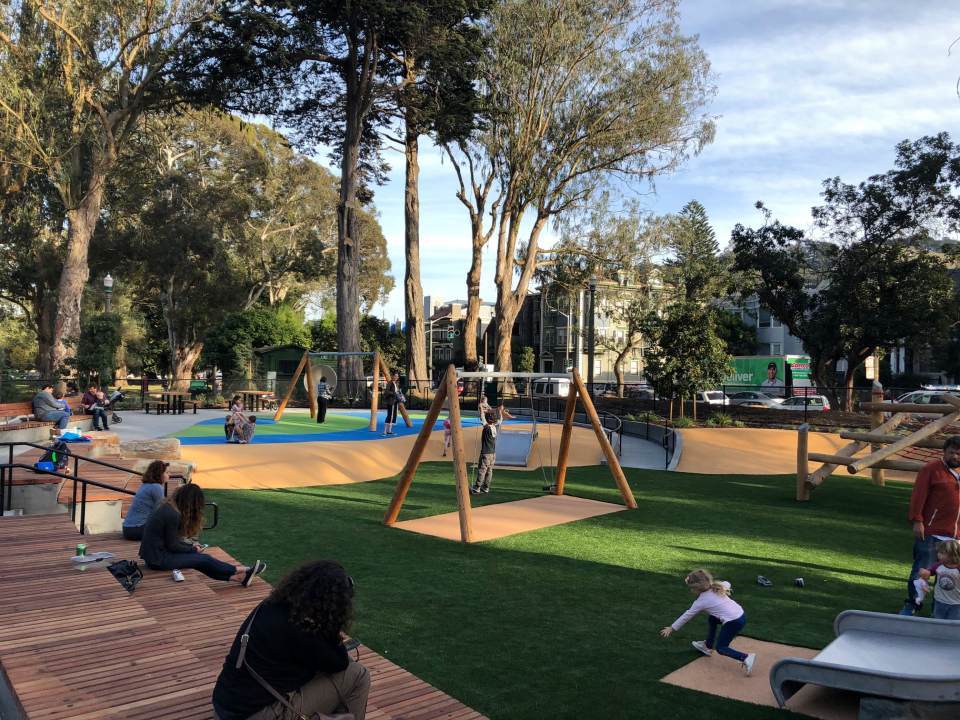 Just hours after the reopening ceremony, the playground was already full of children and parents taking advantage of the new equipment, which includes a sand pit, swings, slides, interactive musical elements and an entirely new landscaping treatment to help the playground blend in with the surrounding park.
The Panhandle Playground is one of 13 playgrounds set to be upgraded through LetsPlaySF. Alice Chalmers Playground in the Outer Mission, the McLaren Playground and group picnic area in the Excelsior, Merced Heights Playground and Sgt. Macaulay Playground in the Tenderloin are currently under construction. 
Between now and 2021, the Buchanan Street Mall in the Western Addition, Golden Gate Heights Park, Herz Playground in Visitacion Valley, Juri Commons in the Mission, the Richmond Playground, the Stern Grove Playground and the West Portal Playground will also get updates. 
You can follow progress updates on all 13 of the playground projects here.