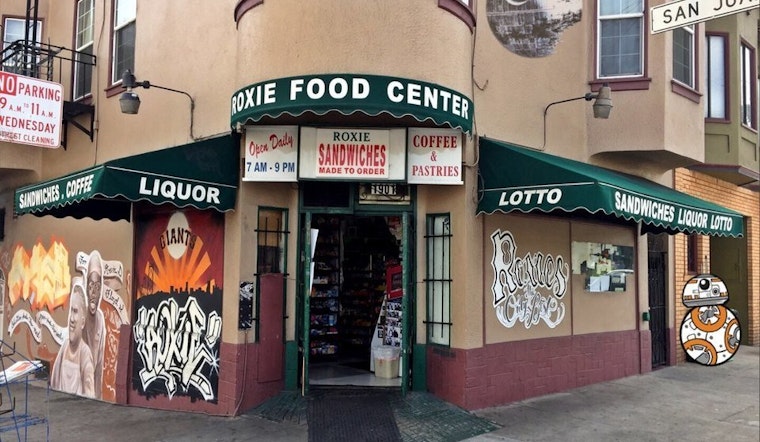 Published on November 19, 2019
Here's the latest in SF food and libation news. In this edition, a long-standing sandwich shop says they'll remain open despite rumors they're closing, a local brewery releases a special-edition canned beer to support a local nonprofit, and a French wine-focused bar opens in North Beach.
Updates
Mission
Roxie Food Center (1901 San Jose Ave.)
Despite rumors swirling around San Francisco and a few Facebook groups,  Balboa Park's Roxie Food Center will not close any time soon.
According to SFGate, the old-school sandwich shop will remain open. Owner Tony Tannous told SFGate he hopes to continue to serve his community for decades to come.
"Roxie will be around for the next 20 years," he said.
In comments on Facebook groups, customers expressed concern that the shop would be sold and the owners would be retiring. One reason was due to a link to an online real estate listing for $995,000 at 1901 San Jose Avenue, where the sandwich shop is housed.
However, Tannous told SFGate everything will remain the same even though the building will be owned by another party.
Tannous bought the building with his brothers Simon and Peter in 1975 and has served sandwiches like the roasted tri-tip with molten cheddar on toasty Dutch crunch bread.
For decades, the sandwich shop has been a neighborhood staple — the store typically sells hundreds of sandwiches on any given Saturday.
Roxie Food Center remains open daily from 7 a.m. to 8 p.m.
Potrero Hill
Anchor Brewing Company (1705 Mariposa St.)
Earlier this year,  Anchor Brewing Company collaborated with local nonprofit Baykeeper (located at 1736 Franklin St. in Oakland) to make a limited-edition collaboration brew, Baykeeper IPA. Today, the local brewery is bringing it back in cans for nationwide distribution until supplies last.
The beer, a 7% ABV IPA, has a slightly sweet taste, bringing out citrus and papaya aromatics while toning down the bitterness.
A portion of the proceeds directly support San Francisco Baykeeper and its mission to reduce pollution in the Bay.
Baykeeper, now in its 30th year in the Bay Area, is a nonprofit that regularly patrols the Bay by boat to investigate harmful activities, and works to stop polluters through political advocacy. 
Anchor Brewmaster Scott Ungermann said the brewery wanted to raise visibility for the nonprofit, since it contributes directly to protecting the San Francisco Bay's ecosystem.
"We were inspired by the organization's fierce commitment to preserving the Bay, which is the crown jewel of this region. Anchor earned its name in the late 1800s because of the historical maritime influence on the city. We have the San Francisco Bay to thank for many things," Ungermann said in a statement.
Its label, created by California-based watercolor artist Jenna Rainey, features Baykeeper's patrol boat charging through the water underneath the Golden Gate Bridge.
Opening
North Beach
Le Petit Paris 75 (515 Broadway St.)
We first announced the news last month that Le Petit Paris 75 would take over the Barbary Coast Taproom (formerly Noc Noc, a spinoff of its original location in the Lower Haight) at 515 Broadway St. 
Le Petit Paris 75's owner Kam Halliche has informed us that the new French lounge is now open for business.
It offers beer and wine along with small bites and has four large TVs, which Halliche said are ideal for watching sports.
The wine selection is mostly French, but has a few selections from California.
For beer, draft options are mostly local and inspired by Barbary Taproom's list, with options such as Fieldwork Hazy Orchard IPA and Lagunitas Willet Coffee Stout available by the glass or in flights.
Bites include Jambon de Paris with Amber Alley Cheddar and Sant Angel Triple Creme cheese, as well as hummus and pita chips with Greek olives, among other small plates.
The bar hosts a happy hour every day from 3 to 7 p.m.
If you've seen something new (or closing) in the neighborhood, text your tips and photos to (415) 200-3233, or email [email protected]. If we use your info in a story, we'll give you credit.