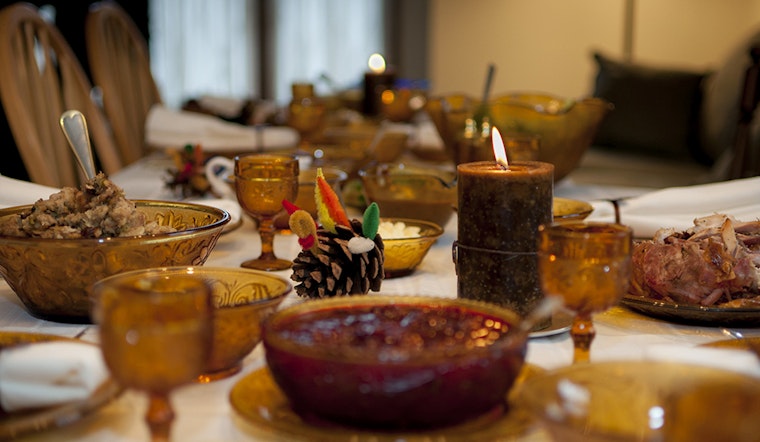 Published on November 19, 2019
Skipping out on a big Turkey Day gathering this year? Whether you're rolling solo or sticking with your immediate family, you can enjoy good company with these free gatherings or volunteer opportunities in San Francisco.
Come over to North Beach to experience a plated sit-down turkey dinner, gather for a community street dinner at Civic Center, or join Potrero Hill neighbors for games, face painting and a Thanksgiving meal.
The First Unitarian Church in Western Addition promises a dinner where each guest gathers around a table. GLIDE will also offer a Thanksgiving breakfast and lunch option in the Tenderloin, while Little Brothers – Friends of the Elderly are still looking for volunteers.
Here are this year's free events:
TEL HI's 41st Annual Community Thanksgiving Dinner
Everyone, including families with children, is welcome to this plated sit-down turkey dinner on Thursday, November 21, 6 p.m. at TEL HI's Gym at 555 Chestnut St. The Neighborhood Center has partnered with North Beach Neighbors and the San Francisco Police Department's Central Station for this get-together.
Food will be prepared by local businesses and North Beach restaurants including Piazza Pellegrini, Fior d' Italia, Piccolo Forno, Boudin SF, Pat's Cafe, City College of San Francisco, Safeway at NorthPoint Shopping Center and Project Open Hands. Because seating is limited, expect a first come first served policy until food runs out.
11th Annual Mama G's Thanksgiving Street Dinner
On Sunday, November 24 at 2 p.m. a group of volunteers will serve a Thanksgiving meal at Civic Center/UN Plaza "to bring more food, more help, and more hope to the Tenderloin community," according to organizers. Interested volunteers are encouraged to complete a volunteer sign-up form in advance until this Wednesday, or until all slots are full. Kitchen support, food prep, event setup and event staff support is needed.
CARE 6th Annual Community Thanksgiving Dinner
In Potrero Hill, CARE will host a free Thanksgiving Meal at the Potrero Hill Rec Center at 801 Arkansas St. on Wednesday, November 27 at 11 a.m. Get ready for games, a bouncy house and face painting.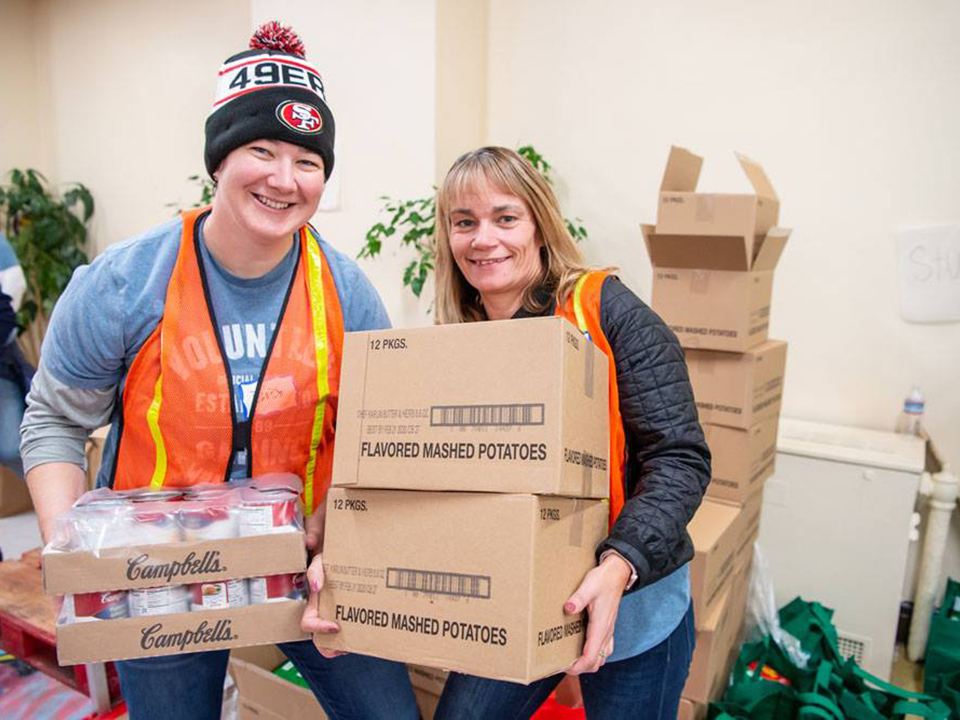 Thanksgiving at GLIDE
On Thanksgiving day, GLIDE will serve meals at 330 Ellis St. Breakfast starts at 7:30 a.m. and lunch kicks off at 11 a.m. The menu includes ham, turkey, sweet potatoes, stuffing, vegetables, gravy, rolls, ice cream and fruit punch. Limited volunteer opportunities are available.
Thanksgiving Dinner at The First Unitarian Church
You can also visit The First Unitarian Church at 1187 Franklin St. at 1 p.m. for a dinner where everyone gets to sit at a table and enjoy a festive meal. Organizers will offer ham, mashed potatoes, yams, mixed vegetables, coffee or tea, punch, water, salad, bread and pumpkin pie with whip cream. There will also be live entertainment, and attendees get a free gift bag and clothes as they leave. For the outside waiting line, expect free coffee and cookies. Volunteers for many different positions are needed.
Deliver a Thanksgiving meal with Little Brothers – Friends of the Elderly
Little Brothers – Friends of the Elderly, a nonprofit that addresses the issue of loneliness among older adults, is looking for about 100 more volunteers that will head to an in-home visit. During that visit, volunteers will deliver a Thanksgiving meal. A background check and an online volunteer orientation must be completed in advance. Multi-lingual volunteers are needed too, organizers said.