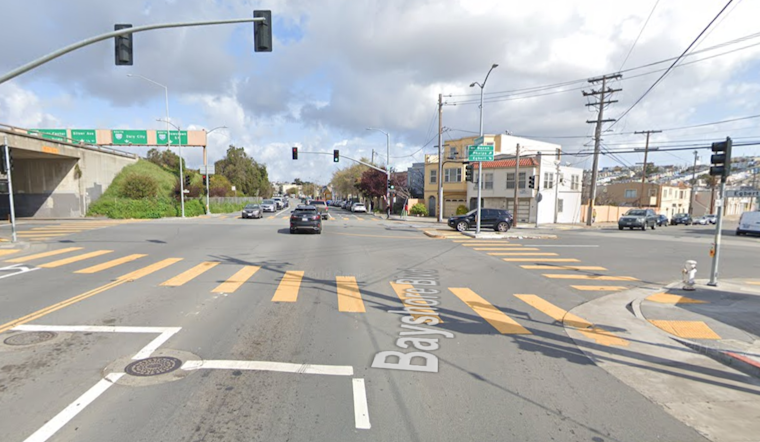 Published on December 09, 2019
79-year-old San Francisco resident Piu King Dea was struck and killed by an unidentified driver of a sedan around 6 a.m. on Saturday, the Examiner reports. The pedestrian was identified by the city's medical examiner.
Police said Monday that the crash occurred at Bacon Street and Bayshore Boulevard in the Bayview. No arrest has been made. When reached via email, SFPD spokesperson officer Adam Lobsinger told Hoodline that the woman was taken to a local hospital where she succumbed to her injuries.
"The driver of the vehicle remained on scene and is cooperating with investigators," he said, adding that impairment does not appear to be a factor in the collision. It remains a pending investigation.
The intersection has been identified as a high-injury corridor under the city's Vision Zero plan, which aims to eliminate traffic fatalities by 2024. According to Vision Zero data, 26 other people were killed on the streets of San Francisco this year. 16 of them were pedestrians.
As we reported in January, a 28-year-old man was hospitalized back then with serious injuries after a hit-and-run collision at Bayshore Boulevard and Marin Street.
District 6 Supervisor Matt Haney, whose district does not include the Bayview but the majority of the city's other high-injury corridors, will host a Pedestrian and Bike Safety Summit this Wednesday, at 6 p.m. According to the event description, it will serve as an opportunity to hear about street improvement projects, share feedback, ask questions, and learn how to get involved. 
This Safety Summit will also be a public hearing for two quick-builds in SoMa: the Howard Street and 7th Street projects. San Francisco Municipal Transportation Agency project team members will be available to answer questions.
---
Anyone with information on the Saturday traffic collision is asked to call the SFPD 24 hour tip line at 1-415-575-4444 or Text a Tip to TIP411 and begin the text message with SFPD. You may remain anonymous.