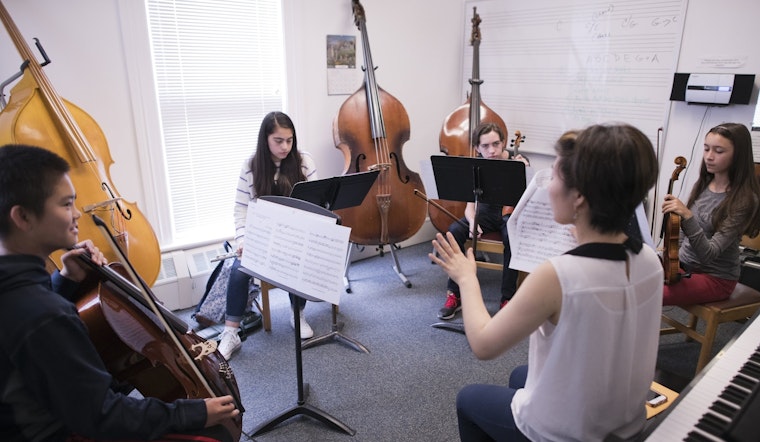 Published on December 17, 2019
On December 11, Mission-based music school Community Music Center (544 Capp St.) became the latest addition to the city's Legacy Business Registry, which recognizes businesses that have served the community for 30 years or more.
CMC, which has operated out of the Mission District since 1921, has long been a cultural anchor, providing affordable private music lessons, group classes, and performance opportunities for students of all ages, regardless of financial means.
"We're thrilled to have been selected, and happy to be joining so many other wonderful businesses on the list," said executive director Julie Rulyak Steinberg in a phone interview with Hoodline. "We see this as a celebration of the work we've been doing, and are grateful for the visibility and stability that this recognition brings."
That visibility comes at a crucial time for CMC. Last month, the San Francisco Planning Commission approved its planned expansion, which will allow the school to take over the adjacent building at 552 Capp St. and double its number of students. 
Community Music Center got its start in 1912, as Community Music School. Founded by Gertrude Field, a former nurse and violin teacher, it began as a small department in a local settlement house.
In 1921, Field made Community Music Center an independent organization and relocated it to Capp Street, where it's remained in the same historic building ever since.
Nearly a century later, the school serves over 3,100 students annually, providing classes and lessons in genres ranging from jazz and blues to Western classical and Middle Eastern. Performances are held in CMC's concert hall, which was converted from a carriage house in 1926.
CMC also operates a second branch in the Outer Richmond (741 30th Ave.), which opened in 1983 to provide an affordable option for families on the city's westside.
As Community Music Center prepares to celebrate its 2021 centennial, it's time to make its building ADA-compliant, explained Steinberg. "By expanding into a second building, we'll be able to provide accessibility throughout our campus."
She sees this project, which is expected to conclude in September 2021, as a commitment to the neighborhood that has become a part of the school's identity.
"When we think about who we serve in the Mission, we are mindful that gentrification has displaced a lot of families," Steinberg said. "We want to make sure our programming has those folks in mind," with options including bilingual classes and multiple Latin music ensembles.
Recently, the school introduced the New Voices Bay Area TIGQ Chorus, a mixed voice choral ensemble for singers who self-identify as transgender, intersex, or gender-queer (TIGQ). Born out of feedback from the local trans community, the chorus is now 50 singers strong. 
Steinberg encourages those interested in learning more about CMC to attend a performance at the concert hall or check out the center's website.
"There's something here for everyone," she said, "whether you're thinking of picking up your instrument again or for the first time, curious about trying out a new music genre, or interested in attending a free or low-cost performance."
Perhaps most importantly, Steinberg stresses, CMC is a place to come together as a community. "I see people who come here two to three times a week. This is a place for them to make new friends and find a second home."
CMC was added to the legacy business registry alongside three other businesses: SoMa nightclub The EndUp, Mission-based nonprofit Horizons Unlimited of San Francisco, and Japantown restaurant Mums - Home of Shabu Shabu. The current registry count totals 268 businesses.