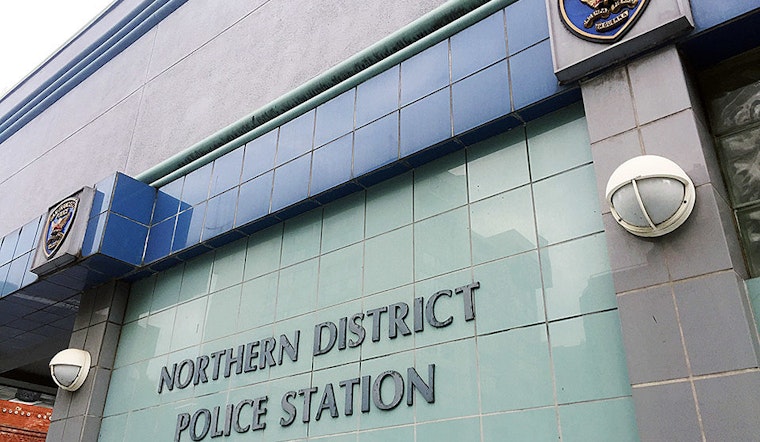 Published on December 05, 2019
Here's a selection of notable crime reports from Hayes Valley and the Western Addition since our last roundup in early November. All reports were provided by SFPD, unless otherwise noted.
78-year-old woman suffers fractured hip in Thanksgiving hit-and-run
Police said a 78-year-old woman suffered a fractured hip from a hit-and-run crash on Thanksgiving day at Laguna and Post streets. A witness saw her laying in the street around 7:15 p.m., when a grey Chevy Suburban was fleeing the scene at a high speed. She was transported to a hospital and is in stable condition, officials said. No arrest has been made.
Man hit with bat, money taken
On November 23 at 1 a.m., a 63-year-old man was hit with a bat at Geary and Fillmore streets by three 20- to 25-year-old suspects. They then proceeded to take his money while he was laying on the ground. The robbery happened at 1 a.m., no arrest has been made. The victim suffered non-life threatening injuries and was transported to a hospital.
Phone robbery near Alamo Square
On November 15, an 18-year-old man took a 29-year-old woman's phone out of her hands a few minutes after 8 a.m. on the 1200 block of Hayes Street (and Scott). The victim then chased the suspect to his sedan, where he punched her and fled. Police later located the suspect and arrested him after he was involved in a traffic collision. The victim suffered non-life threatening injuries.
Suspect lights object on fire, throws it under car
On November 14 at 10:35 p.m., a man aged between 30 and 40 lit an unknown object on fire and threw it underneath a car on the 300 block of Linden Street (and Gough). The San Francisco Fire Department arrived and extinguished the fire. No arrest has been made.
Suspect arrested for throwing fireworks, injuring officer 
Police made an arrest in Japantown following an incident that occurred in October in the Mission. On November 8, an off-duty SFPD officer observed a suspect on the 1600 block of Post Street. Officers from SFPD's Northern Station arrived on scene and took 30-year-old Nilman-Vincent Vanewyk of San Francisco into custody without incident.
Previously, on October 22 at approximately 10:51 p.m., SFPD patrolled the area of 22nd and Bartlett streets where they observed a male subject light a firework in the middle of the street. Two large crowds were congregated in front of two businesses, and when police officers arrived to investigate the explosion, people began throwing glass bottles at them. One of them, who police suspect was Vanewyk, threw an incendiary device, which exploded less than a foot away from one of the officers. The officer was taken to a local hospital with non-life threatening injuries.
Vanewyk was booked at San Francisco County Jail on assault with a deadly weapon on a peace officer, along with 4 other charges related to possession and use of illegal fireworks.
Northern Station monthly community meeting
Residents interested in learning more about crime and safety in the area are invited to attend SFPD Northern Station's monthly community meeting, held at the station (1125 Fillmore St.) at 6 p.m. on the second Thursday of each month. The next meeting will take place next week, December 12.
---
Anyone with information about any of the incidents listed above is asked to call the SFPD tip line at (415) 575-4444 or Text-a-Tip to TIP411 and begin the text message with 'SFPD.' Tipsters can remain anonymous.
Did we miss anything? If you have any information on any crime or safety-related issues in the neighborhood, feel free to text Hoodline at (415) 200-3233.