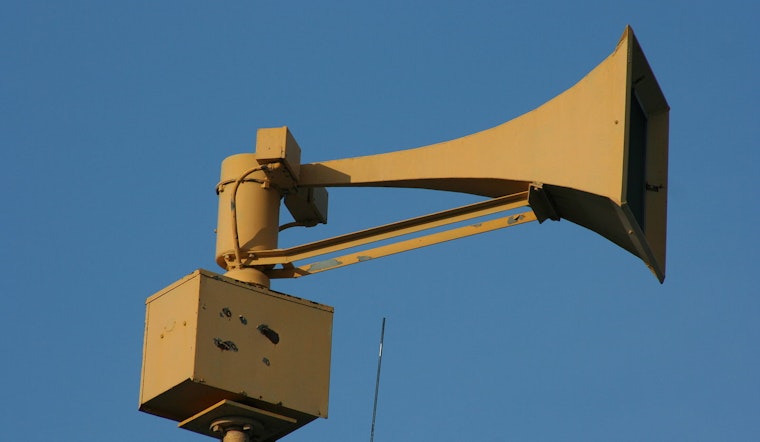 Published on December 03, 2019
The "Tuesday noon siren," actually made up of 119 sirens placed across the city, is a longstanding quirk of living in San Francisco.
But next Tuesday, December 10 will be the last time San Franciscans hear it — for up to two years.
This week, the Department of Emergency Management announced that the siren, which is known to the city as the "outdoor public warning system" (OPWS), is going on hiatus for upgrades.
The OPWS got its start as an air-raid system during World War II, when San Francisco was a military base. Today, it's intended for use in life-threatening emergencies, including tsunamis, a contaminated water supply, or radiological activity. But San Franciscans are likely far more familiar with its weekly tests, which take place on Tuesdays at noon.
In the event of an emergency, the warning system is designed to sound 15-second tones and audible emergency instructions for five minutes. But if an emergency happens during the coming two-year downtime, San Franciscans won't hear the OPWS.
Nonetheless, Francis Zamora of the San Francisco Department of Emergency Management says that there's no need to worry. 
In addition to the OPWS, he explained, the city provides a text-notification system (AlertSF) and the Emergency Alert System for broadcast, cable, and satellite communications; and social media accounts.
California also offers a Wireless Emergency Alerts system for mobile phones. And the city maintains a network of first responders, who are on hand to provide instructions in case of an emergency.
"We have a redundant system in San Francisco," Zamora said. "That's what we want."
According to the City Department of Technology, the OPWS is going offline to receive a new operating system, stronger encryption and hardware that will improve its reliability and security.
It was last upgraded in 2005, when federal funds allowed the city to add more air sirens.
"It's been 14 years since the last upgrade," said Zamora. "I think it's time."
With the sirens going offline, the Department of Emergency Management encourages San Franciscans to subscribe to text-message emergency alerts via AlertSF. Text your zip code to 888-777 or visit alertsf.org to register.