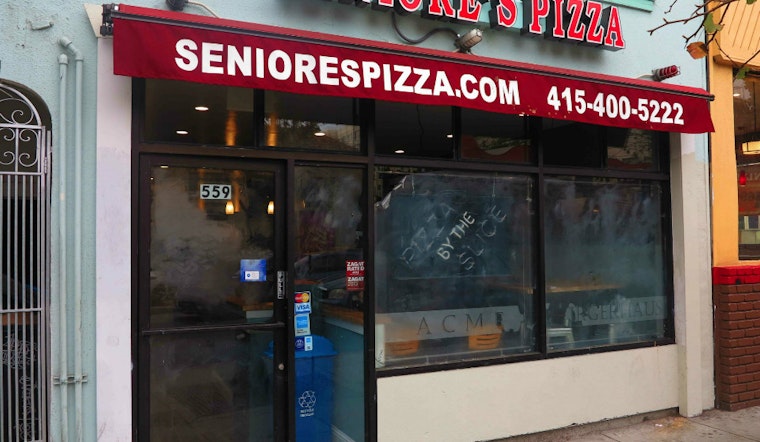 Published on January 08, 2020
Here's the latest in SF food news. In this edition, a family-owned pizzeria closes its doors on Divisadero Street, one of Hayes Valley's most popular spots shutters for renovations, and a cocktail bar debuts in Russian Hill. 
Closings
Divisadero
Seniore's Pizza (559 Divisadero St.)
Tipster Gringo alerted us that Seniore's Pizza (559 Divisadero St.) has closed. 
The local, family-owned pizzeria opened in 2015, offering build-your-own pies or specialties such as the "Seniore's Special" (double pepperoni, sausage, salami, mushrooms, bell peppers, onions and fresh tomatoes). 
Ramez Jaber owns the Divisadero location with his brothers, Sharif, AJ and Moe. While he wasn't available for comment, his nephew James confirmed that the closure was due to landlord issues.
James said that the family will move the pizzeria to a new location, but declined to disclose where. Seniore's still has two other San Francisco locations (at 2415 19th Ave. and 320 11th St.), as well as pizzerias in San Bruno, San Mateo, Berkeley and Santa Clara.
We'll update readers when the new location is announced.
Hayes Valley
Souvla (517 Hayes St.)
The original Hayes Valley location of popular Greek eatery Souvla closed its doors on January 6. After a three-week renovation, it plans to reopen on January 27.
Founder/CEO Charles Bililies said that he wants to bring the original Souvla up to the standard of his three other SF locations, by installing new floors, remodeling the kitchen and adding air conditioning. 
While the restaurant is closed, Bililies will operate his Souvla food truck just down the street at PROXY.  The truck will offer most of Souvla's full menu from 11 a.m. to 10 p.m. daily, including all its signature sandwiches and salads. 
Souvla's other locations in the Mission, Marina and NoPa, along with its delivery-only restaurant in SoMa, will also remain open.
Opening
Russian Hill
Macondray (2209 Polk St.)
As we reported in October, the former home of Bulleit on Polk Street was set to receive a new cocktail bar and New England-inspired seafood spot, called Macondray. (It's named for nearby Macondray Lane, the inspiration for the fictional Barbary Lane in Armistead Maupin's Tales of the City books.)
The restaurant, owned by Jake Roberts (bar manager at Harper and Rye) and Aaron Paul (previously bar director at Daniel Patterson's Alta Group) is now open, serving food inspired by the pair's native Maine, such as lobster rolls, mussels, oysters and crudo. Non-seafood items like mini-burgers are also available. 
Cocktails include the Winter Berry Mule (vodka, huckleberry and ginger) and the H.D. Butternut (bourbon, squash, cinnamon and allspice). Nine beers and a dozen wines by the glass are also on offer.
View Macondray's full menu on its website or follow the restaurant on Instagram.
---
Thanks to tipster Gringo! If you've seen something new (or closing) in the neighborhood, text your tips and photos to (415) 200-3233, or email [email protected]. If we use your info in a story, we'll give you credit.