After a series of struggles with the Planning Department, Flying Falafel is pulling out of the Castro — before even serving its first falafel.
Its partner, co-working and social club Socialhaus, is departing the neighborhood as well.
Flying Falafel owner Assaf Pashut and Socialhaus owner Coco Liu confirmed to Hoodline that they plan to relinquish the space at 463 Castro St., formerly home to Outfit and All American Boy. Pashut will refocus on the three other locations of his falafel eatery (in the FiDi, Mid-Market and Berkeley), while Liu will pursue a new Socialhaus location in another neighborhood. 
A "for lease" sign was posted in the window last week, and Liu says she's currently searching for a retailer to take over the space.
The decision marks the end of a long and contentious battle over zoning regulations in the Castro — one that's drawn in YIMBY activists, neighboring restaurants and co-working enthusiasts.
"After several rounds of conversation with the city, it seems clear to The Flying Falafel that this would be a continuous battle," Pashut told Hoodline. "We're not interested in pursuing a legal battle, and prefer to grow our business elsewhere."
The trouble started last summer, when Pashut announced plans to open a new outpost of his falafel business at 463 Castro.
Since the space was still zoned as retail, Pashut needed to change its official zoning to a limited restaurant — requiring a months-long evaluation process from the Planning Department.
Neighboring Middle Eastern restaurant Gyro Xpress fought the zoning change, arguing that the block didn't need a fourth falafel spot. That, in turn, drew the attention of YIMBY activists, who saw Pashut as emblematic of small businesspeople harmed by the city's flawed zoning laws.
In the end, Pashut won the rezoning battle on a technicality, earning his limited restaurant use. But instead of moving forward as Flying Falafel, the space opened in January as Socialhaus, a co-working and social club owned by Coco Liu. Pashut said that the club would eventually house a "Flying Falafel Express," selling premade sandwiches and snacks to its members. 
The same day it opened, Socialhaus was hit with a complaint, arguing that its membership-required status defined it as a social club (a general entertainment use), instead of a limited restaurant.
On January 16, Planning issued a notice to Pashut and Liu that they needed to shut down the business until the zoning issue was addressed. Pashut says it was the last straw.
"Processes like the one we're witnessing today are killing new businesses and harming local neighborhoods," he said. "I love San Francisco, but this is shameful."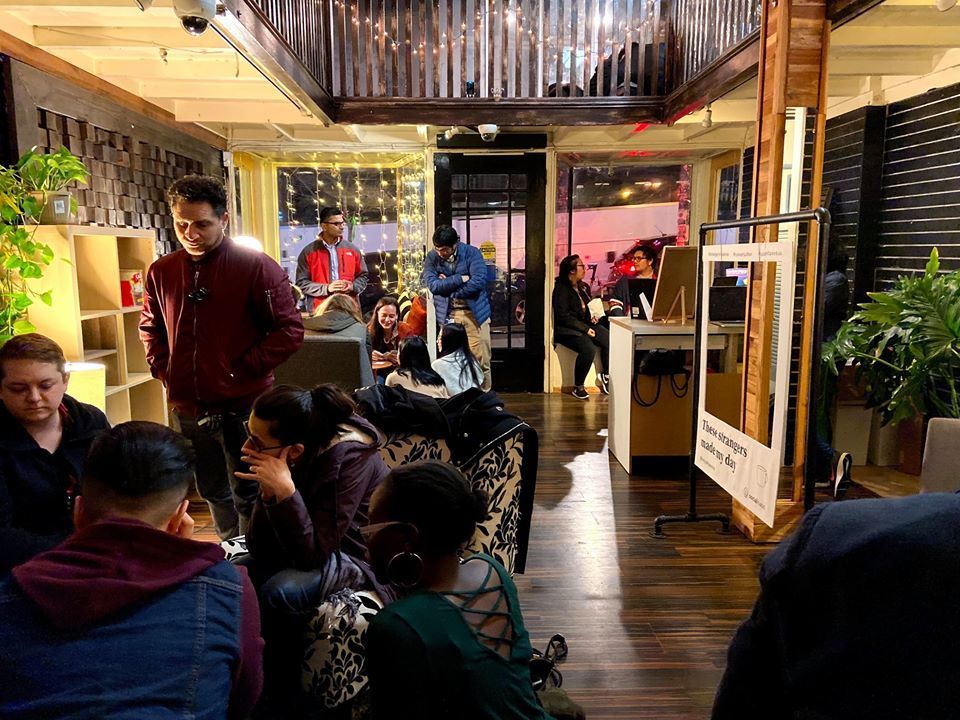 The conflict between Pashut and Planning centers, once again, on zoning. SF Planning spokesperson Gina Simi notes that while Pashut's limited restaurant permit was approved by Planning, it had yet to complete a review with the Department of Building Inspection. That meant the space was still technically permitted as retail. 
Even if it had been fully approved as a limited restaurant, "the property cannot be used as a 'gathering space' or 'event space,'" Simi added.
Pashut disputes that claim.
"Had [Planning] reached out to us, they would have easily determined that The Flying Falafel, like any restaurant in California, is well within its rights to have private events at its facility," he said. "While many cafes and businesses host events, a particular subset of city planners is making it hell for us to do the same, although it's perfectly within our rights."
For her part, Liu said she had hoped to work within the guidelines of the space's retail zoning.
"We had initially wanted to do retail on the basis of dialogue, exchange, and education as part of the retail experience," she explained. "However, it was rejected by Planning, as any gathering of people is not permitted."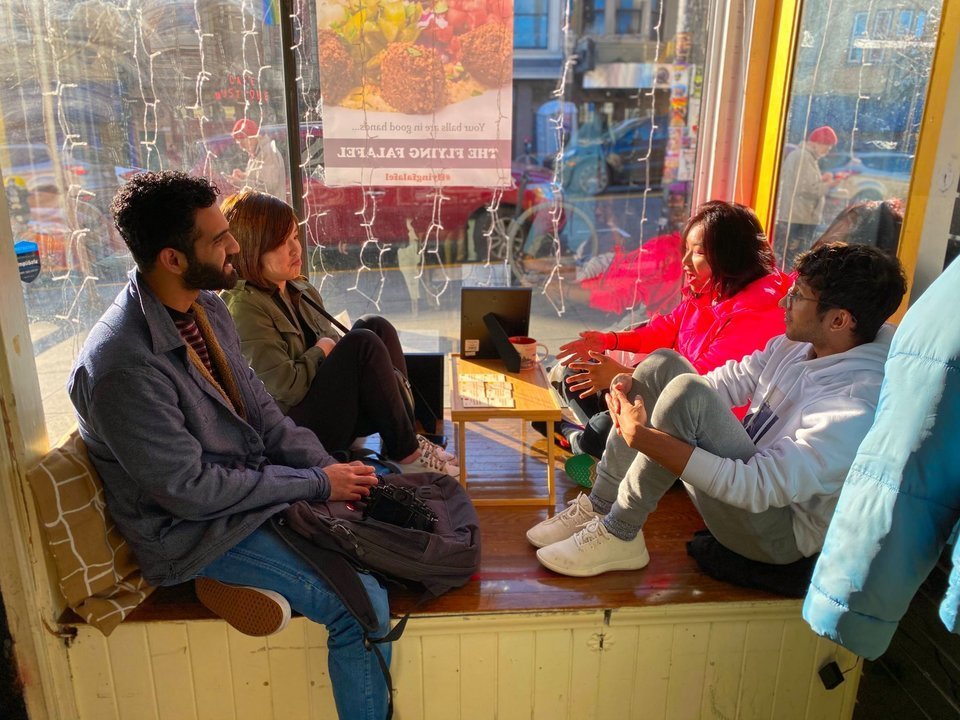 The Flying Falafel/Socialhaus space adds another vacancy to the 400 block of Castro, between Market and 18th streets. Four spaces on the block — Sunglasses on Castro (415 Castro), Dapper Dog (417 Castro), Body (450 Castro) and Slurp Noodle Bar (469 Castro) — are currently vacant, with three of the four having closed in the past two months. Flying Falafel is now the fifth.
Meanwhile, Q Bar (456 Castro) is undergoing renovations after sustaining damage in a serious fire in November, and will reopen later this year. The fire also affected Osaka Sushi (460 Castro), whose return prospects remain unclear. 
While legislators and neighborhood advocates have promised to do more to address the Castro's retail crisis, Pashut says his situation reflects the city's failure to assist small business owners.
"Amazing residents of districts like the Castro have suffered from a growing cascade of closures and vacancies," Pashut said. "While expecting support from the city, [business owners] instead see single residents (or competitors) given the power to completely shut down a business without investigation or recourse."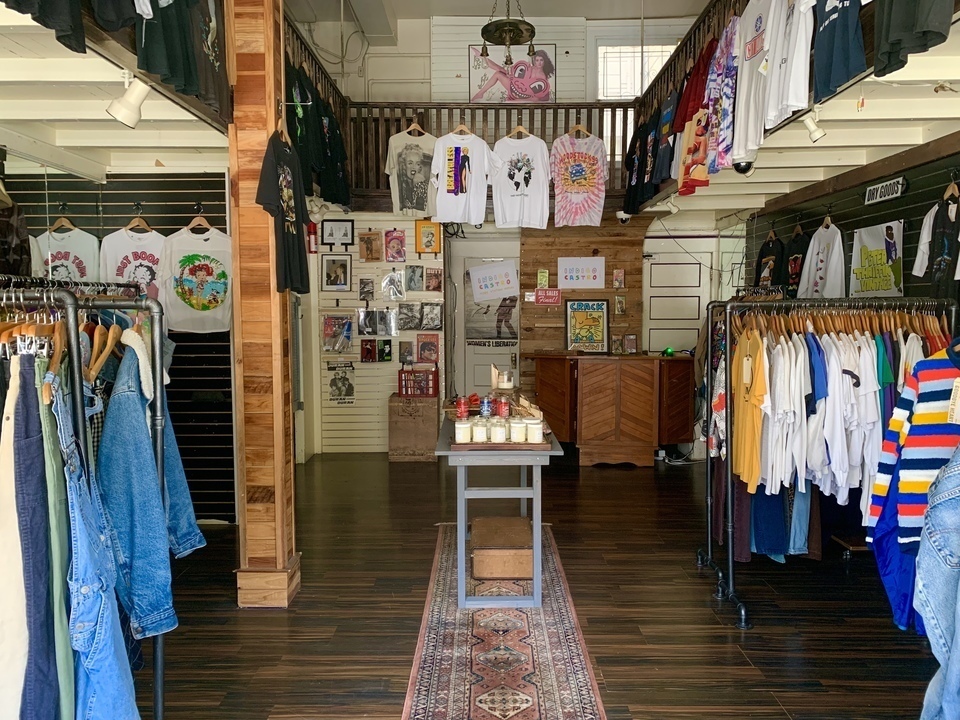 The rough landscape for Castro retailers has made an impression on at least one potential tenant who might have taken Flying Falafel's place. As he awaited his zoning decision this fall, Pashut briefly sublet the 463 Castro space to vintage clothing co-op Indigo Vintage, which used it for a pop-up store.
When the pop-up opened last September, owner Mel Willis told Hoodline that she was considering opening a permanent location in the Castro if things went well. But after just a month, she closed the shop, telling Hoodline she planned to refocus on her Berkeley and Haight locations.
"Although most people were very welcoming, we have experienced some push-back, aggression that has made a huge impact," said Willis, who declined to specify in more detail.