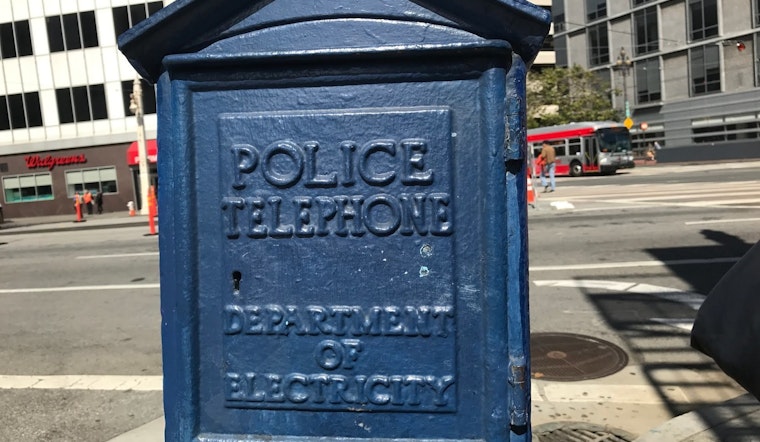 Published on February 04, 2020
Here's a selection of notable crime reports from Hayes Valley and the Western Addition since our last crime roundup. All reports were provided by SFPD, unless otherwise noted.
Burglary suspect hides in home
On January 27 at 8:20 p.m. a 42-year-old woman returned to her home on the 1300 block of Buchanan Street (between Eddy and Willow), where she found a 36-year-old woman hiding inside her house with some of the resident's belongings in hand. Police arrived and arrested the intruder.
Phone robbery on Muni bus during morning commute
On January 19, a 65-year-old woman was onboard a Muni bus at 8:35 a.m. When the bus stopped at Geary Boulevard and Laguna Street, a man in his 30s snatched her phone out of her hand, ran off the bus and fled. No arrest has been made.
Police did not specify on which bus line the robbery happened, but the 38-Geary and 38R-Geary Rapid stop at the intersection.
Phone snatched from man's hand
A week earlier, on January 12, two men, both 35, and a woman, 50, approached a 28-year-old man on the 1300 block of Post Street (between Franklin and Gough) around 5:30 p.m. One of the suspects then snatched his phone from the victim's hand before pushing him over. No arrest has been made.
Laptop robbery on Muni
Over at McAllister and Laguna streets, another robbery occurred aboard a Muni bus on January 3 at 7:56 p.m. A man, believed to be between 20 and 30, grabbed a laptop from the lap of a 24-year-old female passenger and fled with it. While police again did not specify the bus line in question, the 5-Fulton stops at this intersection. No arrest has been made.
Northern Station monthly community meeting
Residents interested in learning more about crime and safety in the area are invited to attend SFPD Northern Station's monthly community meeting, held at the station (1125 Fillmore St.) at 6 p.m. on the second Thursday of each month. The next meeting will take place next week, February 13.
---
Anyone with information about any of the incidents listed above is asked to call the SFPD tip line at (415) 575-4444 or Text-a-Tip to TIP411 and begin the text message with 'SFPD.' Tipsters can remain anonymous.
Did we miss anything? If you have any information on any crime or safety-related issues in the neighborhood, feel free to text Hoodline at (415) 200-3233.