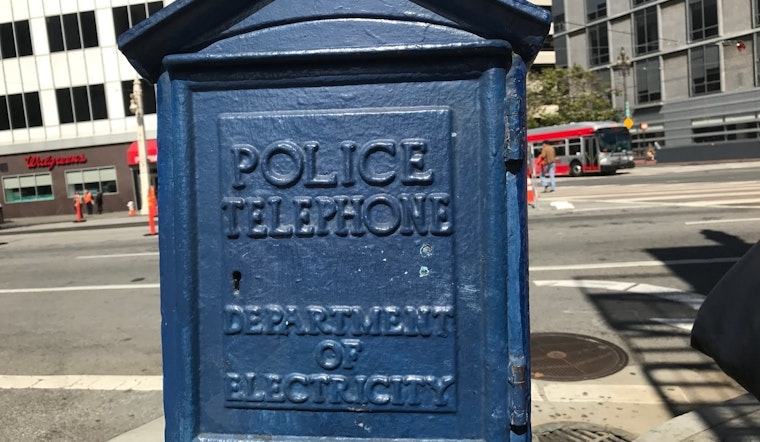 Published on March 03, 2020
Here's a selection of notable crime reports from Hayes Valley and the Western Addition since our last crime roundup. All reports were provided by SFPD, unless otherwise noted.
Woman injured in daytime purse theft on Muni
On February 25 at 1:30 p.m. a 35-year-old man grabbed the purse of a 33-year-old woman while aboard a Muni bus at Van Ness Avenue and O'Farrell Street. Attempting to hold onto the purse, the woman fell and was dragged, sustaining non-life-threatening injuries.
Several bus lines stop at the intersection, and police did not specify on which line the robbery occurred. The suspect ran off the bus southbound on Van Ness with the purse, which contained a wallet, credit cards, an ID, cash, a passport and car keys. No arrest has been made.
Man assaulted with stick
Around 3:20 a.m. on February 22, a 40-year-old man struck a 53-year-old man with a stick at Gough and Page streets. The victim suffered non-life threatening injuries and was transported to a hospital. No arrest has been made.
Vehicle engulfed in flames near Patricia's Green
On February 21, an unknown suspect set a vehicle ablaze at Linden and Octavia streets around 9:20 p.m. Police said there were no witnesses to the incident, and that no one was injured. No arrest was made.
Victim detains suspect in attempted robbery with air gun
On February 18 at 8 p.m., a 41-year-old woman pointed an air gun at a 19-year-old man on the 200 block of Ivy Street (between Franklin and Gough), demanding his phone. In response, the man punched her, grabbed her gun and threw it on the ground. He then detained her with the help of a bystander.
Police arrived and arrested the woman. The man suffered non-life-threatening injuries.
Second car set on fire
Another car was set on fire on the 400 block of Hickory Street (between Laguna and Buchanan) on February 15, at 10:15 p.m. The car was damaged by the fire. The suspect is unknown, and no arrest has been made.
Wallet robbery at gunpoint
On February 14 at 2 a.m., two men of unknown age robbed a 45-year-old man at gunpoint on the 800 block of Webster Street (between Fulton and McAllister). They then ran off with his wallet, with cash inside. The victim suffered non-life-threatening injuries and was transported to a hospital. No arrest has been made.
Notable crime and safety stories in the Northern District
In case you missed them, we've run two stories about crime and safety in the Northern District in the past week. First, Hayes Valley businesses shared their concerns about what they see as an uptick in burglaries, break-ins and theft. 
Meanwhile, the Walgreens location at Van Ness Avenue & Market Street is struggling with a shoplifting problem so pervasive that whole shelves of the store have been stripped of items.
Community meetings on crime and theft
Residents interested in learning more about crime and safety in the area are invited to attend SFPD Northern Station's monthly community meeting, held at the station (1125 Fillmore St.) at 6 p.m. on the second Thursday of each month. The next meeting will take place next Thursday, March 12.
Meanwhile, St. Mary's Cathedral (1111 Gough St.), which had nine of its windows smashed last month, will host a meeting to address local break-ins on Thursday, March 12 at 1 p.m.
---
Anyone with information about any of the incidents listed above is asked to call the SFPD tip line at (415) 575-4444 or Text-a-Tip to TIP411 and begin the text message with 'SFPD.' Tipsters can remain anonymous.
Did we miss anything? If you have any information on any crime or safety-related issues in the neighborhood, feel free to text Hoodline at (415) 200-3233.