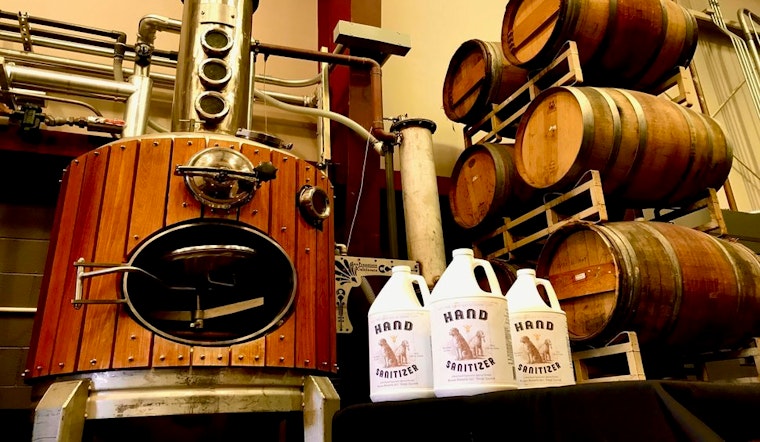 Published on April 07, 2020
Merchants citywide are seeing a significant decline in revenue thanks to the ongoing shelter-in-place order — including industrial businesses like distilleries.
Governor Gavin Newsom signed a recent temporary law to support restaurants and bars by allowing them to sell cocktails. But that's not enough for distillers like Raff Distillerie and Seven Stills, which are heavily dependent on bars being fully up and running.
To help keep their doors open, both companies are re-tooling their operations to produce something much harder to find right now than booze: hand sanitizer. 
Raff Distillerie (1615 Innes Ave.) 
This year, Raff Distillerie had plans to celebrate its second anniversary in Bayview. Since the shelter-in-place went into effect, business has dwindled, and the majority of the staff was laid off. Now, owner Carter Raff spends his time trying to keep the company afloat.
"The Bayview community has been extremely welcoming since we moved into the neighborhood in 2018," said Raff, a fifth-generation San Franciscan who's produced spirits for nine years. "All of our beverage labels are based on San Francisco history."
On a regular day, you can go to Raff Distillerie's tasting room to sample and purchase rum, gin, vodka, and their signature drink, Emperor Norton's Absinthe. "That's my baby," Raff said.
Raff Distillerie plans to sell hand sanitizer citywide, but is starting with the Bayview community. You can purchase an 8 oz. bottle for $10, or a 16 oz. bottle for $18 on Fridays and Saturdays from 11 a.m. - 4 p.m. Hours are subject to change — check their website or call (415) 610-7486.
Seven Stills (100 Hooper St.)
Seven Stills, another Bayview distillery that opened its doors in 2016, recently closed its tasting room in the neighborhood to focus on its new headquarters in Mission Bay.
Like Raff Distillerie, they're dealing with the business hardships of the shelter-in-place order. While they continue to sell their regular products online, they're also offering 30 oz. bottles of their new, housemade hand sanitizer.
Co-owner Tim Obert told us that Seven Stills is prioritizing health care workers and nonprofits for distribution.
"There are people forced to work and don't have a choice," Obert told Hoodline. "They are risking their lives and not able to get the supply they need. They are out there keeping the community safe, so we need to make sure that we keep them safe." 
Seven Stills has been in production for two weeks, and so far, has provided 10,000 32-ounce bottles of sanitizer to Kaiser Hospital. Their goal is to also donate 1,500 bottles to SF Public Works and 500 to SFPD. 
"Distilleries are the only businesses that have the supplies and capacity to provide this, and I feel like it's our responsibility to step in," Obert said.
You can purchase a bottle of hand sanitizer on Seven Stills' website for $24.99, not including shipping. There's also an opportunity to pay it forward, by donating a bottle to one of the nonprofit organizations listed on the site.