Like many commercial corridors around the city, lower Haight Street acquired a bit of a post-apocalyptic vibe under the shelter-in-place order. Concerned about a recent spike in break-ins, many of the businesses forced to close by the COVID-19 crisis had boarded up their windows with plywood. 
In addition to creating a somewhat dismal air, the plywood-covered businesses quickly became a magnet for graffiti. 
"It really bothered me," said Holly Ellis, owner of Idle Hand Tattoo, of her vandalized storefront. "I felt bad the neighborhood had to look at that."
Ellis considered painting the plywood black, to simply cover up the graffiti. But she decided it would be better to "put up something that would be pleasing to look at, and maybe bring a smile to our neighbors' faces."
So she drew up a mural design based on "The Rose of No Man's Land," a World War I-era song written as a tribute to frontline Red Cross nurses.
"It seemed like a no-brainer to pay homage to our healthcare workers, while also sticking to the style we tattoo in here at the shop," she said. "So many people walking by said they loved it, and thanked me for making it look nicer."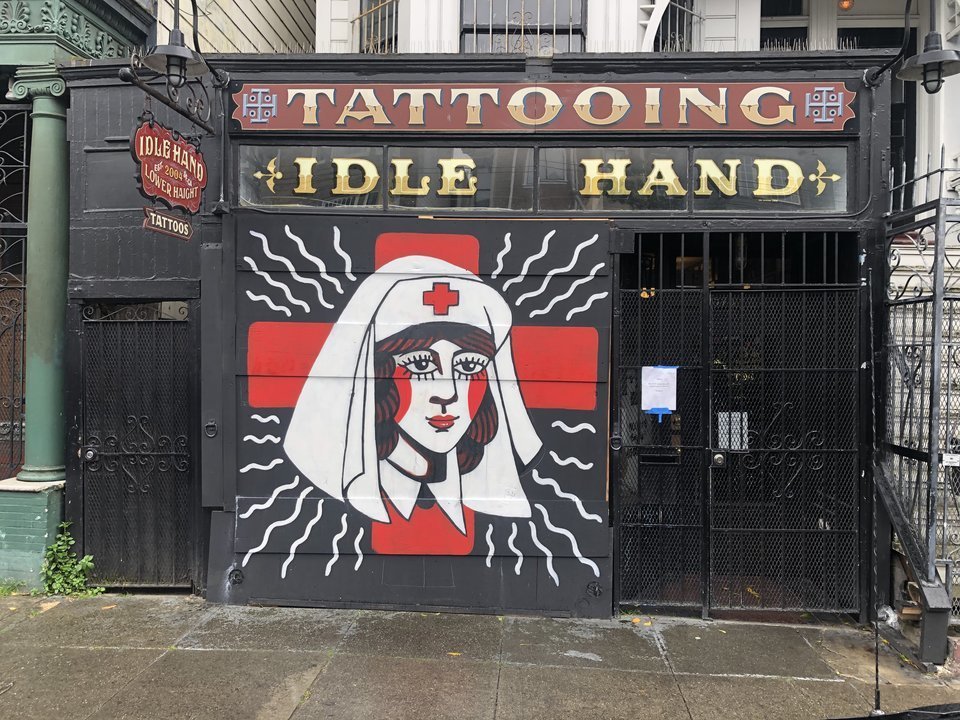 With Idle Hand's business suffering under the shelter-in-place, the Lower Haight Merchants and Neighbors Association (LoHaMNA) lent a hand by purchasing supplies.
"They have been very supportive to our businesses throughout this ordeal," Ellis said.
Muralist George Crampton-Glassanos said that Mike Stevens, owner of Mike's Barbershop and Zip Zap Hair, called him about a week ago to ask if he'd do a mural.
For the barbershops' storefronts, Crampton-Glassanos wanted to "stick with the theme of cutting hair," he said, ensuring that customers know the businesses will return after the shelter-in-place is over. 
His mural is inspired by painted signs displaying haircut options at barbers in the Mission, as well as similar paintings on South African barbershops. "I was intrigued by those signs," Crampton-Glassanos said.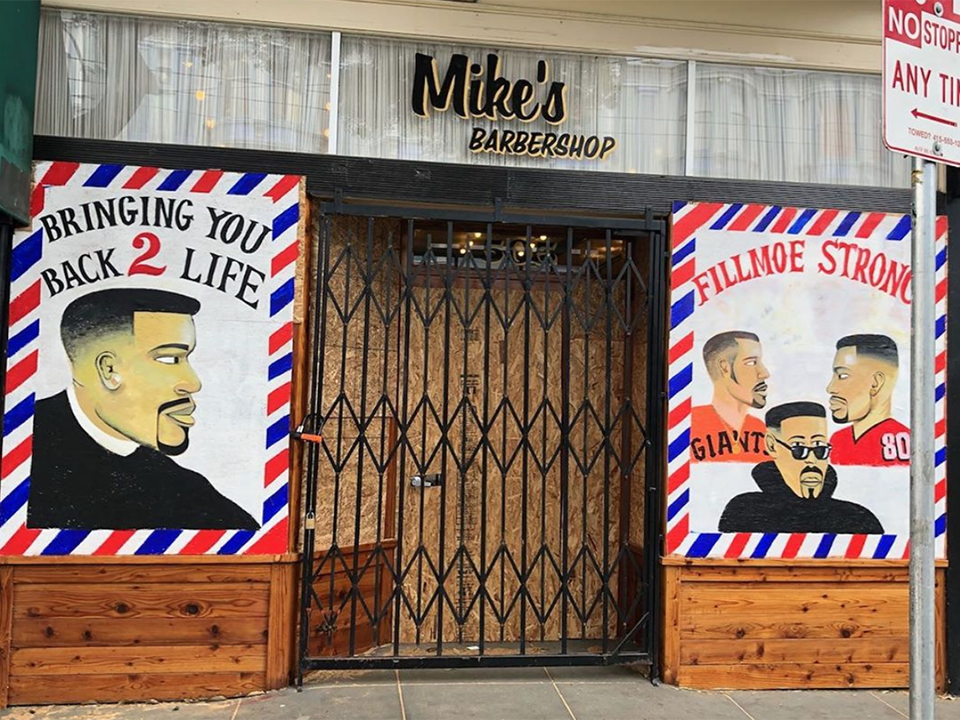 Over at Zip Zap Hair, Crampton-Glassanos painted a 22-Fillmore bus and a UPS driver delivering packages, as an homage to the working class.
"It's a thank-you letter for the people that are still working," he explained.
Both murals also include "Fillmoe", an alternative name for the neighborhood that ties to its rich African-American history. 
The effort has also provided new opportunities for emerging muralists.
Painting a mural of women, birds and butterflies on the exterior of clothing shop Wild Feather was a first for Maria Carmela, who had never done an outdoor painting before. Her collaborator, Cleng Sumagaysay, has never before painted a mural outside the Philippines.
"The project was very large, so it really worked out for both of us," Carmela said. She'll also see some financial benefit: after the shelter-in-place lifts, Wild Feather will put her and Sumagaysay's work up for sale.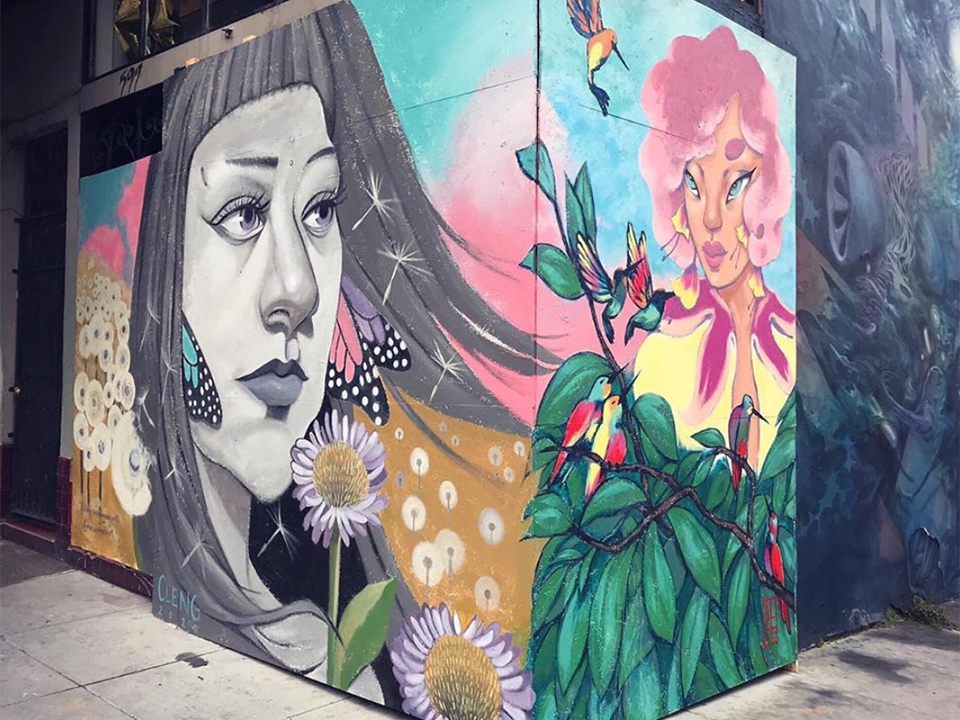 Murals are also up at Danny Coyle's (painted by Julia Prochnik) and Uva Enoteca (painted by Acosta and Elia Magari). All but the ones on Mike's and Zip Zap were covered in some way by LoHaMNA, which picked up the tab for paint and artists' fees. 
"We hope other neighborhoods will do the same," said LoHaMNA's Gio Acosta, "because our local businesses really shape and define the great neighborhoods of SF."
Ellis said she's happy to have the opportunity to brighten the neighborhood. On the day she painted Idle Hand's mural, "the people walking by were all elated to see us painting," she said. "Lots of smiles and pictures being taken."