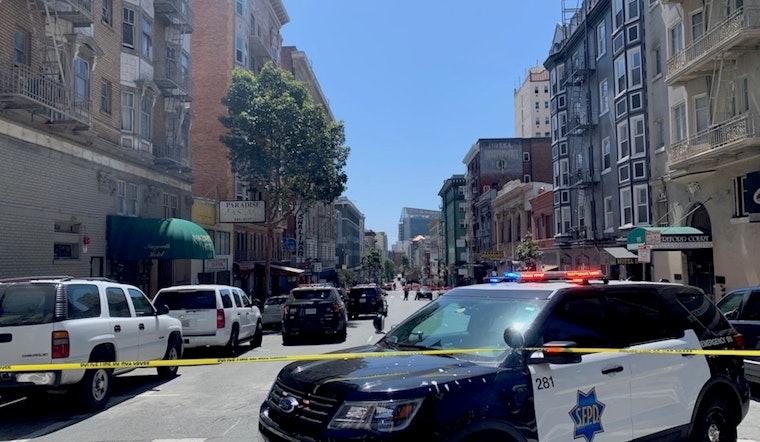 Published on April 21, 2020
Update: April 22, 2020, 7 p.m.: Medical evaluations have indicated that the suspect was not struck by gunfire during the officer-involved shooting. He remains hospitalized for non-life-threatening injuries. SFPD will hold a town meeting within the next 10 days to discuss the incident in more detail. 
Update: April 22, 2020, 10 a.m.: The still unidentified male suspect was taken into custody after more than 15 hours at 9:24 p.m.on April 21. He was hospitalized for undisclosed injuries. The incident is still under investigation.
San Francisco police are in an ongoing standoff with a knife-wielding suspect near the intersection of Jones and Ellis streets in the Tenderloin.
Police say the situation started at 6:36 a.m. this morning, when Tenderloin Station officers responded to reports of a man with a knife on the 500 block of Jones Street (between Geary and O'Farrell).
According to SFPD, "an officer-involved shooting occurred" after police confronted the suspect, a man of unknown age. He fled on foot and barricaded himself in a building on the 300 block of Ellis Street, near the intersection with Jones. It is unclear if he is injured. 
Jones Street is currently closed to vehicles between Geary and Market streets, as SFPD's crisis-hostage negotiation team attempts to communicate with the suspect. He is believed to be alone inside the building.
While SFPD has not confirmed the exact location of the standoff, several witnesses using the crime-reporting app Citizen say that it is occurring at Glide Memorial Church, providing photos as evidence.
Anyone with information about the suspect or this morning's confrontation should text TIP411 (847411) and start their text with "SFPD," or call SFPD's  tip line at (415) 575-4444. You may remain anonymous.