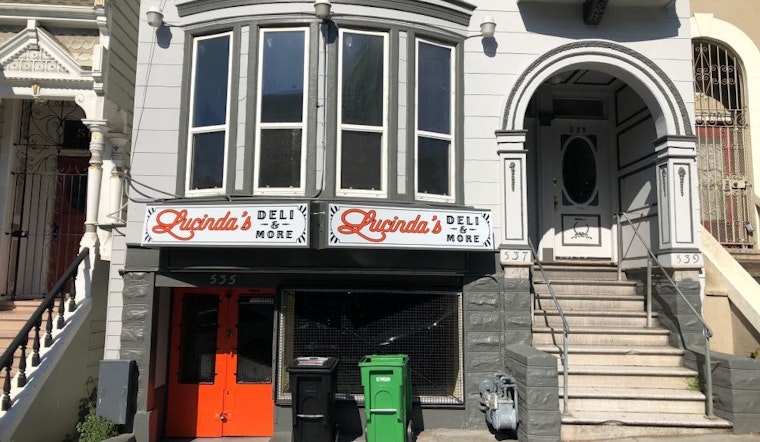 Published on May 06, 2020
Former Horsefeather chef Ryan Chinchilla has taken over the Alamo Square Deli space at 535 Scott St. (and Hayes).
On June 1, the day the city's shelter-in-place order is currently set to lift, he'll reopen it as Lucinda's Deli, a new eatery designed to serve neighbors and Alamo Square park-goers with takeout. 
After leasing the space about a year ago, "we did some work with it," Chinchilla said. "But basically, the vision is just keep it the same: a local corner store, serving nice gourmet sandwiches and salads."
Offerings will range around $10-15, Chinchilla said, with sandwiches at the lower end and take-home prepared meals, like lasagna, at the upper. One sandwich he's particularly excited to debut is a Korean-style take on a Cubano, with roast pork.
Preparing to open under increased COVID-19 restrictions isn't too bad, Chinchilla said, because the deli is focused on takeout options. If the shelter-in-place is extended past June 1, he says he will likely open regardless.
Though Lucinda's isn't currently licensed to sell alcohol, Chinchilla said he eventually hopes to offer a small revolving list of beers and wines people can take to the park with them.
While Chinchilla now lives in West Oakland, he previously lived near Alamo Square for about five years.
"I was in the hood, I was always around," he said. "We're just trying to keep it small, and keep the spirit in the store."
Lucinda's initial hours will be between roughly noon and 5 p.m. The plan is to slowly expand hours from there, to reflect the schedules of park-goers.
"It has been a roller-coaster ride," Chinchilla said of opening a new venture in the face of a citywide shutdown. "But as long as I can produce the food that I want, and do some good for the community, I'm happy."
---
Thanks to F.I. for the tip! See something interesting while you're out and about? Text Hoodline and we'll try to find out what's going on: (415) 200-3233.