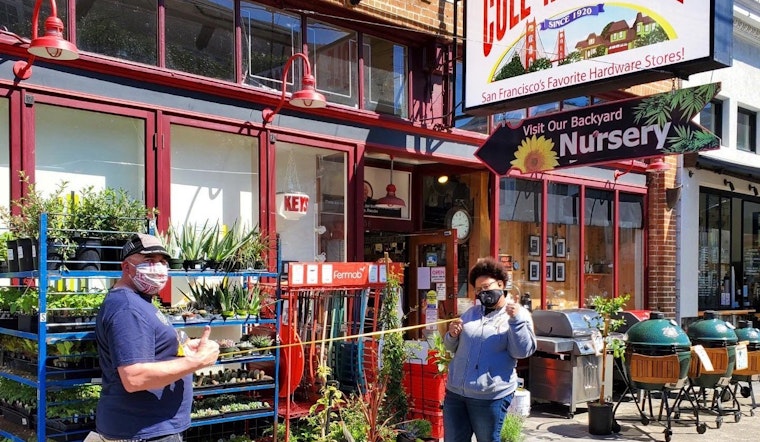 Published on May 15, 2020
Hardware stores have been in a unique position since the city implemented shelter-in-place two months ago. 
Despite their years as the city's main retailers of protective gear and cleaning supplies, procuring those items has suddenly become what Cole Hardware owner Rick Karp describes as "the Wild West."
At the same time, they've been overrun with customers — some hunting for essentials like goggles, gloves and N95 masks, others looking to use the time at home to complete big renovation projects. 
Meanwhile, owners are left in the middle: trying to manage crowds, keep employees safe, and maintain dwindling stocks of suddenly impossible-to-procure items. 
Terry Asten Bennett, general manager of the Castro's Cliff's Variety, said she and her staff get "cussed out" daily when trying to manage crowds entering the store. While most customers are respectful, all it takes is one person to bring everyone down, she said. 
"The pressure with the conditions we are working under right now is exhausting," she said. "And we are all wearing masks — so you don't get facial expressions, which makes it difficult."
Cole Hardware's Karp says managing crowds has been a challenge as well, especially inside the original Cole Valley location, which is narrow. Socially distanced lines outside the store and curbside pickup help, but they're labor-intensive and tiring for staff. 
Keeping employees and customers safe is another concern. Asten Bennett has had customers argue with her staff about coming into the store without masks. Karp has installed plexiglass dividers at registers, and his employees have been working overtime to properly disinfect shopping carts and credit card terminals.
Other stores have lost access to employees altogether. At West Portal's Papenhausen Hardware, owner Karl Aguilar is currently open just four days a week, because only four of his 12 staff members can work.
Some were college students who've returned to live at home, while others have elderly or immunocompromised family members. He's currently hiring to replace them; Cole Hardware is hiring, too. 
Unsurprisingly, masks and personal protective equipment (PPE) have been the most in-demand items at hardware stores. Karp, who's been sourcing them from China for years, says he's had to pay "an arm and a leg" for items that used to be relatively inexpensive.
Prices for N95 masks, especially, have gone haywire. On Reddit last month, a local called out Karp for "price-gouging" after Cole Hardware began offering a box of ten N95 masks for $150. 
Karp said he didn't charge more than his standard retail markup for the masks, which had to be ordered directly from China at an "astronomical" cost.
"We figured it was better to have them to supply the community than not to serve people's needs," he said, noting that Cole has been offering a 20% discount on all PPE items and free sanitation advice via email to local businesses that are working to reopen. 
"Retailers have no idea what to expect or what to do," he said, adding that he hopes the store's two months of experience will prove useful to others.
To help keep mask costs down, Karp and Asten Bennett have been working with local designers to source cloth masks; Cliff's has also done a brisk business selling fabric to home mask-makers.
Chinese-made K95 masks, which are slightly less protective than N95s but more so than cloth, have become another popular alternative.
Other supplies in high demand are toilet paper, which comes in sporadically to stores and leaves shelves quickly, and rubbing alcohol, which can be used to make ad-hoc hand sanitizer. The latter has been nearly impossible to find anywhere in the city. 
Since the pandemic started, Aguilar said he's drawn back on Papenhausen's stock of art supplies, and shifted focus to essentials like bleach and gloves. His suppliers just started offering him rubbing alcohol by the gallon.
"I was like, great, we'll take it," he said, noting that it will come in handy as more businesses reopen.
But some supplies are still elusive. Aguilar says he doesn't expect to receive sanitizing wipes for another month or so.
Customers haven't been just shopping for "essentials," either. Even before the amended shelter-in-place allowed construction sites and plant nurseries to reopen, Karp said his stores have seen lots of people buying paint, gardening supplies and patio furniture for at-home renovations.
"Doing those things make you feel better from a psychological point of view," he said. "It can be pretty depressing to be locked in, so the ability to accomplish things and feel like you're moving forward is a great psychological salve for people."
In addition to home improvement items, Asten Bennett said that crafts, board games and puzzles have been flying off the shelves at Cliff's.
"Some of those things keep people sober and sane," she said.