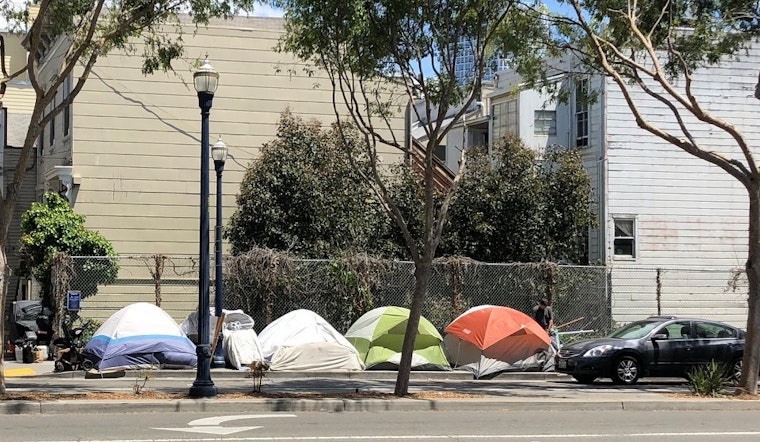 Published on July 23, 2020
Last week, we reported on the Upper Haight's new city-run tent village at 730 Stanyan St., which provides safe shelter and sanitation for 40 people previously living on the neighborhood's streets. 
But while those 40 people have found some welcome stability, hundreds more are still living on the street in the Haight and across District 5. And with COVID-19 cases on the rise again in San Francisco, they could be at serious risk of illness.
Tent camps are visible around the neighborhood — Oak Street, Waller Street, Octavia Boulevard, Haight and Clayton streets, Larch Street and Olive Street. They're crowded, with unreliable access to basic sanitation or services. And they block sidewalks, making it difficult for both campers and pedestrians to remain socially distanced. 
"It's a crisis all over the city," said Jen Snyder, legislative aide to District 5 Supervisor Dean Preston. "[Octavia] has reached a boiling point ... It's a total mess down there. Oak Street is similar."
So what does the city plan to do to help get District 5's unhoused residents into safe shelter? The answer appears to be: not much. 
Snyder said it's been a struggle to get the city's attention on District 5. That's partially because the situation is even more dire in neighborhoods like the Tenderloin, the Mission and SoMa, and partially because many of District 5's unhoused are young adults, aged 18-24.
The Federal Emergency Management Agency (FEMA) will reimburse the city for sheltering people aged 65 or older, or with certain serious medical conditions, in hotel rooms. It won't do the same for young people, unless they've already been diagnosed with COVID-19.
"Youth were never going to be prioritized," Snyder said. "Our encampments in general aren't being addressed."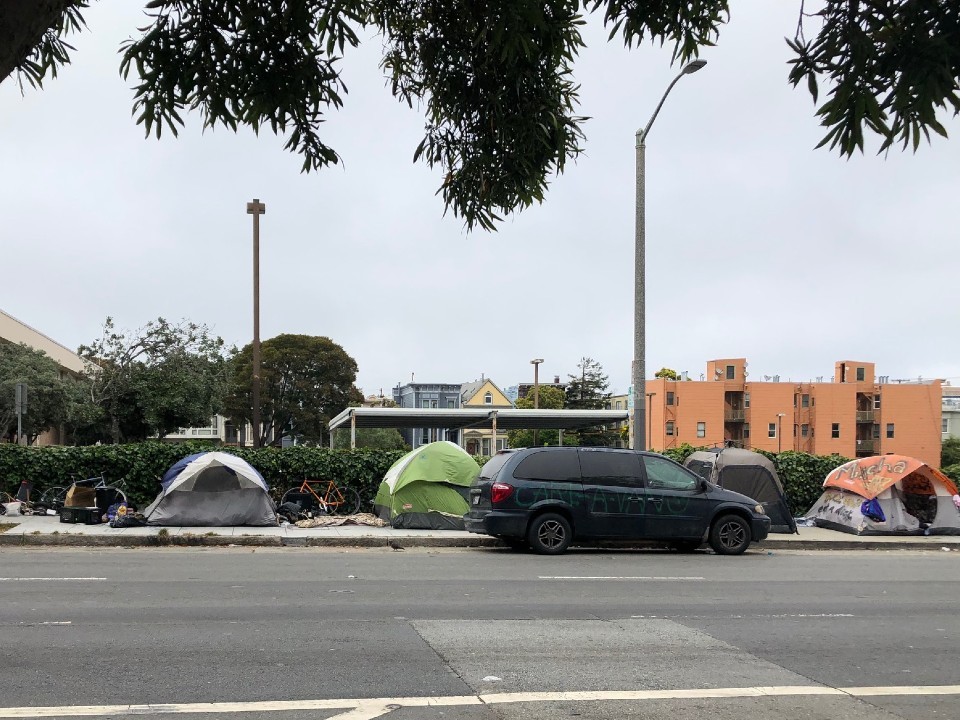 A viable alternative would be the city's "safe sleeping sites" program, of which the 730 Stanyan St. camp is a member.
The plan was devised as a stopgap when Mayor London Breed effectively blocked a unanimous supervisorial vote to house 7,000 homeless people in city-leased hotel rooms. (The city currently has 2,500 hotel rooms allotted to the unhoused, about 1,900 of which are occupied.)
In early June, the city identified 42 viable locations for safe sleeping sites, where people could safely camp at a social distance with sanitation and other amenities.
But it has yet to build any since that announcement — and last week, it closed an existing one at Everett Middle School in the Castro, despite positive feedback from both neighbors and site residents. 
The Everett site was shut down because San Francisco's public schools were planning to resume in-person classes on August 17, a plan since abandoned in favor of an indefinite period of distanced learning.
But even though in-person school won't be returning for the foreseeable future, a spokesperson for the city's Department of Emergency Management (DEM) said the Everett safe sleeping site won't come back. That means that other potential safe sleeping sites on SFUSD property — 26 of the 42 total options — are likely also off the table. 
DEM's Kristin Hogan said officials are currently looking at adding one more safe sleeping site, but declined to disclose where in the city it will be. 
"We have not had the success in getting another safe sleeping site or places to sleep reserved for the Haight," said Snyder, Preston's legislative aide. "We just can't get them anywhere, and it's really frustrating our office. We work on it daily."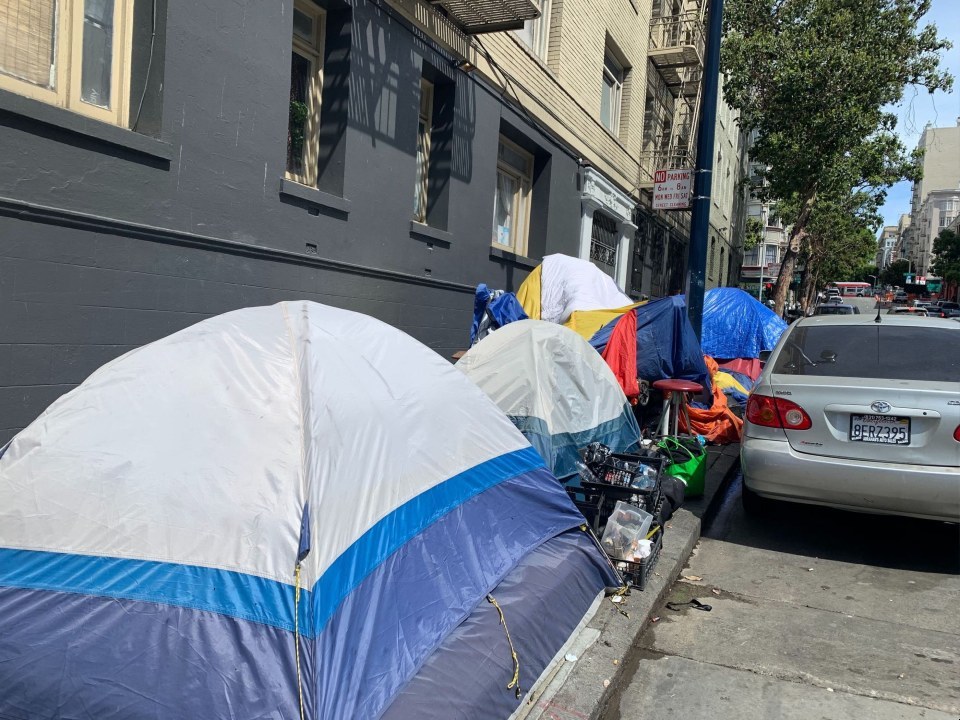 The last remaining alternative is congregate shelters, which house tens or hundreds of people in a single, open-air space with privacy dividers.
Though they were largely shut down at the beginning of the pandemic, the city has been reopening congregate shelters at a rapid pace, despite concerns from homelessness advocates and people living at the sites. 
A report in the San Francisco Public Press on Wednesday found that a congregate shelter at Moscone West, with room for up to 200 people, was unsanitary, with feces-smeared toilet walls and sinks full of needles and garbage.
Three unhoused Moscone residents interviewed by the Public Press said they weren't tested for COVID-19 before entering the facility — a major concern, given that the virus is believed to spread more effectively indoors than out. 
Deb Bourne, who oversees coronavirus homelessness response for the San Francisco Department of Public Health, told the Chronicle this month that sleeping outdoors is likely better at preventing COVID-19 spread than sleeping indoors, provided there's social distancing and adequate sanitation. 
"The air quality is better outside and there's less chance of spread," she said. "[Tents are] a barrier, like your room."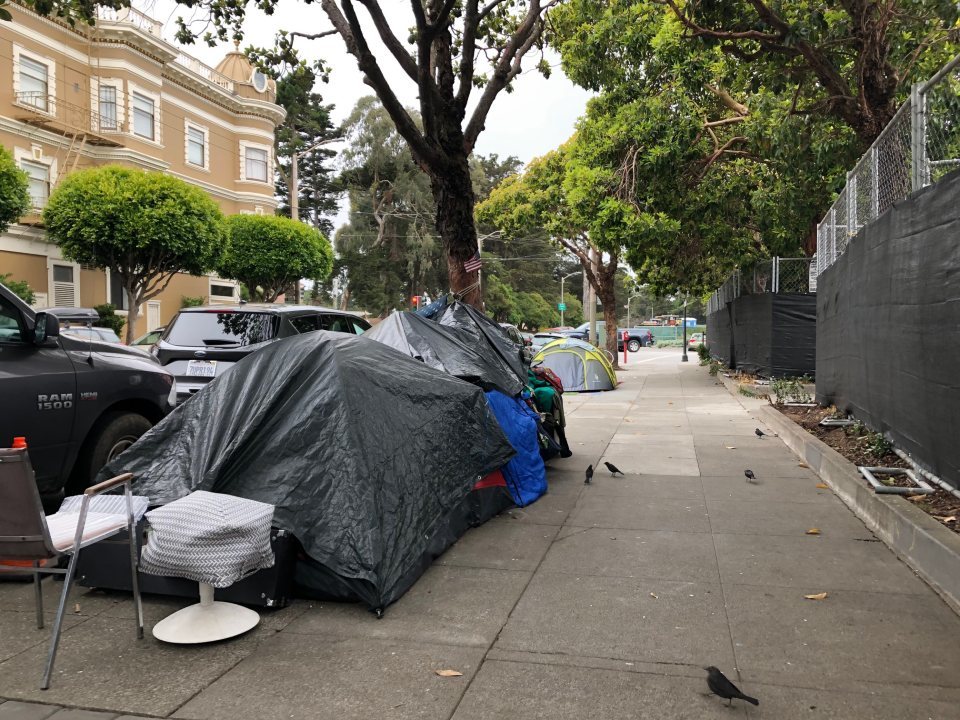 Even if the city were to max out its congregate shelters without compromising safety, advocates say there would still be thousands of homeless people living on San Francisco's streets. And with unemployment skyrocketing and rent payments going missed, their ranks could grow.
Mayor Breed released a two-year plan on homelessness earlier this week. From now through 2022, it will create thousands of permanent supportive housing units for previously homeless people, including those currently living in hotel rooms.
But in the short term, it only offers fixes for about 1,000 more people on the streets — mostly comprised of hotel rooms for the oldest and sickest people, along with more congregate shelter beds and a few RVs.
A new navigation center in the Tenderloin/Lower Nob Hill will specifically target youth aged 18-24 — District 5's biggest constituency — but it won't open until the fall, and will only have room for 75 people. 
Thousands more will have no choice but to continue camping on the sidewalk.
Even the vulnerable District 5 residents who might qualify for a hotel room have been deprioritized, in favor of other neighborhoods.
Harvard researcher Chris Herring, who's advised the Coalition on Homelessness during the pandemic, said that new hotel enrollments are effectively at a standstill at the moment. And as far as Snyder knows, city teams aren't currently conducting any hotel enrollment outreach to homeless people beyond the Tenderloin.
"The [Breed] administration is just unclear on an overall strategy," Herring said. "They seem to be very reactive."
In the face of that reality, Snyder says that Preston's office has had to broker its own fixes, with minimal support from the Mayor's office.
"Every solution, we've had to do ourselves," she said, from organizing the Haight's safe sleeping site to bankrolling hotel rooms for 39 vulnerable people through private fundraising.
"I think what San Franciscans should be writing their government officials about every single day is, 'What are you going to do when this is over? What are we going to do to actually solve homelessness?'"
Snyder says that Preston's office is happy to receive that feedback, but it can only do so much. Concerned District 5 locals should also be making their voices heard "higher up the ladder," at the Office of the Mayor and the Department of Homelessness and Supportive Housing.
Herring said he believes the city does care about the issue of homelessness, but its response has been patchwork.
"It's not that they haven't done some good things — they can and are [taking action], but it's hard to navigate," he said. "Unfortunately, my broader read is that what's going to happen is going to be really reactive, based on lawsuits and housed people's complaints."