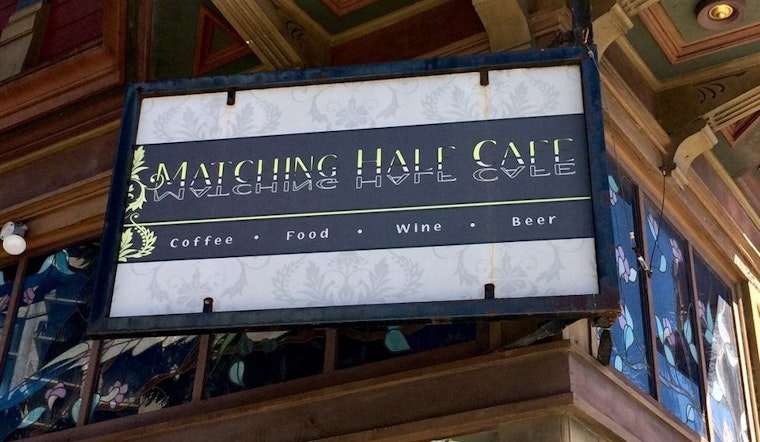 Published on July 07, 2020
Here's the latest in SF food news. In this edition, a NoPa coffee shop is changing ownership, a new pizzeria opens near Dolores Park, and we investigate the extended disappearance of a popular Greek eatery.
Updates
NoPa
Matching Half (1799 McAllister St.)
Change is afoot at popular Divisadero coffee shop Matching Half. Owners Lauren Almeda-Reddell and Jason Wahlberg announced on Instagram that they're selling the cafe after 11 years in business. 
"We are hanging up our aprons and passing along the baton to a new team," they write. "It's been the thrill of a lifetime to connect with all of you and share in the joys and triumphs of this neighborhood and city."
It's unclear if Matching Half will continue under its current name and format. Almeda-Reddell and Wahlberg did not respond to a request for comment.
On Instagram, the pair say Matching Half will remain open for a few more weeks, in order to help transition in the new ownership. We'll keep you posted on what's next.
Hayes Valley/Mission/Marina/NoPa
Souvla (517 Hayes St.)
We've had several inquiries from tipsters about what's going on with popular Greek eatery Souvla, which has four San Francisco locations.
According to Instagram, Souvla closed all its locations on March 17, when the shelter-in-place order came down. Nearly four months later, they haven't reopened, even for takeout. The restaurant hasn't posted on social media since Easter.
The closures are puzzling to many, because Souvla was a delivery and takeout powerhouse long before the pandemic hit.
In March, owner Charles Bililies told SF Weekly that he had to open a delivery-only commissary kitchen in SoMa because of the "champagne problem" of too much delivery business. A recent Food & Wine story reveals that delivery accounted for 60 percent of Souvla's overall business. 
But Bililies told Food & Wine that reopening didn't make sense for Souvla. In the run-up to the shelter-in-place, delivery and takeout orders halved, meaning he'd be running at a loss. He was also concerned about the health of his employees, who largely commute via public transit. 
"I put the health and safety of all of the women and men that work at Souvla above everything else," he said.
So will Souvla ever come back?
Bililies directed a request for comment to a representative, who says Souvla will be releasing news about its plans later this week. 
One possible clue: Bililies told the New Yorker last week that he plans to bring Souvla to New York, where his wife, Jen Pelka Bililies, has already opened a spinoff of her Hayes Valley champagne bar The Riddler.
Openings
Mission
Pizza Due (489 Church St.)
The team behind Morning Due Cafe (3698 17th St.) has rebranded its adjacent sister eatery. 
Formerly Due Drop In — a specialist in rotisserie chicken — it's now known as Pizza Due.
Pie options include a margherita, the baconato (bacon, roasted Yukon potatoes, rosemary, mozzarella and béchamel) and the "super due" (pepperoni, Italian sausage, bell peppers, mushrooms, red onions, mozzarella, tomato sauce). The menu is rounded out with house and Caesar salads and soft drinks. 
You can place orders for takeout or delivery on Square. 
---
If you've seen something new (or closing) in the neighborhood, text your tips and photos to (415) 200-3233, or email [email protected]. If we use your info in a story, we'll give you credit.