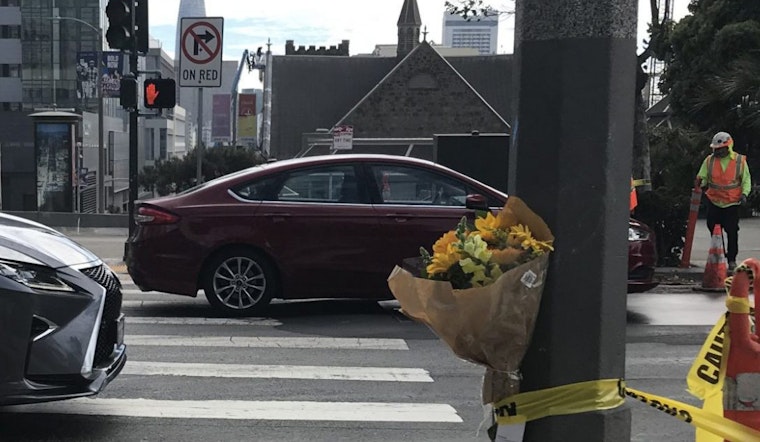 Published on August 19, 2020
On August 11, Mark Berman, 50, was struck and killed by a driver while legally walking in a crosswalk at Geary Boulevard and Gough Street.
Now, officials have confirmed that the driver hit the father of two while speeding through a red light — and recording the act for social media. 
At yesterday's SFMTA board meeting, transportation director Jeffrey Tumlin confirmed that the driver, 26-year-old Raja Whitfield, was going up to 65 mph and "recording the reckless behavior for social media" when he struck Berman.
The speed limit on that stretch of Geary is 25 mph on the eastern side and 35 mph on the western side.
Streetsblog first reported a Twitter video by a man who appears to be Whitfield, where he discusses driving 100 mph in a 25 mph zone and jokes about "incriminating himself." He also calls himself a "street racer."
In another Instagram video shared with Hoodline, Whitfield says he is driving a Porsche Cayenne that can go from "zero to 60," adding that "if you are not Raja Whitfield, you can't drive like this." (Though the Instagram account bears Whitfield's name, a police spokesperson declined to confirm whether it is his.)
Whitfield, who sustained non-life-threatening injuries in the crash, was booked into San Francisco County Jail on charges of manslaughter, reckless driving, speeding and entering a crosswalk on a red signal. Bail has been set at $300,000, with his next court date scheduled for Monday.
While the SFMTA will be implementing pedestrian safety improvements in the area as part of the Geary Rapid Project, there are only "limited options for being able to control speed" on Geary, Tumlin said at yesterday's meeting. 
As part of the project, the corridor will receive pedestrian bulb-outs at intersections to shorten crossing distances, as well as new crosswalks and enhanced medians for people to get across Geary.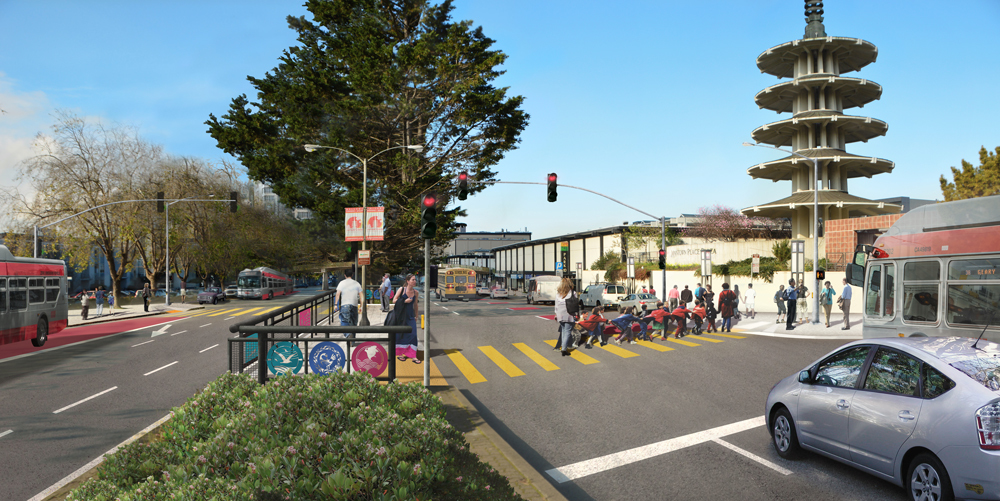 Pedestrian advocates say that's not enough, and that the city should utilize red light cameras to catch and penalize drivers speeding through intersections, as Whitfield did.
"SFMTA must quickly increase the number of red-light cameras at dangerous intersections," Jodie Medeiros, executive director of advocacy group Walk SF, said in a statement last week. "They work day and night, and send a clear message that aggressive driving has no place here."
Tumlin says that the SFMTA plans to install red-light cameras "at key locations" around the city that have had issues with red-light running. It's unclear how many cameras will be installed, or if Geary and Gough will be one of the intersections to receive one.
The SFMTA has already been hard at work to address turns into crosswalks, where fatal crashes often occur. Tumlin said the agency has added 83 turn restrictions on the high-injury network, the 3% of San Francisco streets where 75% of traffic crashes occur. It's also added 55 no-left-turn restrictins, nine no-turn on reds and 19 bans on right turns.
The holy grail for many pedestrian advocates is automated speed enforcement, which is currently illegal in the state of California. The SFMTA and Mayor Breed's office have both pushed to change the law. 
The principle of automated speed enforcement is simple: drivers traveling at lower speeds are less likely to kill or seriously injure pedestrians when a collision occurs. Many cities have seen success with the program, such as Washington, D.C., where traffic fatalities declined by 73%.
"It's the most effective way of creating rapid and dramatic changes in safety outcomes, particularly in reducing pedestrian fatality," Tumlin said.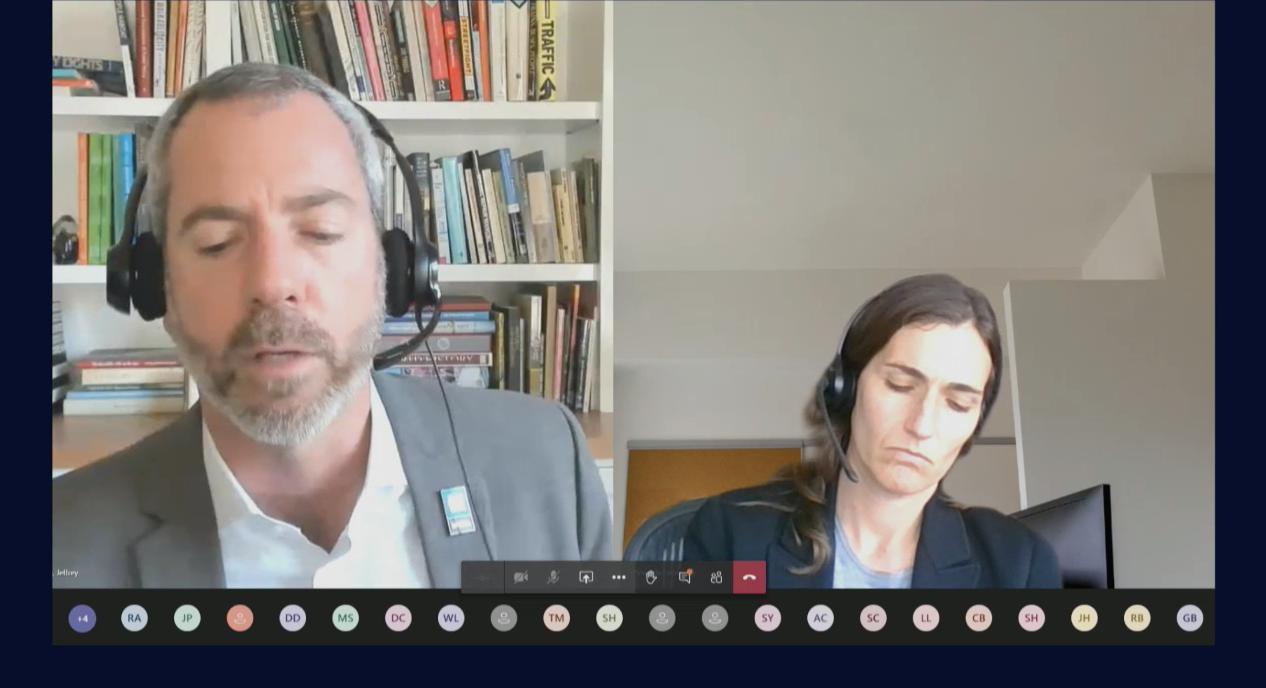 Berman's death is the latest in a summer of notably increased pedestrian fatalities.
Last month, Michael Kingsley, 50, was killed by a hit-and-run driver at Jerrold Avenue and Bayshore Boulevard in the Bayview. That followed the June 18 death of Sergio Montes, 60, at Dwight Street and San Bruno Avenue in Portola.
Another pedestrian was killed earlier this month while crossing the off-ramp of I-280 at San Jose Avenue, near Glen Park BART station. Tumlin said that the California Highway Patrol is still investigating the incident. 
Several callers at Tuesday's hearing urged the agency to do more to address the spate of deaths.
"At this rate, we'll surpass 2019's pedestrian fatalities," one said. Another caller noted that "there's a lot of road rage in San Francisco. Many more people are driving over 60 mph."
As a third caller noted, last week's crash was not the first in the area. Just last year, a 70-year-old woman died after being struck by a driver a block away, at Geary and Laguna.
"How is there nothing being done?" the caller asked. "This is terrible."