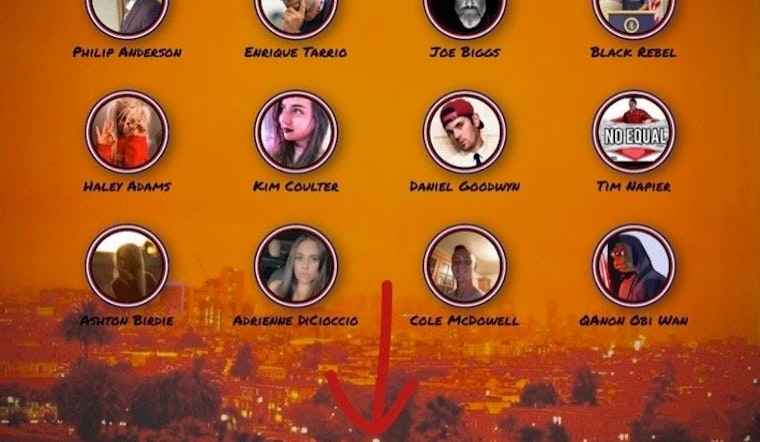 Published on October 08, 2020
A political rally featuring Proud Boys adherents and QAnon conspiracy folk for which there is an online flyer and website is purported to be happening in Dolores Park on October 17, however the Department of Rec & Parks says that nothing like this would ever be permitted in Dolores Park anyway. 
A flyer for the rally, featuring orange-sky photos of San Francisco, appeared on Twitter on October 4, with a list of scheduled speakers that includes current chairman of the Proud Boys organization, Miami-based Enrique Tarrio. The 1 p.m. event is being billed as a "free speech rally," with a second 4 p.m. phase appearing to be a protest outside Twitter's Market Street headquarters. The group or theme behind the event is #TeamSaveAmerica, and that URL is serving as a landing page for the event with little further information. (It does note "We will let you know if the rally location changes.")
Free Speech RALLY and PROTEST against Twitter & Big Tech

Oct. 17 in San Francisco, California!

Be the HERO America needs!

SAVE FREE SPEECH !!!!

Register NOW: https://t.co/CTYkOV8h4K pic.twitter.com/BNE81QM5q6

— Philip Anderson (@TeamSaveAmerica) October 5, 2020
The Berkeley Antifa Twitter account has posted an "alert" about the event, and the organizer, a Black Texas man named Philip Anderson, has been openly antagonizing Berkeley Antifa, and essentially daring them to show up and fight.
Bay Area residents should be familiar enough by now with this tactic of enflaming of anti-fascist and liberal passions by scheduling events that are labeled "free speech" rallies. There were multiple such events in San Francisco and Berkeley in the wake of Charlottesville in 2017 — including one rally by the group Patriot Prayer planned for Crissy Field that garnered loads of media attention, was canceled at the last minute over "security concerns," and which was clearly going to attract more counter-protesters than actual supporters. Several other similar rallies in Berkeley in 2017 simply turned into chaotic skirmishes between Trump supporters and counter-protesters.
So, as we approach the November election, it's predictable that more of this type of thing might crop up. But is this event actually taking place? One of the scheduled speakers, a QAnon conspiracist named Cole McDowell, who goes by the name Professor Q, has launched a crowdfunding campaign to raise $1,000 to help him get to the rally — his location is listed as Fullerton, CA. 
Also listed as a speaker is two-time SF mayoral candidate Ellen Lee Zhou, whom Hoodline interviewed in during her 2018 candidacy, and who was called out last fall for a racist campaign billboard she put up in SoMa depicting a cartoonish London Breed.
Hoodline reached out to SF's Department of Rec & Parks, and when asked if anyone from the group has approached them, spokesperson Tamara Aparton, replied, "Nope. Hasn't contacted us or applied for a permit." Aparton explained "We've been hearing about it quite a bit [about the event] from reporters. At any rate, even if they applied, we don't permit events at Dolores because it's already too crowded (with the exception of "historical events," meaning events that have been held at Dolores for more than 10 years. The Dyke March, for example). This has been our long-published policy."
The Proud Boys were not a particularly well known entity prior to their being mentioned in last week's presidential debate. President Trump challenged Joe Biden to name a white supremacist group that he should disavow, and when Biden said "Proud Boys," Trump replied, "Ok, Proud Boys, stand back and stand by." The group, which publicly denounces white nationalism and prefers the term "western chauvinism," was obviously excited by the shout-out, as CNN reports. But, as Forbes explains, because the Proud Boys organization was banned from Twitter two years ago, the #ProudBoys hashtag was taken up by gay men on social media last week posting photos of themselves, in order to confuse the public and steal the group's thunder.
The group was founded by VICE Media co-founder Gavin McInnes, who has become a kind cult figure for men on the alt-right. In addition to railing against Muslims and immigrants of all kinds, McInnes proselytizes about old-fashioned heteronormative ideals like the role of the housewife, and loudly encourages violence against leftists, as the Southern Poverty Law Center reports.
We will update you if it appears this event is actually taking place.
Update: Berkeley Antifa is assuming this is a real event and has put out a call to come to "defend Dolores" on the 17th. Organizer Philip Anderson, who is Black, accuses Berkeley Antifa of being racist for attacking his event.
Antifa, are you all White supremacist terrorists now 🤡?

Why are you coming to attack MY EVENT?

I'm a BLACK man and this is 100% MY EVENT, no one else's.

Over half of our male speakers are black.

All speakers currently awaiting confirmation are black/Asian. STOP BEING RACIST https://t.co/yIqUFPHBwm

— Philip Anderson (@TeamSaveAmerica) October 9, 2020
*This article has been updated with further comments from Rec & Parks.