By
Matt
- Published on November 12, 2020.
After shuttering its downtown Oakland location last October, Donut Savant debuted its new East Oakland store on Thursday to large, socially distant crowds.
There's no shortage of mouth-watering doughnut shops in the Bay Area. But Donut Savant — an Oakland institution known for its artisanal, refined takes on the ubiquitous morning treat — had always stood out from the competition; the shop's salted maple cronuts alone are legendary. So, after a year of being closed (due to the building Donut Savant previously occupied at 1934 Broadway being slated for destruction to make way for a 39-story tower), it was little wonder why a well-spaced queue snaked around its new storefront throughout Thursday morning and afternoon.
View this post on Instagram
Opening Thursday from 7 a.m. to 1 p.m. for its grand opening, the celebrated shop permeated the intersection of 38th and Permienan avenues with the smell of freshly fried carbohydrates. Taking the place of "The Kings Coffee Shop" at 3000 38th Avenue in East Oakland, Donut Savant's now-famous collection of miniature doughnuts were on full display, visible through the street-facing windows.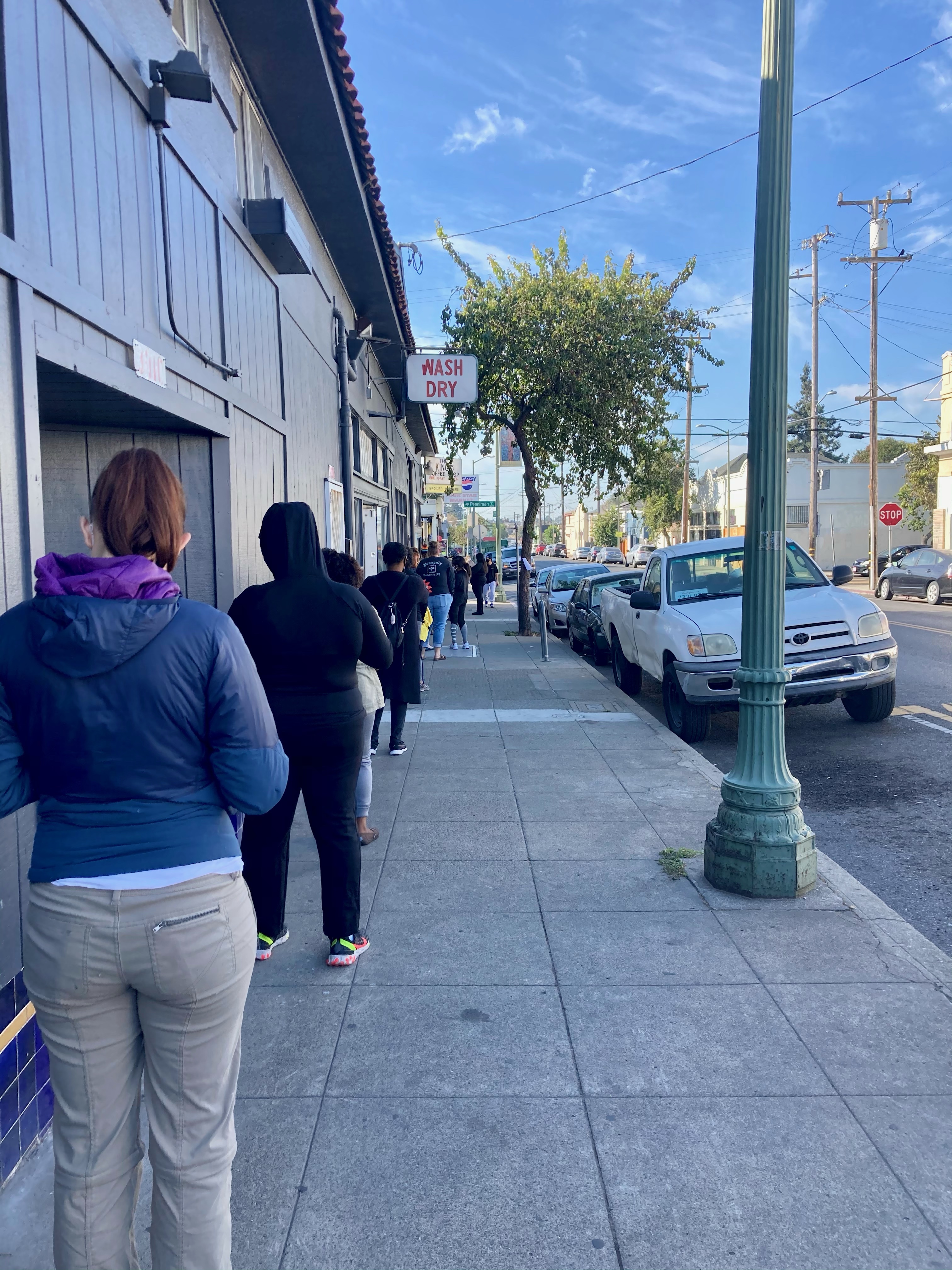 Photo: Matt Charnock/Hoodline

We found ourselves in line for over an hour until we finally made it inside Donut Savant's newest haunt. (Never before would I've imagined I'd wait nearly 90 minutes for donuts — but there I was before 10 a.m. on a crisp Thursday morning... salivating and eyeing a myriad of cronuts from afar.) Admittedly, the process would've been much speedier if we weren't contending with a global pandemic.
Store employees told Hoodline they were only allowing two parties (up to four people) in at a time to shop; walls of plexiglass separated patrons from on-site staff; card and touchless payments (e.g. Apple Pay and Google Pay) were preferred above cash sales. Per the new norm with any restaurant opening these days: large bottles of hand sanitizer were dotted around the place.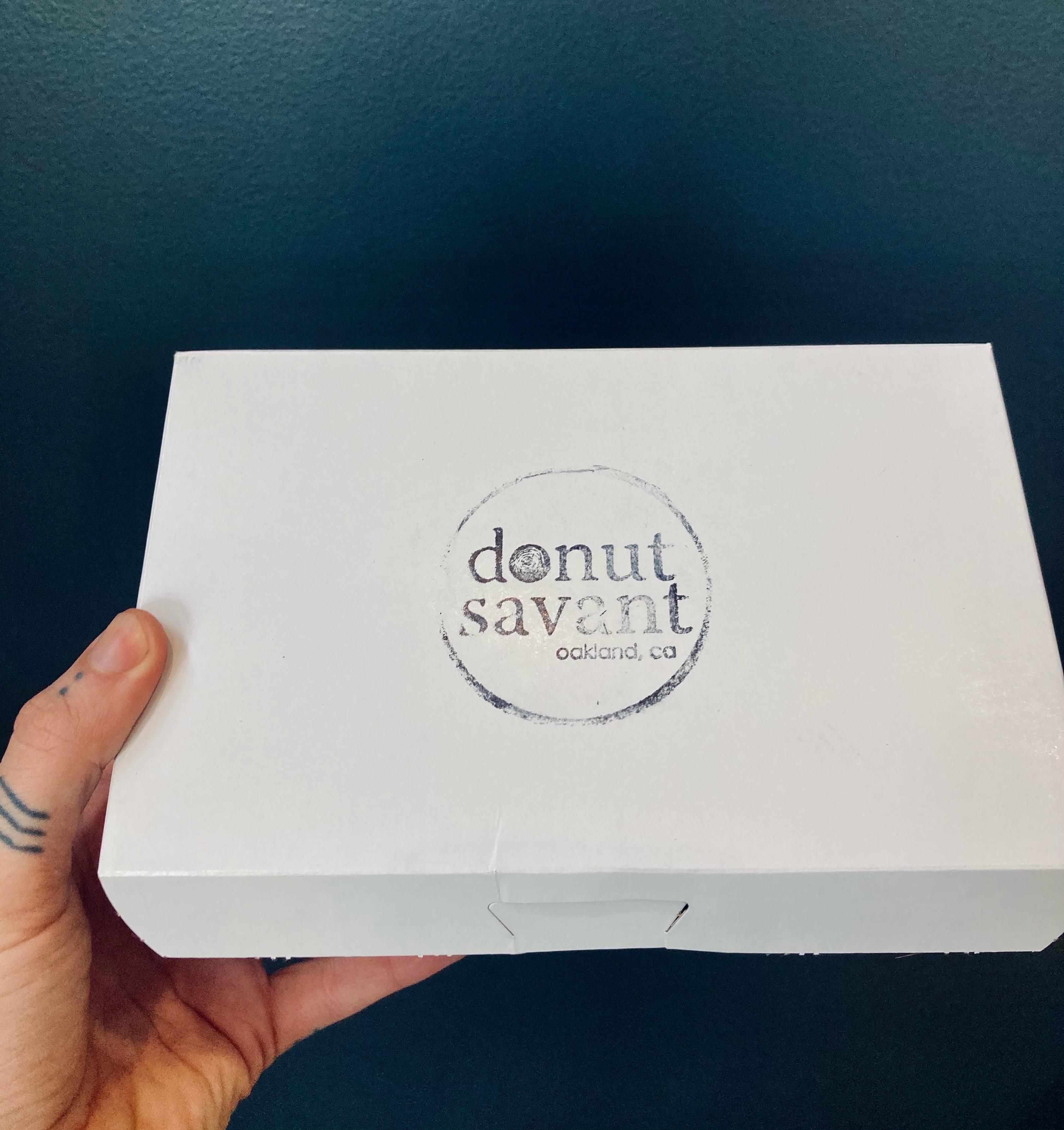 Photo: Matt Charnock/Hoodline

The shop itself is painted with a muted blue color scheme — which is only accentuated by the off-gray concrete floors. (I spotted a collection of merchandise and branded coffee mugs to the left of the Square cash register.)
With moderation and calorie counting tossed to the wind, we chose four mini doughnuts — salted maple varieties of both their cronuts and cake doughnuts, along with two traditionally glazed iterations of each — to enjoy when we got back home. (Donut Savant is currently only open for walk-in orders and will soon be open for online ordering with in-store pickup.)
Our first bite into one of the cronuts was an experience rich with déjà vu and pre-pandemic normalcy. Having been fans of the now-closed downtown location for years, the sugary noshes at Donut Savant's brand-new store echo the same quality and taste we've praised prior. And given the fact that you can rationalize these, in fact, are smaller-than-average doughnuts somewhat lessens the guilt you'll feel when you inevitably reach for a second one.
Donut Savant is now located at 3000 38th Avenue in East Oakland and is open Wednesday through Sunday from 7 a.m. to 1 p.m.; online ordering for same-day or future pick up is expected to launch soon; customers are required to wear masks at all times and abide by proper social distancing practices; visit donutsavant.com for more information and visit their Instagram (@donutsavant) for daily updates, menu selections, and specials.