On Tuesday, Mayor London Breed announced that the city of San Francisco would be halting all indoor dining, just six weeks after allowing it at 25% capacity. The announcement comes barely two weeks after an official "pause" on reopening efforts spurred by a slight uptick in COVID-19 cases, and just over three weeks after Breed had suggested the city might loosen restrictions by Election Day and allow 50% capacity inside restaurants.
"People have gotten complacent," Breed said, blaming more lax behavior among San Franciscans for a spike in daily new cases. According to city data, new cases went from being 3.7 per day per 100,000 residents, to being 9 per 100,000 residents as of this week.
"Two weeks ago we knew we were possibly headed in this direction," Breed said, referring to the early announcement about the "pause." "Sadly what we're seeing now today has put us in a situation... where we have had to make another hard choice."
The change in indoor dining takes effect at midnight on Friday. See the full city press release here.
The Golden Gate Restaurant Association issued an immediate statement in reaction to the news, saying, "We are very disappointed San Francisco has announced closing indoor dining effective Saturday morning, November 14th. Although our foremost concern remains with the health and well-being of our community, we do anticipate immediate negative effects; including more restaurant closures, both short-term and permanent, significant job losses, and numerous employees losing health insurance coverage."
"As of right now there are no new criteria for when we can expect to have indoor dining allowed again, but we are concerned that it will not be for a few months," the association added. "We are working with the city to get financial relief in the form of fee or tax relief."
The city has not suggested, via contact-tracing data, that indoor dining has been connected directly with a surge or any outbreaks in cases, so this move will no doubt bring controversy and pushback from the industry. Also today, Breed and Public Health Director Dr. Grant Colfax announced that gyms and movie theaters could remain open indoors, just at reduced capacity from before — 25% or 50 people, whichever is fewer.
"We have to act now to turn the tide on this surge," Colfax said during the press conference, noting that the acceleration in cases appears to be more rapid than it was ahead of the July/August surge, which came also with a spike in hospitalizations across the city.
Colfax shared the chart below illustrating how daily new cases have risen in recent weeks since a low in early October.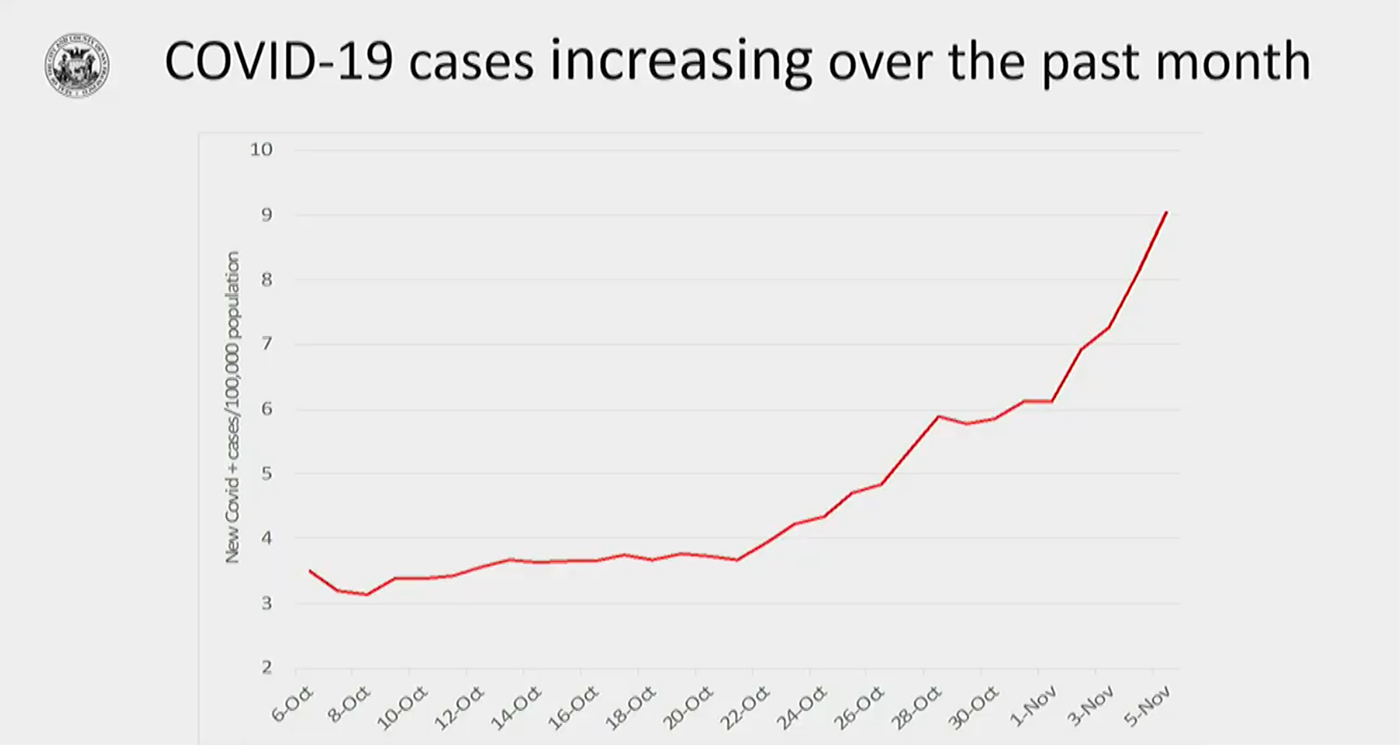 "I know this is not the news our residents and businesses wanted to hear," Breed said, "but as I've said all along, we're making decisions based on the data we're seeing on the ground. Right now, our public health officials are telling us we need to take these steps to get the virus under control and save lives — so that's what we're doing."
Speaking to the Chronicle after the announcement, Samir Mogannam, owner of the growing mini-chain Beit Rima with locations in the Castro and Cole Valley, says the timing of the change is going to frustrate a lot of restaurant owners.
"The weather is getting colder and people right now are going to be looking to come inside," he said. "It's going to hurt a lot not being able to do that because right now, every little bit that you can bring in counts."
As SFist notes, Contra Costa and Santa Cruz counties both moved backwards in the state's four-tier grading system on Tuesday, going from "Orange" back to "Red" status, which comes with further restrictions on business activities and schools. Santa Clara County, while not yet announcing new restrictions, hinted that a rollback may be coming at a press conference Monday — following a weekend that saw a dramatic jump in new cases not tied to any particular event or activity.
San Francisco officials also announced today that there would be no further reopenings of high schools for in-person classes for the time being.