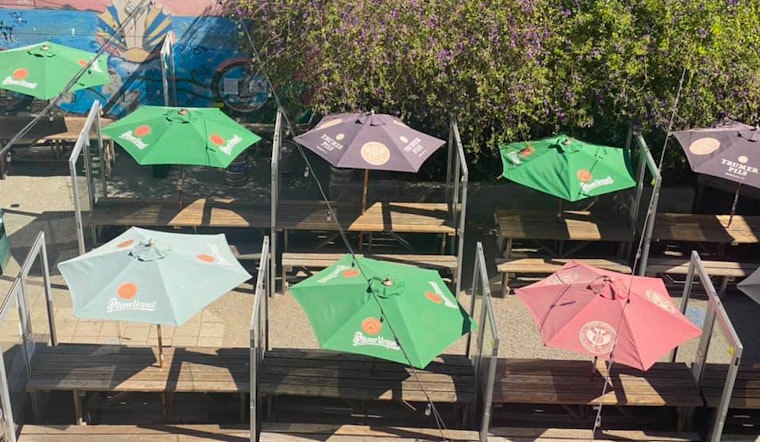 Published on November 10, 2020
Popular dive bar Zeitgeist will soon be bringing some much needed comic relief to the city. Starting this Sunday, November 15, the bar will host a live, recurring stand-up comedy night in its beer garden with performers from local comedy group House People, the brainchild of local comedians Darlene Bereznicki and Orion Levine.
Lara Burmeister, whose family owns Zeitgeist, said there are very few places right now that people can see live comedy in San Francisco, so she hopes it will be a safe place where fans can go and support local performers.
"We have this incredible space, and we want to be a part of the community in a way that supports other artists and small businesses," she said.
Since the pandemic hit, Zeitgeist's owners have been trying to adapt to the times to help the business stay afloat. A few months ago, it hosted live music, but it was difficult to sustain, said Burmeister.
"We struggled because there's still a rule around singing that's prohibited unless there's a religious or political setting, so it was hard to get musicians to partner [with us], which was a little surprising," she said.
Since Zeitgeist has a Limited Live Performance permit (LLP), it already has permission to host live events. Tickets can be purchased on Eventbrite in advance, and the event will commence this Sunday. Until January, comedy night will occur every other week, and if all goes well, it'll run weekly.
On Sunday, ticketholders are instructed line up outside the bar and will be seated at socially distanced tables of 2, 4, 6, or 8. As with regular service at Zeitgeist, a full bar and food menu can be ordered from a QR code from devices that are cleaned after each use and served to seated customers.
Burmeister said that all of its procedures are not about just protecting customers, but to protect staff.
"There are people at risk at all age groups and demographics, so we are taking every precaution to ensure that our staff does not get sick," she said.
As for adapting to the times and giving people a place to safely come to in the midst of pandemic cabin fever, it's not the first time Zeitgeist has added something new to its repertoire.
In July, its owners developed a partnership with Four Barrel Coffee to offer breakfast sandwiches, made from the bar's kitchen while offering a space for people to get out of their homes and work from their laptops.

Photo courtesy of Four Barrel

Burmeister said that at first, the partnership brought in a fair amount of business. Then when the wildfires in California created unhealthy levels of air quality in the city, it lost its momentum. But Zeitgeist is still continuing its partnership with Four Barrel and breakfast service, hoping it will eventually pick up again, but now only with canned coffee.
As for the upcoming holidays, the Zeitgeist team is still mulling over what it'll do. Burmeister said that Halloween wasn't as busy at the bar as they had hoped, but she admitted that it's difficult to anticipate consumer preferences and make predictions about the business at such an unprecedented time.
So, for Thanksgiving, Zeitgeist will go middle ground. For Thanksgiving, the place will offer a menu that's not a full-on holiday spread but offer more of a leftovers-style menu of turkey sandwiches and Brussels sprouts.
As for Christmas, the owners still aren't sure what they will do. Pre-COVID, the bar was open 364 a year, and it closed down one day for a staff holiday party in February. But will it be worth it to stay open on Christmas? That's yet to be determined.
But, as for its new, recurring comedy event at Zeitgeist, Burmeister said that she is excited about working with House People and is curious about the perspectives of the performers and what avenues they've had, and how to cultivate their work.
"It feels more imperative on my part to create space where there is none, she said. "I hope it will be successful. We are trying it out and we will see."