The City of San Francisco is seeking interest from qualified developers to build affordable rental housing at nine sites across eastern San Francisco, including an unassigned parcel at Pier 70 and several SoMa locations.
Several of the sites have been slated to become affordable housing for several years, including 967 Mission St., which is part of the massive SoMa 5M development plan, and the former home of New Asia restaurant at 772 Pacific Ave., in Chinatown, which was acquired in 2017.
Others are more recent city acquisitions, such as 1515 South Van Ness, which sat idle after the homeless Navigation Center closed in 2018, until the Mayor announced it would be bought by San Francisco to develop up to 150 new affordable family units.
The request for proposals (RFP), issued by the Mayor's Office of Housing and Community Development, seeks one or more interested developers to apply to "assist the City in developing permanently affordable rental housing for seniors, families, HIV Positive households, and formerly homeless households."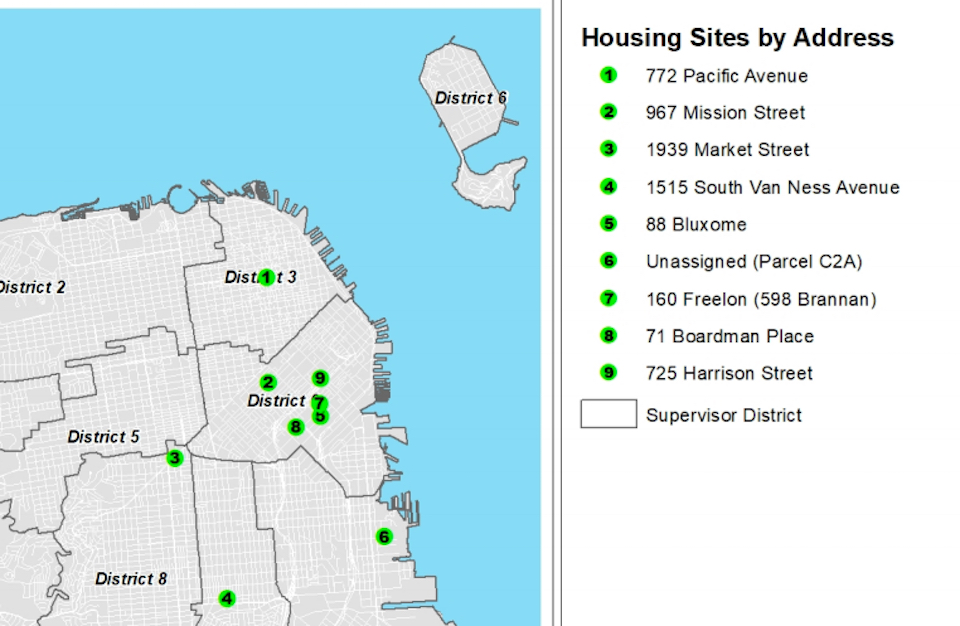 Map of RFP sites via MOHCD
The family housing-focused developments will including one, two, and three-bedroom units. No less than 25% of the unit must be available to be subsidized by the city's Local Operating Subsidy Program for formerly homeless families, and the developers must consider whether childcare could be offered along with other on-site support for the residents.
The RFP also includes specific requirements for senior housing, including that no less than 20% of the units can be subsidized by LOSP, and that appropriate on-site services be available to support formerly homeless seniors.
The nine sites covered by the RFP, and their intended development plans, are:
772 Pacific Avenue (Chinatown) - Senior Housing
967 Mission Street (SoMa) - Senior Housing
1939 Market Street (Castro/Duboce) - Senior Housing
1515 South Van Ness Avenue (Mission) - Family Housing
88 Bluxome Street (SoMa) - Family Housing
Pier 70 / unassigned parcel C2A (Dogpatch) - Family Housing
160 Freelon/598 Brannan Street (SoMa) - Family Housing
71 Boardman Place (SoMa) - Supportve Housing
725 Harrison Street (SoMa) - Supportive Housing


Once the Board of Supervisors and the mayor have signed off on the approved development team or teams, MOCHD plans to transfer the sites through long-term ground leases. All renters at the sites will have to qualify under set income limits, and all units will be available at an unsubsidized average of no more than 60% of the average San Francisco Area Median Income (AMI). Beyond that overarching affordability requirement, "some portion" of the units at each site must be reserved for extremely low-income renters, making 30% AMI or less. And at least five units per site, and 10 at the Pier 70 site, must be available for referrals from the city's Plus Housing list, for low-income residents living with HIV, with rents set at no more than 50% AMI.
MOCHD will host an online information meeting on December 18, 2020, and responses to the RFP are due no later than January 22, 2021. The city plans to announce selected developers by April 2021.