While San Francisco and other cities around the country are facing shortages of vaccine supply compared with demand, the process of getting vaccines into arms quickly and efficiently continues to be honed in the city with the opening of the first of three mass-vaccination sites, at the main campus of City College.
The site opened Friday with an initial capacity of 500 vaccinations per day, but from the start the city said that this was a "soft launch" for the site to make sure it could handle increased traffic flow in the coming weeks. As the city's Director of Public Health Dr. Grant Colfax explained in a Monday press conference, the City College site with its 23 lanes for vaccine distribution will ultimately be able to administer 3,000 vaccine doses per day — helping the city to reach its ultimate goal of 10,000 doses per day. Last week, the city announced an ambitious plan to vaccinate all 900,000 city residents by June 30.
Next to come online will be similar mass-vaccination sites at the Moscone Center in SoMa, and at the SF wholesale produce market in the Bayview.
It's unclear how many doses were administered Friday or over the weekend, but the city now has a vaccine dashboard (screenshot below) that details how many people have been vaccinated to date, and how much vaccine the city and its private healthcare network have received. To date, according to Colfax, 100,000 vaccine doses have come from the manufacturers to the city, both to the Department of Public Health and to private providers.
As of today, the seven-day rolling average of daily vaccines distributed in the city is 2,200, and nearly 50,000 San Francisco residents have received their first dose of the vaccine. Just over 10,000 have received their second dose.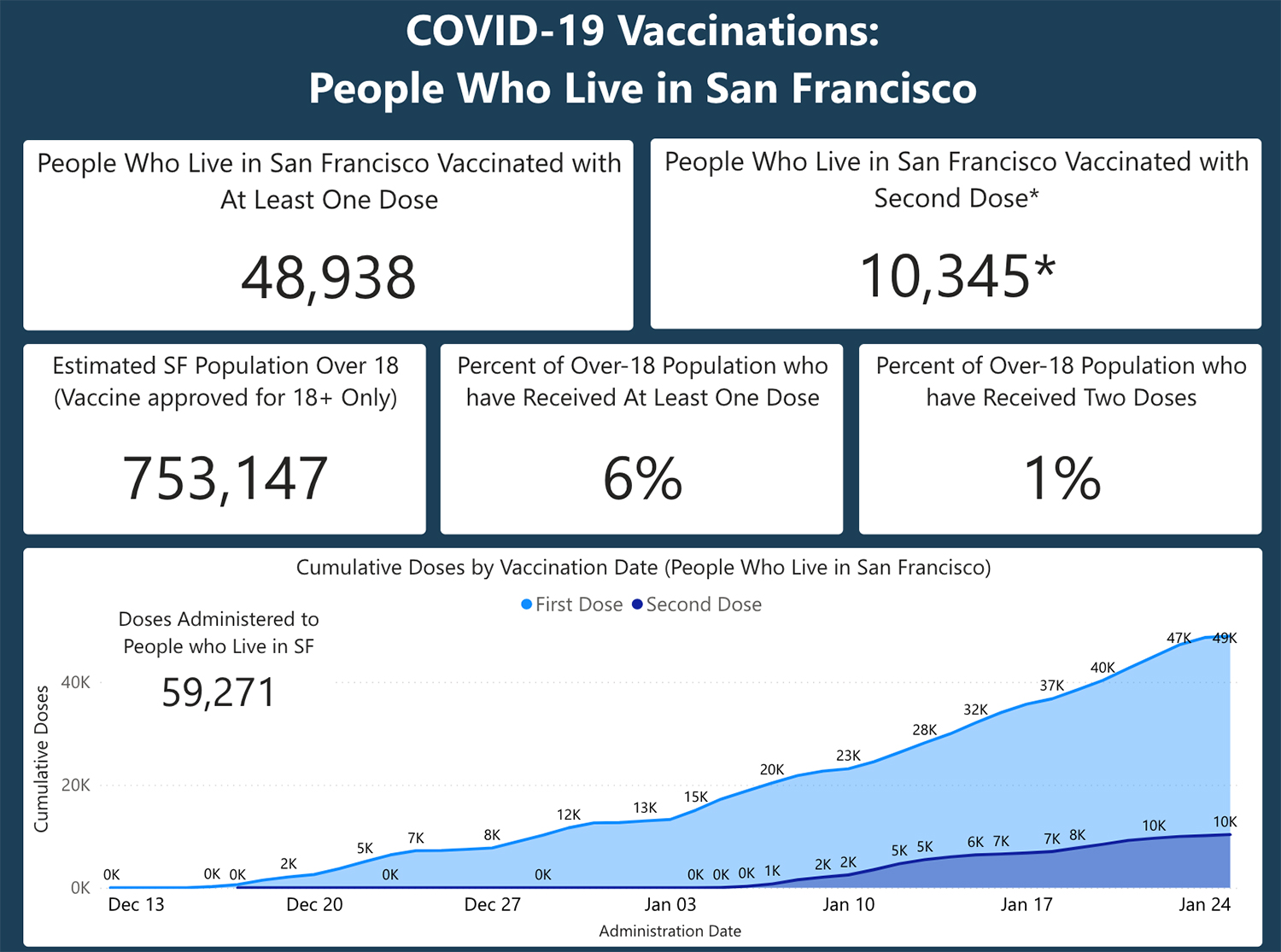 Chart via SF Dept. of Public Health
To get an appointment for a vaccine at the City College site, you still need to be notified of availability by a healthcare provider. UCSF partnered with the city on establishing the site, and it sounds like the majority of the vaccines given out there so far were to UCSF staff and patients, with notifications provided through the UCSF MyChart app. And the only people currently eligible, in the order of vaccine priority, are healthcare workers and residents over the age of 65.
And as Mission Local reported from the ground on Friday, a maximum of seven of the lanes at the site were occupied at any one time that day, out of a total of 23 available. Those driving up accessed the parking lot where shots are given via a "backstreet" route and Friday Kahlo Way. After receiving shots, people are instructed to pull into a holding area and remain there for 15 minutes
Mission Local spoke with two local residents who were eligible because they are over the age of 75, Elizabeth Bartels and her husband, and they easily got Friday appointments after getting an alert from the UCSF MyChart system around 7 p.m. on Thursday. Bartels said that after getting fully vaccinated with the second shot in a few weeks, she'd consider doing her own grocery shopping rather than ordering online, and perhaps doing a bit of travel.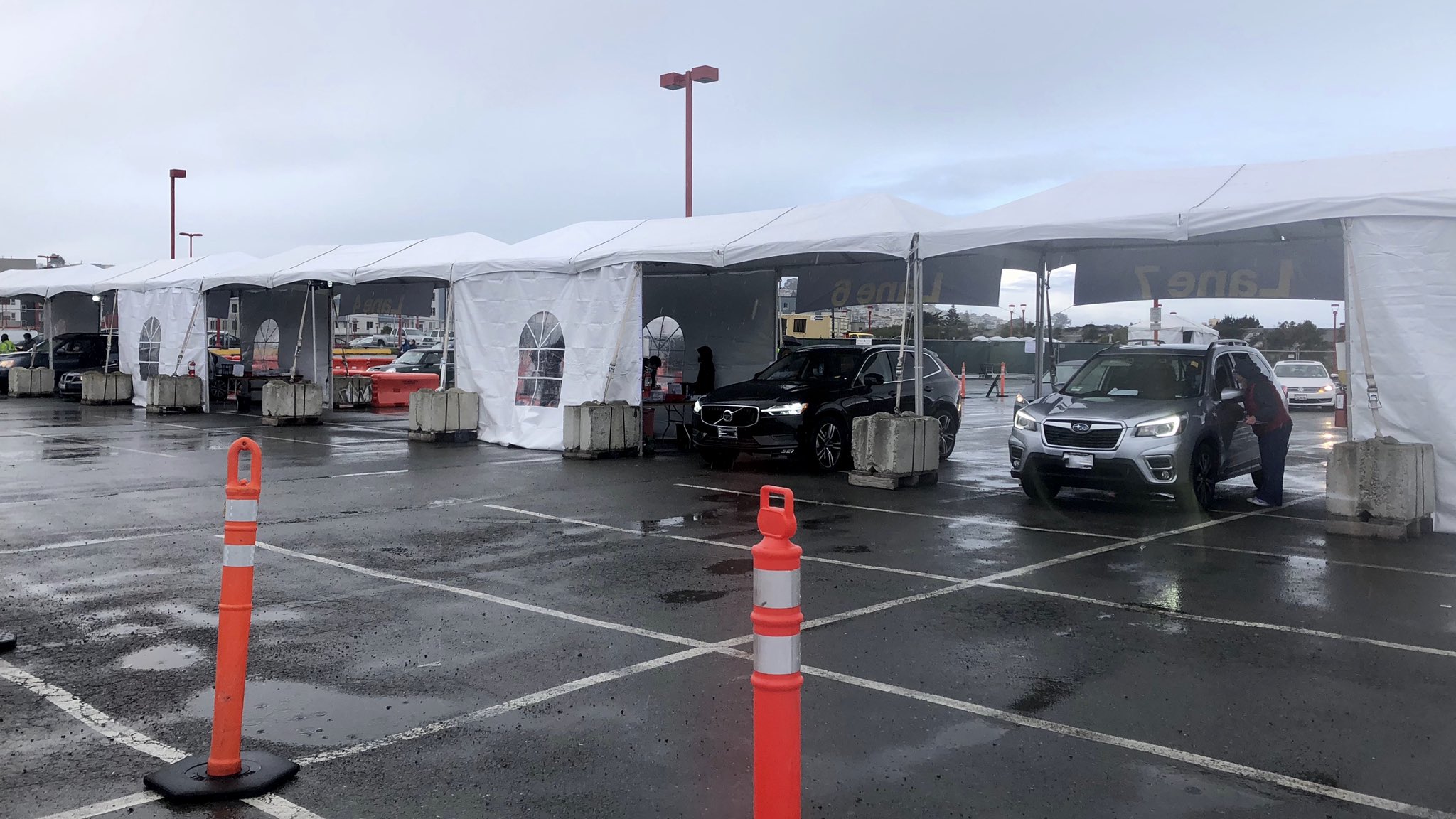 The lanes for vaccine shots at City College. | Photo: SF Dept. of Emergency Management/Twitter
The speed at which the city will be able to ramp up these sites will depend in part on how much vaccine is shipped here in the coming weeks.
"Our plan is to get to 10,000 vaccinations per day, and we're ready to ramp up when we receive more vaccines," says the SF Department of Emergency Management (DEM), via Twitter.
Also, they don't want people thinking they can sneak in or just drive on up. "There are no available appointments at this time. Do not go [to] the vaccination site if you don't have an appointment," the DEM says.