A historic Victorian house standing alone near the corner of Franklin and Turk Streets will be moved to a new home on Sunday morning after nearly eight years of planning.
The six-bedroom, three-bath home at 807 Franklin Street, will be relocated to 635 Fulton Street, where an existing building, which housed Bryant Mortuary for nearly 60 years, has already been moved to the eastern side of the 10,415-square-foot site to make room for it. The move is currently slated to occur on February 21, barring any rain delays.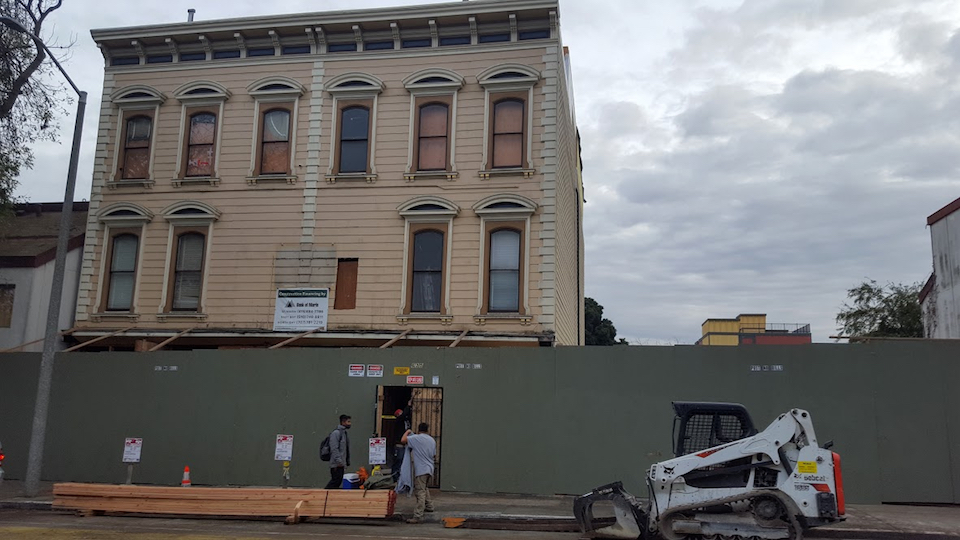 The former Bryant Mortuary at 635 Fulton has been moved to the eastern edge of the site. |Photo: Tipster Sebastian/Hoodline
Moving houses was relatively commonplace in San Francisco's early days, before infrastructure and services imposed new challenges and made new construction more affordable. The last reported effort to relocate Victorians in the same neighborhood was launched in November 1974, when 12 homes were moved from the current Opera Plaza site at 600 Van Ness Ave., to nearby Beideman Place.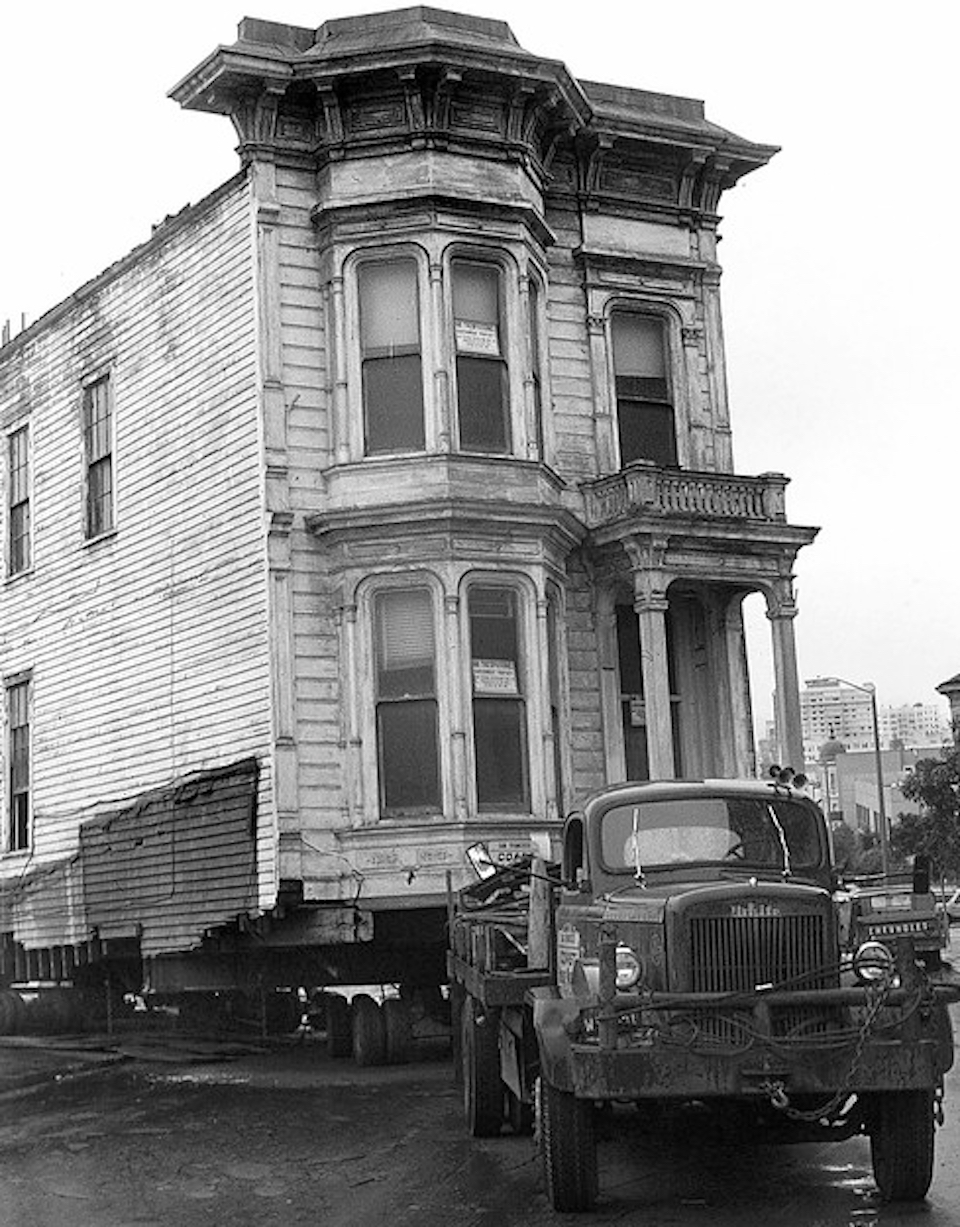 Victorian house being moved in 1977 to its new location at 1982 Ellis St., between Divisadero and Scott | Photo: David Glass/Flickr (used with permission)
That endeavor was led by a city agency tasked with gentrifying the area around City Hall, which resulted in the eviction of hundreds of immigrants and workers of color. The move of 807 Franklin St. is instead being done by a private owner looking to restore two empty Victorian-era buildings while making way for a new eight-story, 48-unit rental property.
When we last reported on the effort in 2017, the mortuary was still operating and had no imminent closure plans. The Victorian Italianate row house at 807 Franklin, also known as the Englander House, dates back to 1882, but had fallen into disrepair years earlier. It sold for $2.6 million in 2013 as a fixer-upper with a storied history. Owner Tim Brown said his intent has always been to preserve the two historic buildings while providing new space to build new housing in the heart of the city.
Finding a site large enough to accommodate the 5,170-square-foot house was a challenge, according to Brown. The city was initially opposed to the idea, rejecting it two times before finally approving the relocation of the house to 635 Fulton, next to the similarly historic mortuary building. Since receiving city approvals for the relocation plan in 2018, the process has been a "logistical nightmare," Brown said.
"The City does not have a role in physically moving the house," according to SF Planning's deputy communications manager, Candace SooHoo. But although the city is not involved in the physical moving of the house, several city agencies must coordinate ahead of time and be on hand to support the project. According to Brown, that challenging feat repeatedly delayed the expected move date, until a permitting expediter was assigned to help streamline the effort.
SFMTA will play the largest role, because the move will require about three-eighths of a mile of city streets to be fully closed, Brown said. That means Muni will need to reroute the 5 bus line, the overhead muni-lines along McAllister must be taken down, traffic signal arms must be moved, and no cars can be parked in a highly residential area.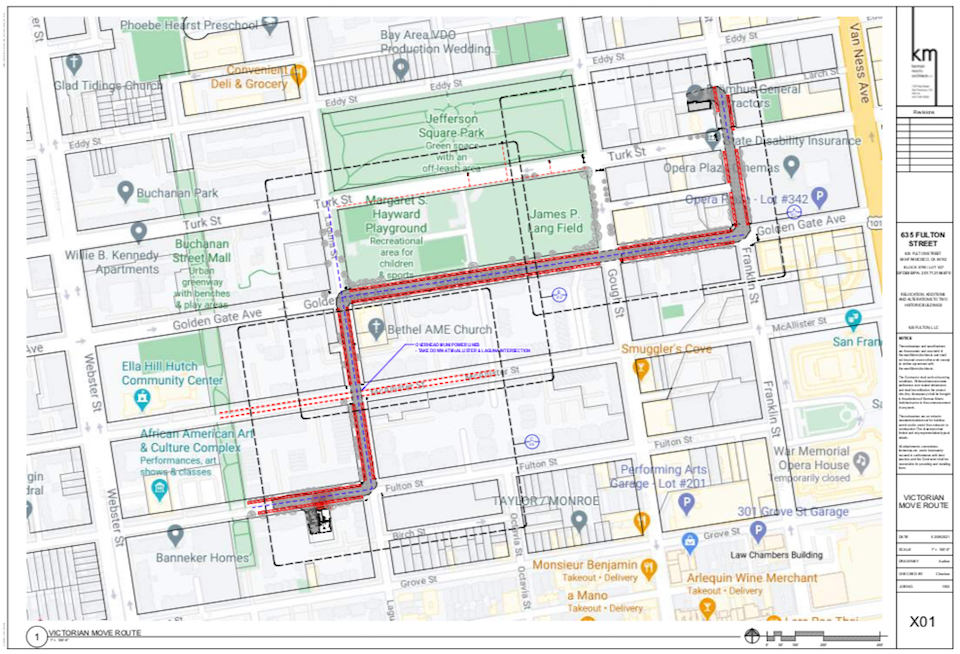 The move route for 807 Franklin. | Image: Kerman-Morris Architects, courtesy of Tim Brown
It's a complicated project with many, many moving parts. Two parking meters and three street trees had to be fully removed in front of the property, streetlight arms will have to be turned sideways during the move, and street trees all along the route had to be cut back significantly. Streets and sidewalks alike will have to be detoured to accommodate the house move. The permitting and city service fees to move 807 Franklin will add up to more than $200,000, Brown said.
On top of the city permitting fees, the cost of moving the mortuary building several feet at 635 Fulton was about $120,000, and the 80-90 ton Victorian rowhouse, which measures 40 feet tall, 35 feet wide, and 80 feet long at its longest point, will cost about $200,000 for the moving contractor services alone. That is on top of other "residual costs" including "shoring up the house and making sure the front porch doesn't fall off," Brown said.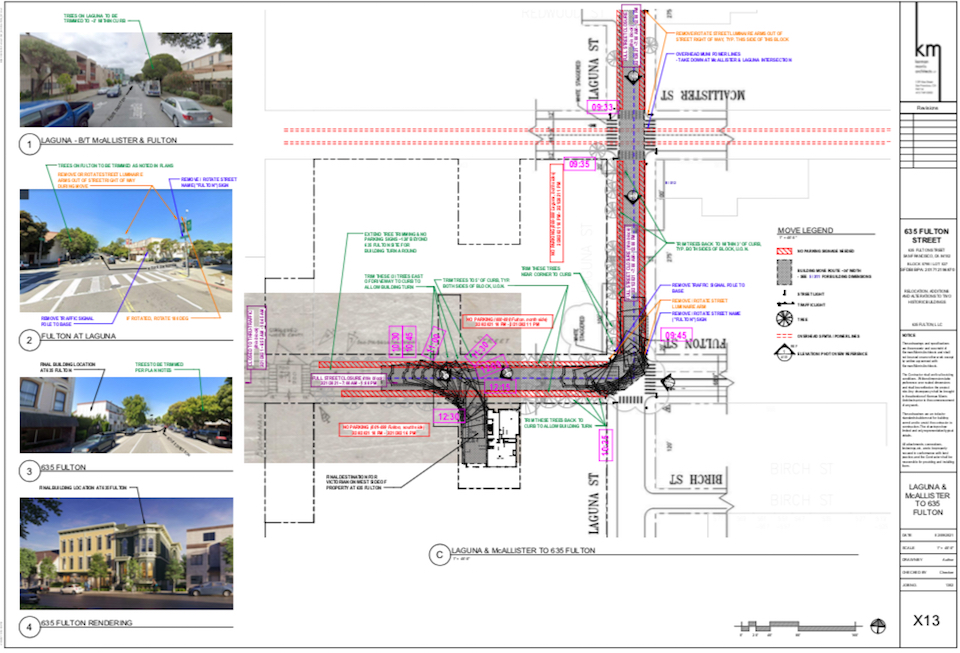 The end of the move route on Fulton Street. | Image: Kerman-Morris Architects, courtesy of Tim Brown
According to SF Planning documents, the San Francisco Fire Department also has to approve the moving route. The fire and police departments have made several visits to the 807 Franklin location over the past several months, but their presence was tied to numerous break-ins on the property, not planning for the house move.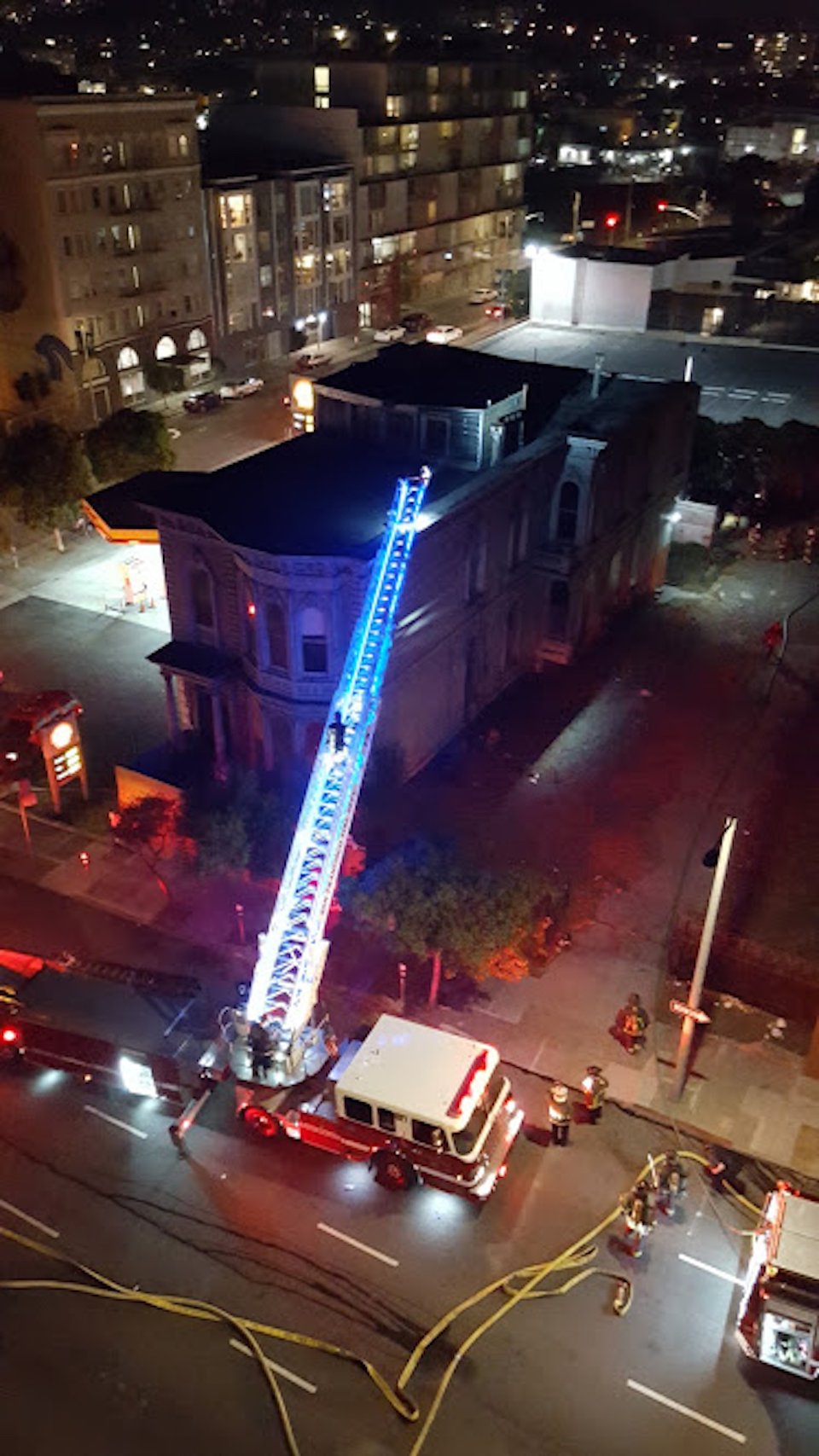 Firefighters and police have responded to multiple break-ins and minor fires at 807 Franklin in recent months. | Photo: Tipster Sebastian/Hoodline
On top of all the logistical issues, Brown's selected mover got COVID. Brown was cautious about providing too many details about the move, because he doesn't want to create a spreader event with people gathering to watch. Because Brown himself is 70 years old, he's unsure he'll even be able to attend. Today, Brown said he is 99% certain the move will occur on Sunday, February 21, barring any rain, starting around 7 a.m. and lasting for many hours. On February 16, Brown's contractors installed steel beams to move 807 Franklin off of its foundation in preparation of the move.
The mortuary building at 635 Fulton and the Victorian will be renovated into a combined 17 residential units, with bike parking but no on-site vehicle parking. The foundation for the six-bedroom Victorian house has already been laid, and repairs and retrofits will occur in both buildings once they are fully situated.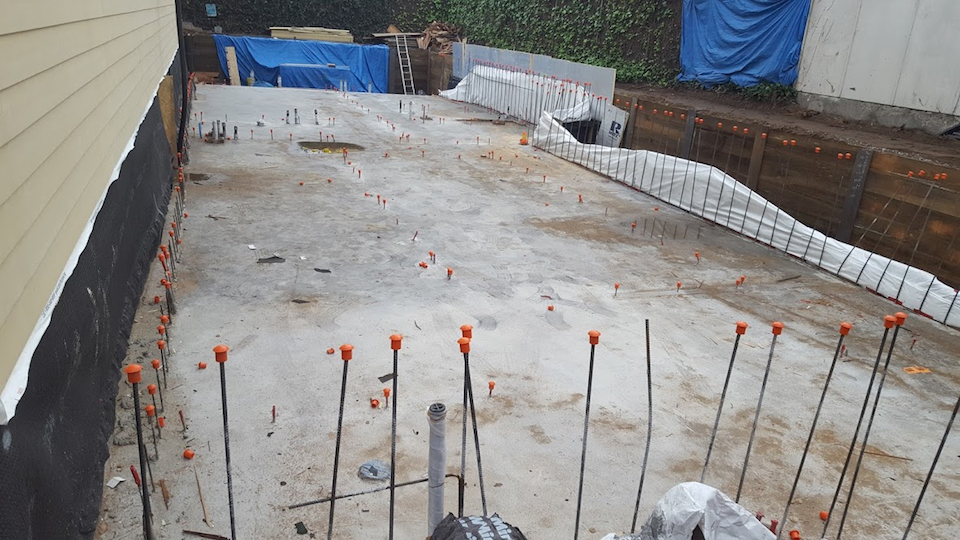 The foundation for 807 Franklin's new home at 635 Fulton | Photo: Tipster Sebastian/Hoodline
Once 807 Franklin St. is vacant, construction will begin on the new apartment building, which according to the architect's website will be 64% two- and three-bedroom units suitable for family living.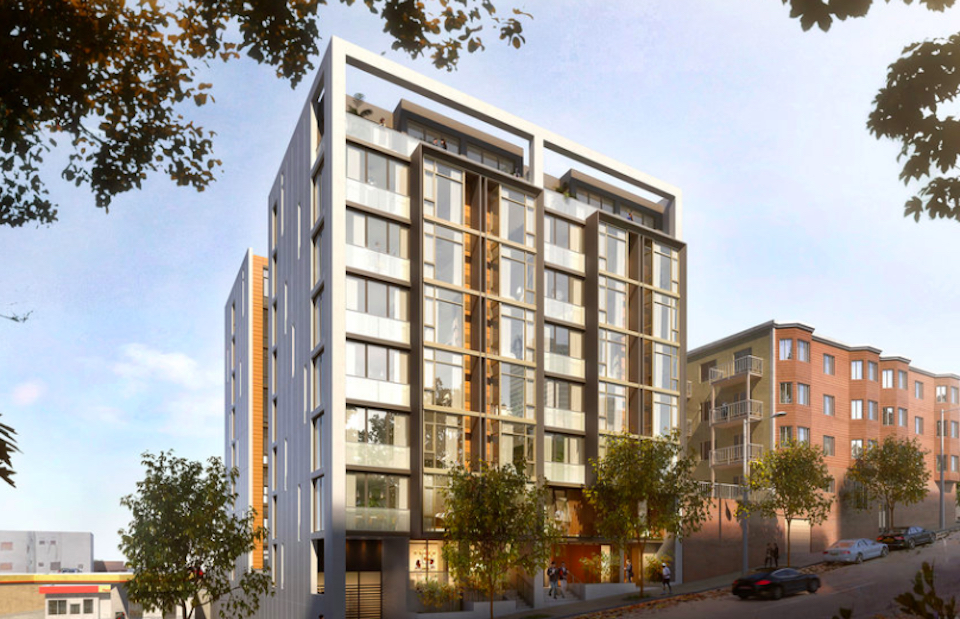 Rendering of the new 48-unit building to be built at 807 Franklin St. | Image: Kerman-Morris Architects
If you decide to watch the historic house moving in person, wear a mask and stay socially distant, but please share your photos.