Published on February 23, 2021
Legendary North Beach poet, publisher, and bookseller Lawrence Ferlinghetti, has died. He was 101 years of age. The beloved literary icon died peacefully in his San Francisco home surrounded by loved ones, "holding the hands of his son and his son's girlfriend, 'as he took his last breath,'" his son Lorenzo Ferlinghetti told The Associated Press on Tuesday.
Ferlinghetti would have turned 102 next month. He suffered from lung disease, which was the cause of death. Last week, he had received the first dose of the COVID vaccine.
We spoke with Paul Yamazaki, City Lights Booksellers & Publishers' buyer and close friend of Ferlinghetti, who said that while the death of Ferlinghetti is a huge loss, he hopes that people can celebrate his life.
"That's what he would want," said Yamazaki. "As we are all aware, it was quite a life. It's like the sun and moon, and it's going to affect us for a long long time in a really positive way."
Ferlinghetti was a pre-Beat, bohemian voice who helped catapult San Francisco's famed 1950s literary scene onto the national stage. Born in Yonkers, New York, he studied and worked in North Carolina, New York City, and Paris before venturing out to San Francisco in 1950, where he painted, taught French and wrote art criticism before co-founding City Lights with Peter D. Martin in 1953.
As a writer, Ferlinghetti was lauded for his collection of poems, 1958's A Coney Island of the Mind, which has sold over a million copies. But he was much more than a poet: he was also a businessman and publisher at City Lights, which began in 1955. Despite the bookstore's modest beginnings, the release of Allen Ginsberg's controversial Howl and Other Poems helped put the business on the map in 1956 when it led to Ferlinghetti's arrest on obscenity charges and a subsequent court case. Ferlinghetti was eventually acquitted, but the case drew national attention to issues of free speech.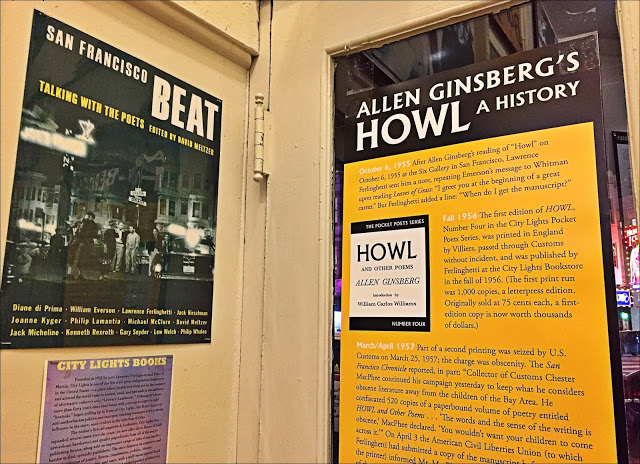 Photo: Alisa Scerrato/Hoodline
Ferlinghetti's accomplishments don't stop there: he also composed theatrical works, art criticism, essays, film narration, and translations.
And he was a family man; a father of two children.
On March 24th 2019, Ferlinghetti's life reached a milestone when he turned 100 years old. To celebrate, neighboring businesses in North Beach, such as Canessa Gallery, Café Zoetrope, and Vesuvio held literary, food, and arts-related events that spanned throughout the month. The grandest celebration was held on the poet's birthday at City Lights, where dozens of poets gathered, read his work, and shared words about what he meant to them.
Among the events at City Lights' was a celebration of Little Boy, Ferlinghetti's newly released, stream-of-consciousness novel. Ferlinghetti had been working on the book for close to a dozen years before it was released in 2019. It was mostly written by hand, due to his dwindling eyesight, but otherwise he was known to be in fairly good health. The book was a fictionalized account of the author's life growing up. Ferlinghetti's assistant, Garrett Caples, also an editor and poet, said in an interview back then that Little Boy showed how the author filtered through his own experiences as he wrestled with the cosmic questions facing a 100-year-old man, such as "What is life all about?"
Now that Ferlinghetti has passed away, City Lights has no intention of going anywhere. In fact, its staff plans to build on Ferlinghetti's vision and will honor his memory by sustaining City Lights into the future as "a center for open intellectual inquiry and commitment to literary culture and progressive politics," as posted on the its website.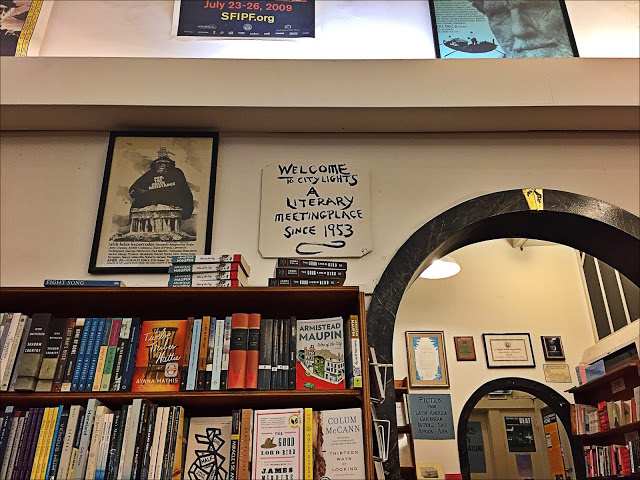 Photo: Alisa Scerrato/Hoodline
Last April, the bookstore was in danger when it closed for the shelter-in-place, so its staff created a fundraiser to ask for help with a goal of $300,000 to stay in business. In three days, it raised more than $435,000, surpassing its goal and allowing it to stay open.
"It was very moving," said Yamazaki. "Lawrence was very moved by that, as we all were."
Yamazki said that Ferlinghetti's friends and co-workers at City Lights feel incredibly fortunate to have worked with him, and plan to continue the legacy of City Lights.
"As the years have passed, what was always important to Lawrence was that we continue the tradition at City Lights that has been established over the last 68 years," he said. "That's what we are going to do."