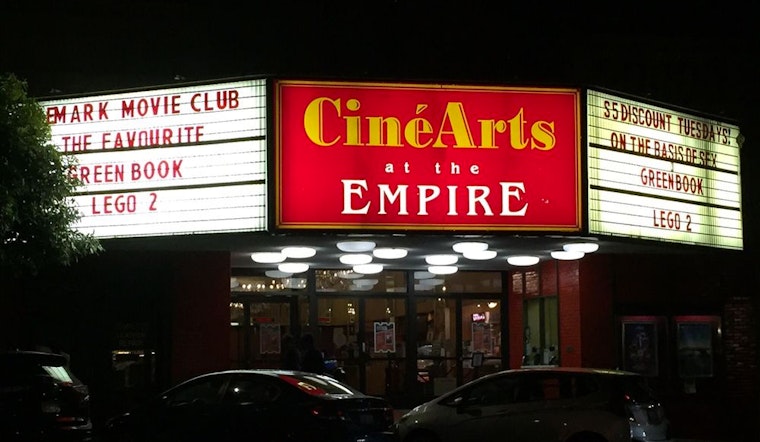 Published on February 11, 2021
West Portal's beloved arthouse cinema, CineArts at Empire (85 West Portal Ave.), is closing for good due to the pandemic, though the city says it is working to find a new operator for the theater.
Cinemark, which has operated the theater under the CineArts name since 2003, confirmed to KQED this week that it was not renewing its lease on the theater.
"I've been going there since I was a little kid," says longtime neighborhood business owner Maryo Mogannam. "People in the neighborhood like to spend time there. I'm really just so sad about it."
Supervisor Myrna Melgar said that the Mayor's Office of Economic and Workforce Development was on the hunt for a new tenant, recognizing the importance of the theater to the retail hub of West Portal.
Opened as the Portal Theatre in 1925 as part of a block-wide retail development designed in a Moorish style by local architect Irving Morrow, the theater was renamed the Empire in 1936 and retained that name to the present day. Originally a single-screen cinema, it was split into three screens in 1974, according to OutsideLands.org. And Cinemark chose to keep "Empire" in the name when it took over in 2003.
San Francisco permitted movie theaters to reopen at 25% capacity in late September, but most remained closed in protest of a rule that prohibited concession sales — a public health precaution to keep patrons from removing masks to eat or drink while inside. Cinemark ultimately reopened some of its theaters, including the Century 9 in the Westfield Centre, in late October, but they were only allowed to open until the latest lockdown began in early December. CineArts at Empire remained closed throughout.
This is at least the third Bay Area cinema to close permanently in the last six months, following the closures last fall of the Tiburon Playhouse and the Cinema 9 multiplex in Sonoma.