Castro residents will soon have another cafe option in the neighborhood. Mission Bay-based mobile cafe Spro Coffee Lab will be opening its second location at 500 Church St., formerly Mauerpark.
Spro Coffee's husband and wife team of Rich Lee and Liza Otanes tell Hoodline they plan to open the cafe by June or July.
The German-inspired Mauerpark opened in this space in 2018, inside the former Rub-A-Dub-Dub laundromat, and it closed last year after two years in business.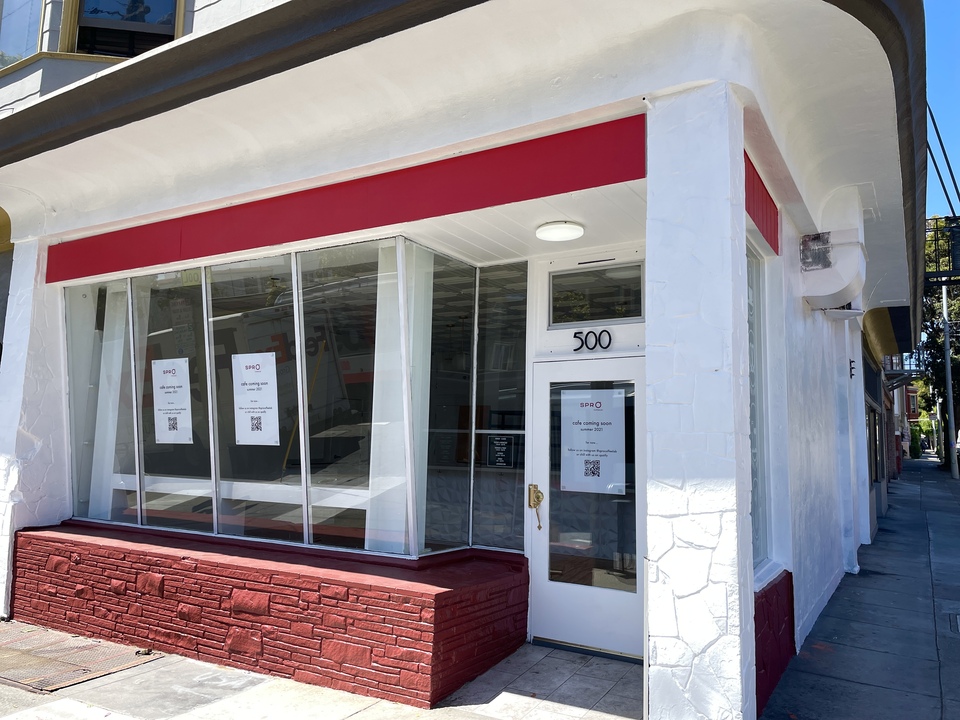 Spro Coffee will be opening at 500 Church St. | Photo: Steven Bracco/Hoodline
Spro Coffee's opening marks its first brick-and-mortar location, after four years at Mission Bay's Spark Social SF food truck park.
"Looking for a brick-and-mortar location is something we planned for a while," said Lee. "I felt that maybe if we didn't do it now, we might not be able to find a spot because everyone's going to be looking."
Construction is currently underway inside the shop, and Lee is working on painting and installing lighting fixtures and appliances.
"I felt like there's a need for specialty coffee in the area," said Lee about opening in the Castro. "Being close to Dolores Park, I often hear people saying they want a specialty coffee shop near the park."
Lee tells Hoodline his previous coffee industry experience includes Specialty Coffee Association, Blue Bottle, and Sightglass. In opening Spro Coffee, Lee said, "we have unique brewing methods that are not normal in the Bay Area."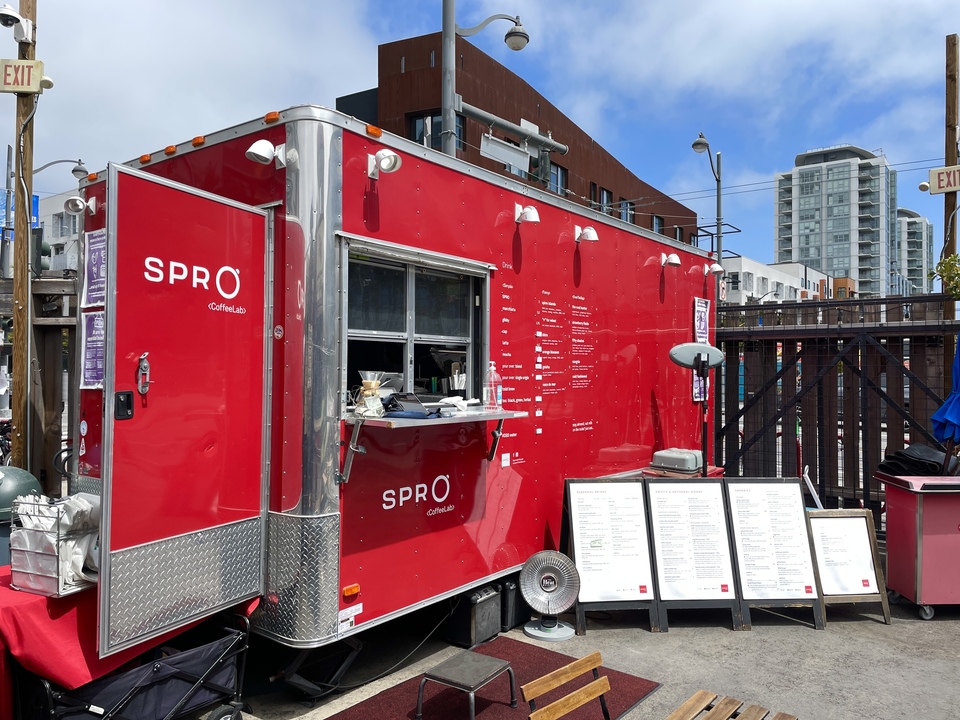 Spro Coffee Lab's truck at Spark Social SF. | Photo: Steven Bracco/Hoodline
"We focus more on flavors and extractions," said Lee. "Traditionally most coffee shops focus on milk-based drinks and don't look at how the ingredients taste."
"Too many baristas focus on latte art," said Lee. "A lot of times as a customer myself I drink the coffee and it's no good. I get disappointed that their focus is more on the milk than the espresso."
Lee said he wanted to open a cafe that was more approachable by offering high-quality ingredients and fair prices.
After four years at Spark Social Lee said, "each and every year it's getting busier obviously until the pandemic happened," said Lee. "Nobody expected the pandemic and we were shut down for three months."
"The first six months of the pandemic were brutal," said Lee. "We were doing 20% of sales compared to what we were doing."
When the cafe reopened on June 15 after being closed for three months they had a line. "The neighborhood really missed us," said Lee.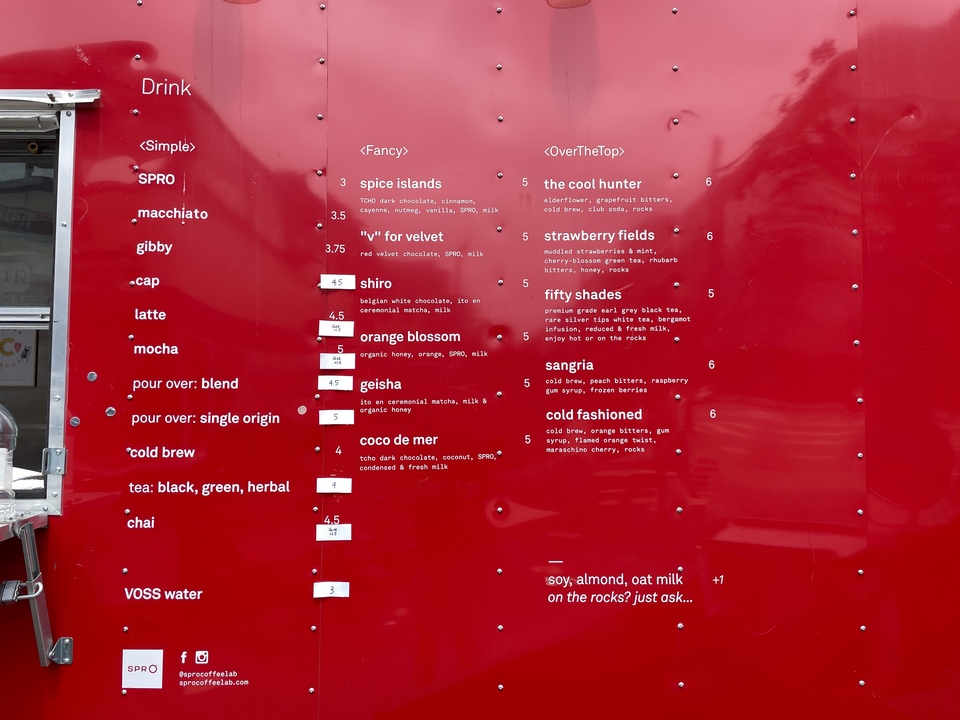 Spro Coffee's drink menu. | Photo: Steven Bracco/Hoodline
According to Lee, Spro Coffee's entire menu will be making the move to the Castro. Spro Coffee's drink options include "simple drinks" like coffee, tea, and chai; "fancy drinks,"; and "over-the-top drinks."
"The fancy drinks are a variation of what a mocha can do," said Lee. "We make all of our own chocolate," said Lee. Two of the cafe's most popular drinks are its Spice Islands (cinnamon, nutmeg, vanilla, cayenne) and Coco de Mar. "It's like a Tres Leches mocha," said Lee of the latter.
Another popular drink is Spro Coffee's Madagascar, which Lee says is his own take on a vanilla latte. "People often say this is way better than a classic vanilla latte," said Lee. "It's the highest quality vanilla latte you can get without any artificial sweeteners."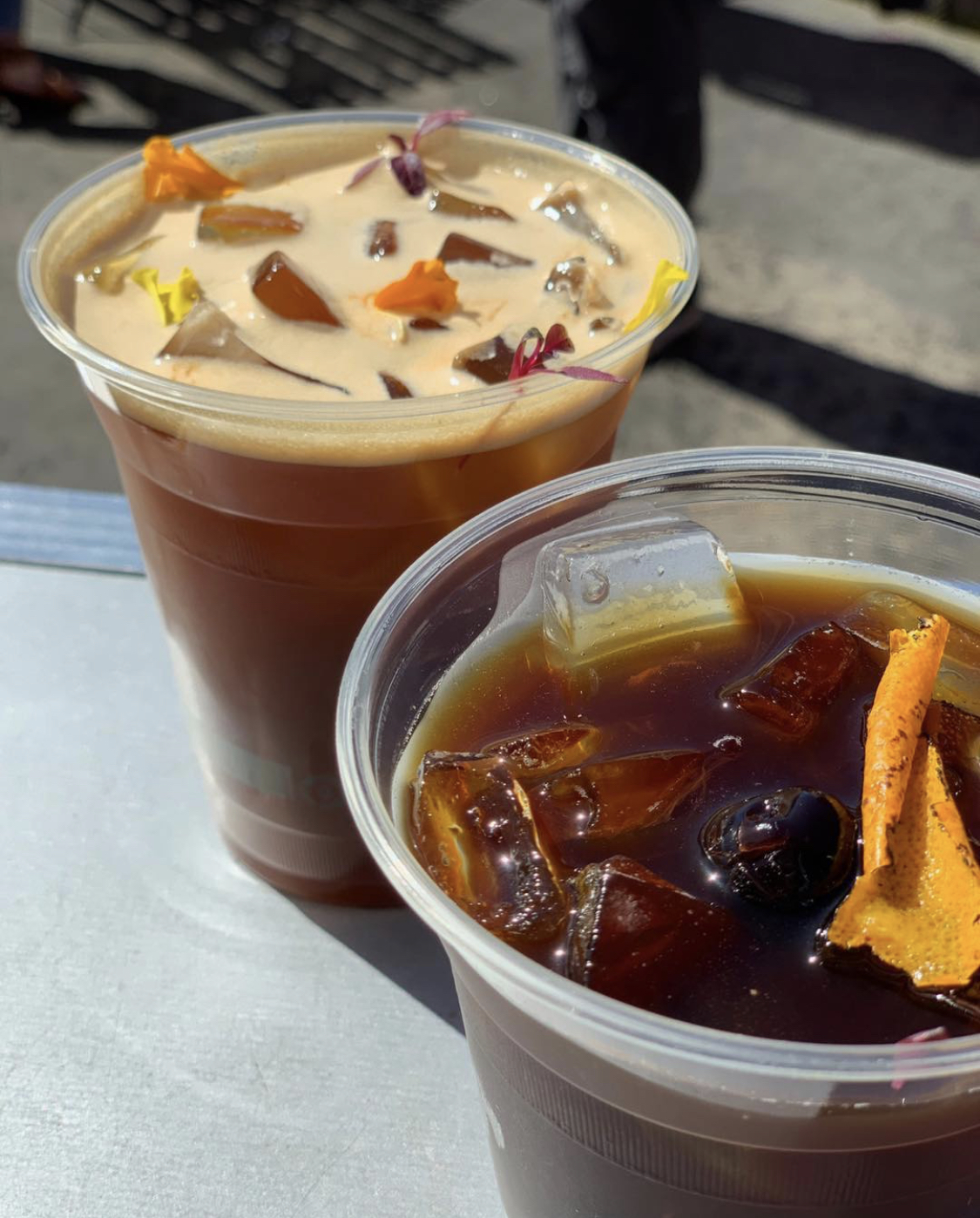 Spro Coffee's cool hunter (top) and cold fashioned (bottom). | Photo: Spro Coffee/Instagram
"Over-the-top drinks" are barista competition-type drinks. Lee said people often don't get the opportunity to try those types of drinks at most cafes, and he wanted to give his customers the opportunity.
Spro Coffee will also be applying for a new beer and wine license. Unfortunately, Lee was unable to transfer the license from Mauerpark because it had expired.
Food options include housemade pastries and desserts, salad, open-face toasts, soups, and sandwiches. Lee tells Hoodline that he and the team come in every day at 4 a.m. to bake their own pastries. "We try to do everything in-house because we have control," said Lee. Spro Coffee's Umami Bomb and Mash-up open-face toasts are two of its most popular menu items.

Spro Coffee's food menu. | Photo: Steven Bracco/Hoodline
Lee said Spro Coffee also caters to people with special food requirements including allergies, gluten-free, and dairy-free. "All of our sandwiches and burgers can be gluten-free," said Lee.
Spro Coffee even offers a specially crafted dog menu. "Originally this was a joke," said Lee. Prior to the pandemic, Lee said they got a lot of requests for dog menu options and they decided to give it a shot.
"We had a line of dog-owners ordering," said Lee. "We didn't realize there was such a demand for dogs."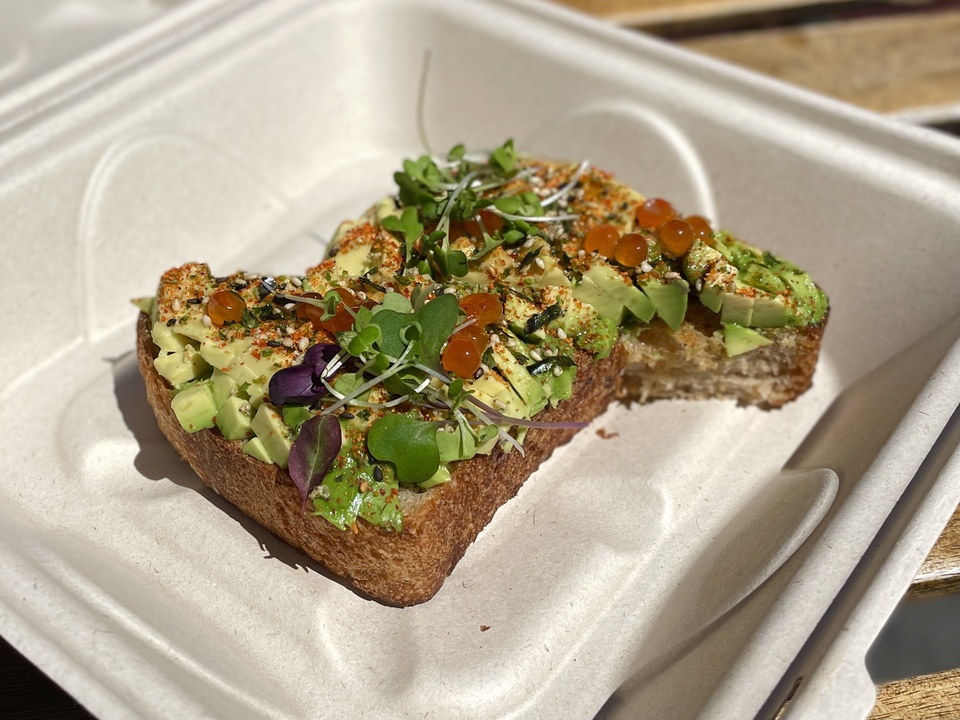 Spro Coffee's Umami Bomb open-face toast. | Photo: Steven Bracco/Hoodline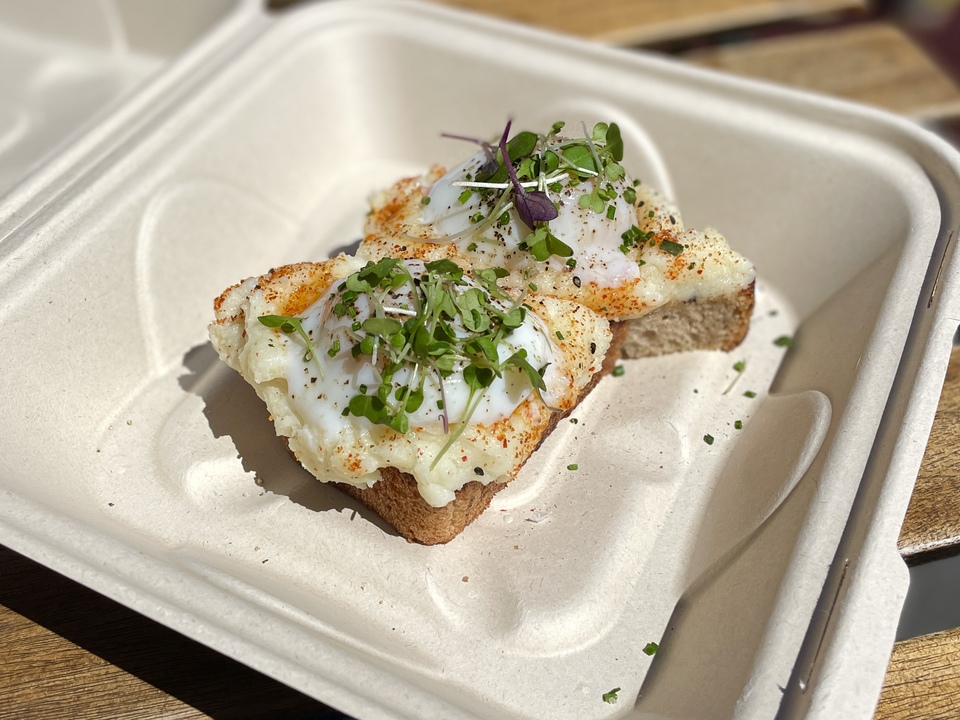 Spro Coffee's Mash-up toast. | Photo: Steven Bracco/Hoodline
In selecting Spro Coffee's Castro location Lee said they decided on the former Mauerpark because it would lessen the financial burden needed to open. "After the pandemic, we lost a lot of our funds," said Lee.
Lee tells Hoodline he received two coronavirus-related Paycheck Protection Program (PPP) loans from the Small Business Administration. "We burned through it really quickly because we still had to pay for rent and employees," said Lee.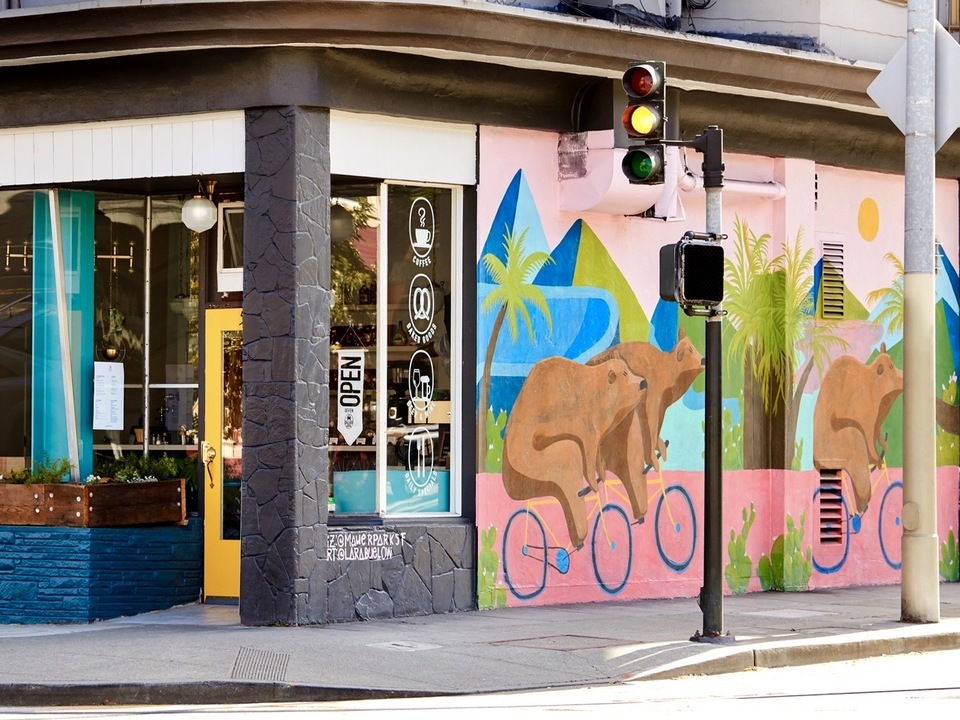 Mauerpark's mural by artist Lara Buelow has been destroyed. | Photo: Mauerpark/Instagram
Hoodline readers may recall that Mauerpark's owner Salome Buelow had a mural painted by her sister along the 17th St. side of the building. Lee told Hoodline he was planning to clean off the graffiti and preserve the mural in respect to the previous tenant. Buelow had even offered her assistance in cleaning up the mural.
However, last week someone threw paint across the entire mural. "Now it's destroyed," said Lee. "It's unfortunate, I don't think whoever did that realized we were in the process of cleaning it up."
Lee said he's now planning to paint a mural that's more relevant to Spro Coffee.
Spro Coffee plans to initially be open for breakfast and lunch, and may expand to dinner later down the line once it receives its liquor license.