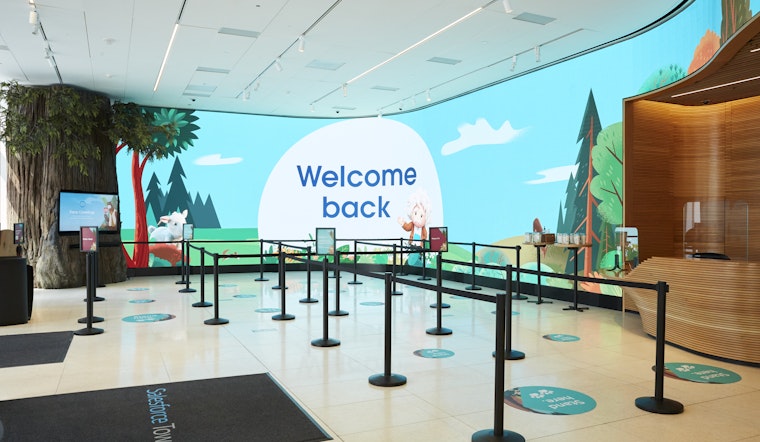 Published on May 18, 2021
It's San Francisco's tallest building, the butt of jokes, and to many of us, little more than a sometimes dazzling LED light display. But Salesforce Tower is primarily a workplace to the roughly 7,000 employees whose desks are there, and the first smattering of workers returned Monday as Salesforce Tower reopened to employees, as KRON4 reports.
It's Re-Opening Day of The Salesforce Tower and I was able to grab a shift w/Work.com & my volunteer vaccinated cohort of colleagues. So thankful for vaccines and the incredible team @salesforce who made this possible. I ❤️ seeing @trailhead team in 3D in the 'neighborhood'. pic.twitter.com/GDo5TLDfQf

— Amy Regan Morehouse (@amyregmore) May 17, 2021
And as you'll see from the embedded tweets in this post, the tiny number of employees heading back into the office were sure to post how "super excited" and "thankful" they were, guaranteeing they get their brownie points for being the first ones to slog back.
Super excited to be safely back in the @salesforce Tower San Francisco as part of the first vaccinated volunteer cohort of our gradual phased re-opening

TY to everyone who made this possible 🙏🏼 pic.twitter.com/j0PLJ3yLFJ

— Sarah Joyce Franklin (@swbjoyce) May 17, 2021
According to the Salesforce reopening page, "100 fully-vaccinated employees" were welcomed back to work Monday in both SF and the company's Irvine, California offices. They weren't forced, they're volunteering to do so. Salesforce employees have all been given permission to work from home for the rest of 2021.
The video above gives you a pretty good sense of the new workplace landscape. The new normal will involve terminology like "neighborhood seating" and "cohort of volunteer employees." It's an interesting sneak peek at what office workplaces will look like going forward, with plexiglass between the cubicles, and sometimes the need to "book a shift" online (for your own 9-5 desk job!).
We can snicker at these workers' public pleas for gold stars, curious devotion to the brand, or just crack the obligatory phallus jokes about the building. But make no mistake, this tiny number of returning workers represents the first big domino to fall in the long journey back to a normal downtown San Francisco. Salesforce was the first to dip their toes back in for non-essential office workers to return to their desks, and other SF tech companies will surely follow.
And for all the downtown coffee shops, restaurants, and bars, we do hope that as many Financial District offices do find ways to bring their workforce back as soon and safely as possible.