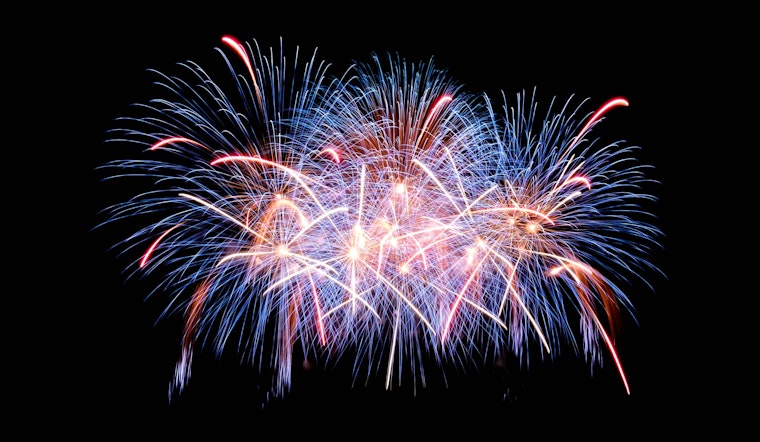 Published on July 01, 2021
Fireworks displays in San Jose, Berkeley, Richmond and numerous other cities are canceled again this year (if you don't count the proliferation of illegal fireworks that seem to be a nightly occurrence all of June and early July), but there are still plenty of spots to view fireworks this Fourth of July, including San Francisco and other locales around the Bay.
Hoodline has rounded up the big Bay Area displays this year, below. Be sure to confirm details before going and follow all safety guidelines and regulations. Note that the state recommends that event attendees be vaccinated or have a negative COVID-19 test.
San Francisco Fourth of July Fireworks Celebration: Sunday, July 4, 9:30 p.m.
The biggest news is that the city's annual waterfront fireworks are back, launched from two barges on the bay after dark. Get details at www.fishermanswharf.org/events/annual-events/4th-of-july/.
Fireworks at the Oakland A's: Friday, July 2, 6:40 p.m.
Watch the A's take on the Boston Red Sox, then see an Independence Day fireworks show at the Coliseum. Note that BART closes before the fireworks. Get details and tickets at www.mlb.com/athletics/tickets/promotions/themes/fireworks.
Morgan Hill Freedom Fest: Sunday, July 4, 5 p.m.
Live music, food and drink sales, pie eating contest and fireworks at Outdoor Sports Complex. Gates open at 3 p.m., live music starts at 5 p.m. and the fireworks (with more live music) start at 9:45. Festival entry free; parking $10. Get details at morganhillfreedomfest.com/fireworks.
California's Great America in Santa Clara 4th of July Celebration: Sunday, July 4, 8:45 p.m.
Spend a day at Great America before an evening fireworks show and accompanying "patriotic soundtrack." Get details and tickets at www.cagreatamerica.com/events/fourth-of-july-celebration.
Gilroy Fireworks Show: Sunday, July 4, 9:30 p.m.
Free fireworks show at the Gilroy High School sports field. Get details here.
Concord 4th of July Drive-In Fireworks Show: Sunday, July 4, 7 p.m.
Concord is hosting a drive-in fireworks show this year. Gates will open at 7 pm and fireworks will begin at dark. Cars will be parked every other space, and you can either watch from your car, the bed of your truck or set up chairs in the parking space next to your car. There will be no concessions at the event, so bring a picnic. Tickets are $25 per vehicle (occupancy limits apply). Get details at www.concordjuly4th.com.
Pleasant Hill 4th of July Celebration: Sunday, July 4, 9:15 p.m.
Pleasant Hill's celebrations include home decorating, a virtual run, a neighborhood car parade and fireworks! There's no communal viewing on the College Park High School this year. Locals are encouraged to view the show from their backyards, DVC Lots 8 & 9, Sunvalley Mall or a secluded spot near the high school. Get details at phjuly4.com.
Antioch 4th of July Parade & Celebration: Sunday, July 4, 8 a.m.-10:30 p.m.
Antioch's celebration will kick off with a pancake breakfast in the morning, – 8-10 a.m. ($5 Donation). Located in the City Hall parking lot. There will be a parade, car show, live entertainment and more, capped with the fireworks over the river starting after 9 p.m. Masks required and social distancing enforced. Also note it's an alcohol-free event, and coolers and outside beverages aren't allowed. Get details at celebrateantioch.org.
Six Flags Discovery Kingdom in Vallejo July 4th Fest: July 3-4, 9:45 p.m.
Six Flags is hosting a variety of live entertainment through the day culminating in an evening fireworks show. Get details and tickets at www.sixflags.com/discoverykingdom/events/coca-cola-july-4th-fest.