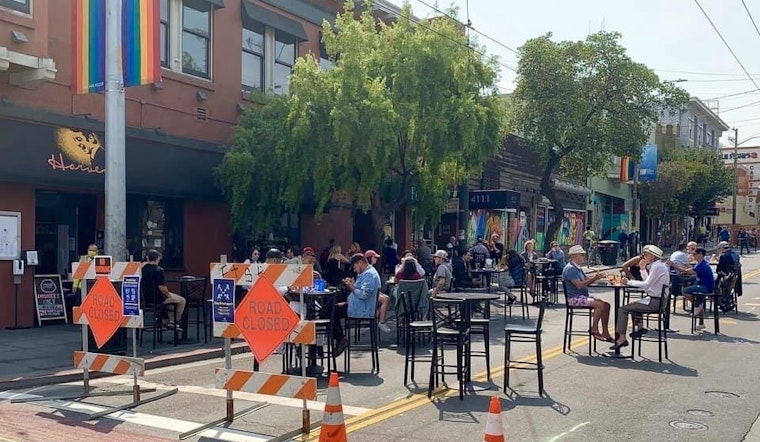 Published on August 20, 2021
The future of car-free Saturdays and Sundays along a two-block section of Castro's 18th Street is uncertain and on indefinite pause after the Castro Merchants cut ties with its event producer.
For ten months, starting in August 2020, two blocks of 18th Street from Hartford to Collingwood streets went car-free on weekend afternoons as part of the city's Shared Spaces program. In November 2020, the program was expanded to include the Slow Streets Noe Art Mart on Saturdays.
Neighborhood residents and visitors may have noticed the 18th Street closure has been on an eight-week hiatus since Pride weekend. The event was last held on Saturday, June 26.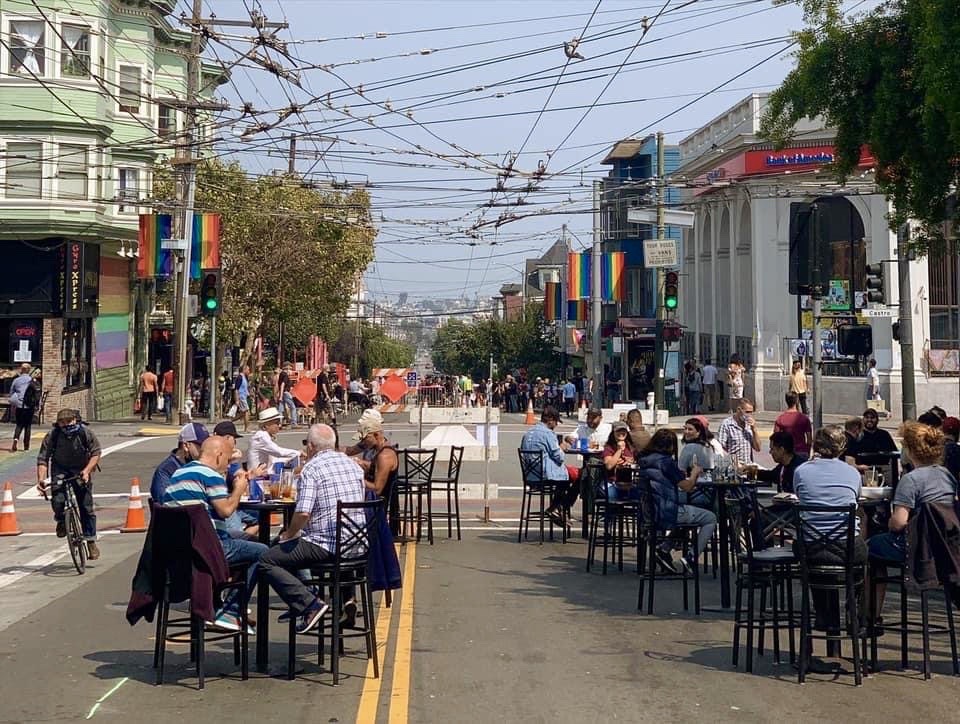 Photo: Shared Spaces/Facebook
During the August meeting of the Castro Merchants, president Masood Samereie shared that the group parted ways with event producer IDK Events and is currently seeking a new event partner. Castro residents may be familiar with IDK Events as they manage the annual Castro Street Fair, which is set to return on Sunday, October 3.
Slow Streets Noe Art Mart officially returned Sunday, August 8. That event is run separately by Lookout bar owner Chris Hastings, and it also offered free Covid-19 testing and Moderna vaccines in partnership with the Castro LGBTQ Cultural Historic District.
In an interview with Hoodline, Samereie said the Castro Merchants currently do not have a restart date for the 18th St. closure.
"We're still trying to come up with solutions," said Samereie. Prior to partnering with IDK Events, Samereie explained that Castro Merchants board members had produced the event. According to Samereie, that option is still on the table. "We're definitely working on bringing it back."
"There were some issues we had with [IDK Events]," said Samereie. "We tried to resolve it and we were not able to come to an agreement."
Scott Shuemake, IDK president, tells Hoodline the contract lasted through the end of June. "We were not interested in renewing," said Shuemake.
Shuemake explained the finances for the project did not pencil out. "We insist on paying a living wage, when you calculate labor costs we were actually losing money," added Shuemake. According to Shuemake, there were no issues with Castro Merchants.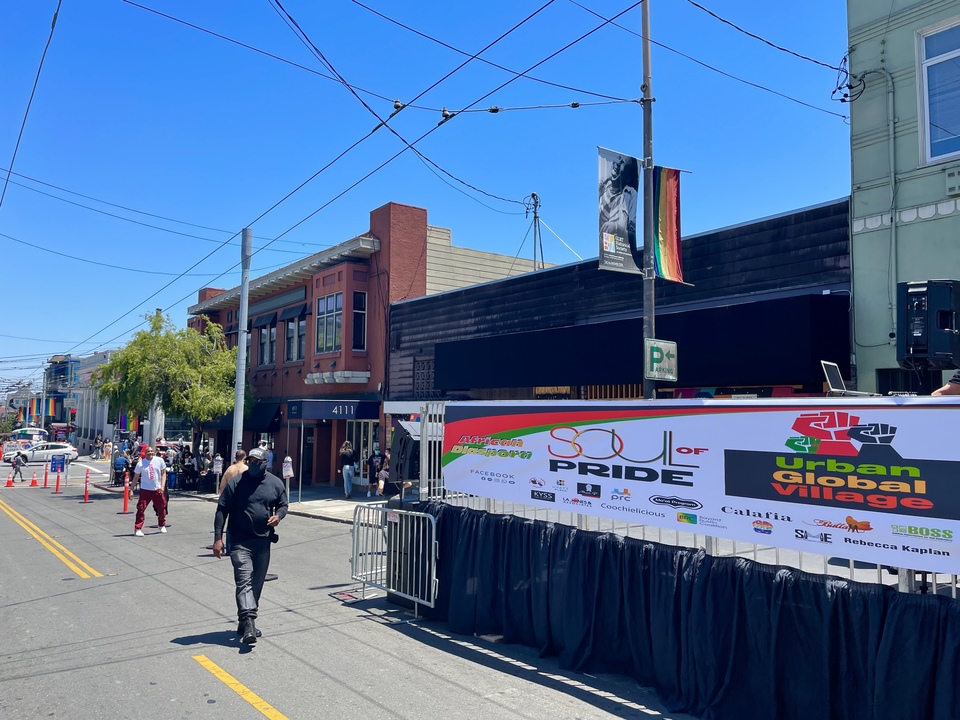 A stage along 18th St. was set up on Pride Saturday. | Photo: Steven Bracco/Hoodline
Samereie tells Hoodline that funding the event was not an issue. Earlier this month, District 8 Supervisor Rafael Mandelman secured $175,000 to fund both closures through the budget add-back process for fiscal year 2021-2022.
Mandelman tells Hoodline that it was important to secure funding to ensure Shared Spaces can continue. "I don't think they can happen without attention, support, and staff," said Mandelman. "That requires money."
Mandelman acknowledged that funding the program citywide has been a challenge. "I believe that we are probably underfunding this program citywide," said Mandelman.
"The street closures on Noe on and 18th have been a source of joy for folks in the Castro," said Mandelman. "The Noe Art Mart has been a community builder."
"It has been an economic boon for small businesses that may not have made it through the pandemic," added Mandelman.
"It's not a matter of costs, it's a matter of someone we can trust," said Samereie. Samereie declined to provide the exact cost of the event due to fluctuating costs each weekend.
According to Samereie, the response to the event has been overwhelmingly positive. "We were told the Castro was the talk of the town when it came to running the Shared Spaces program," said Samereie. "We would like to keep it that way and run it efficiently and properly as per the terms of the permit."
"It was a great idea to close 18th Street to traffic all day on Saturdays and Sundays," said Coskun Abik, owner of restaurants Lark and Blind Butcher. "It's safer and attracts people to visit the neighborhood."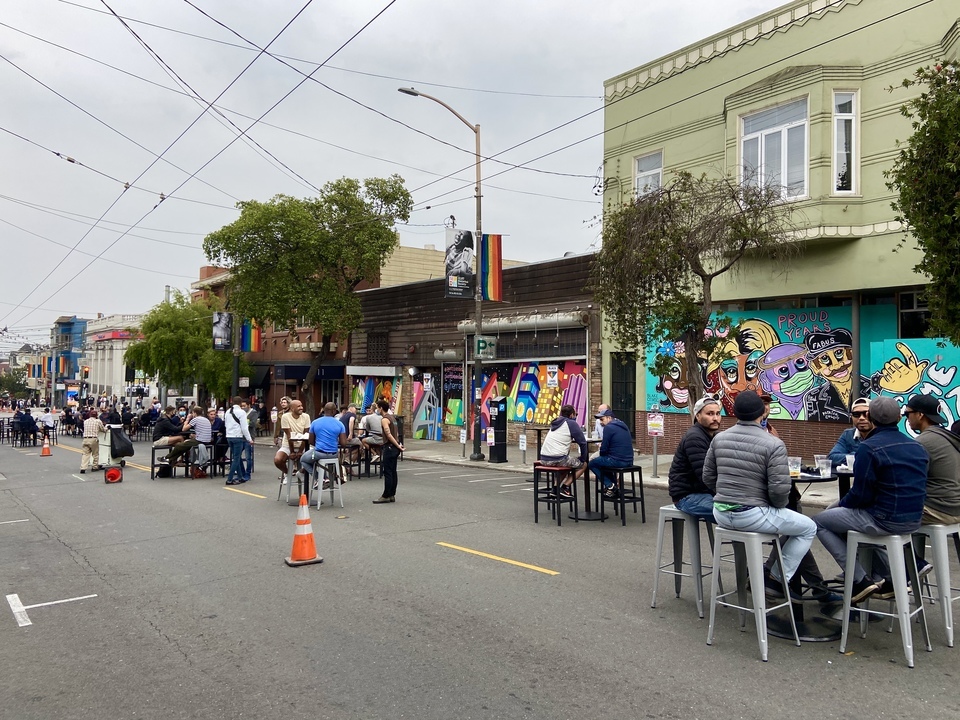 Diners outside The Edge at 18th and Collingwood streets. | Photo: Steven Bracco/Hoodline
During the meeting representatives from local grocery store Mollie Stone's (4201 18th St. at Collingwood) shared their concerns about the street closure reducing foot traffic and driving down revenue. "It's affecting our business," said store manager Taniesha Broadfoot.
"Our sales are being affected on Saturdays and Sundays, our busiest days of the week," said general manager Steve Stamos. "That's really going to hurt us, especially through the holidays."
Samereie told Hoodline he'd been in discussion with Mike Stone, CEO of Mollie Stone's. "What he's asking for is in a way selfish," said Samereie. "The Castro Merchants' job is to promote and support all the small businesses in the Castro footprint."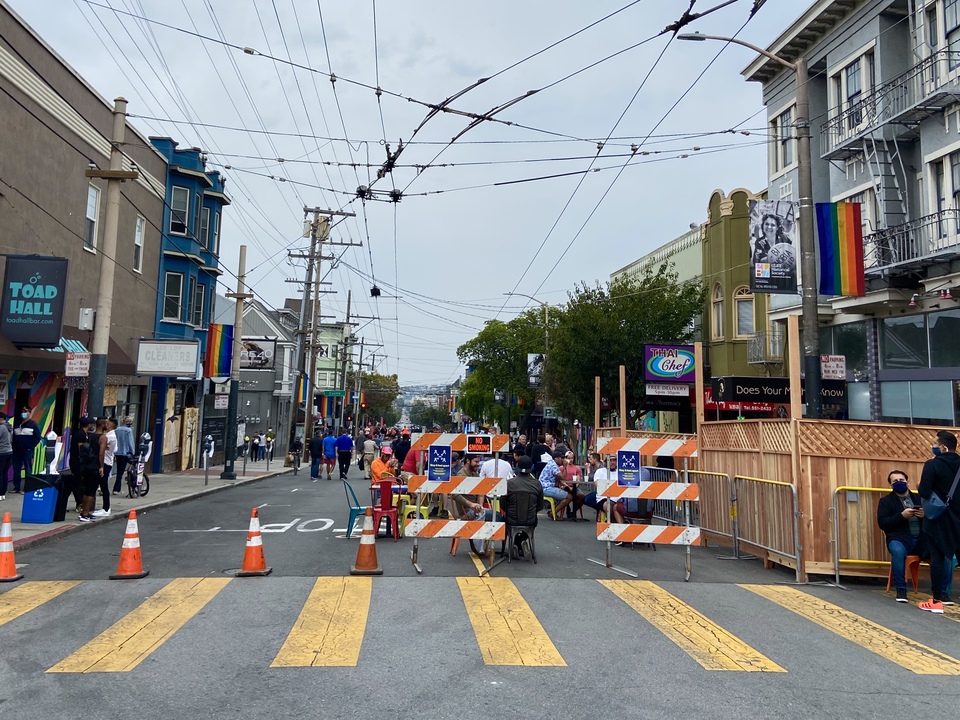 18th St. is closed at Collingwood. | Photo: Steven Bracco/Hoodline
"We're not just here for one business, we're here for everyone," added Samereie. "We look out for everyone's interests."
Samereie says he's personally spoken with a majority of businesses on the 400 and 500 blocks of Castro and 18th streets and they support the street closure.
"They see a difference in foot traffic when the streets are closed," said Samereie. "When the street isn't closed, there is less foot traffic and business."
Update 10/11: At last week's monthly Castro Merchants meeting president Masood Samereie announced that car-free weekends along 18th St. are now on an indefinite hold. "Our permit was suspended last week, not revoked," said Samereie.
"We are proud that our organization exists for merchant members to voice their opinions on the 18th Street weekend closures, which are made possible through the City's Shared Spaces program," said Castro Merchants liaison Nik Blanchet. "The Board feels strongly that during the height of the pandemic, when so many small businesses in the neighborhood were suffering, the 18th Street closure brought much-needed foot traffic to the Castro, which was an economic boon to all our businesses. For some of our businesses, it was a lifeline."
According to Blanchet, at a September 1 meeting about the street closure, multiple business owners were no longer interested in the street closure. "We hear that the vocalized consensus has shifted, and many believe the benefits of weekly street closures has already peaked," said Blanchet. "Therefore, we plan on maintaining an indefinite hold on the weekly 18th Street closures and will allow the permit to remain suspended."
"We are not entirely releasing the permit because we are still very much in a pandemic with constantly evolving conditions," Blanchet added. "We will continuously look for ways to support our local businesses through Shared Spaces and other programs and initiatives."
"The Shared Spaces Noe Street weekly closures remain unchanged," said Blanchet.