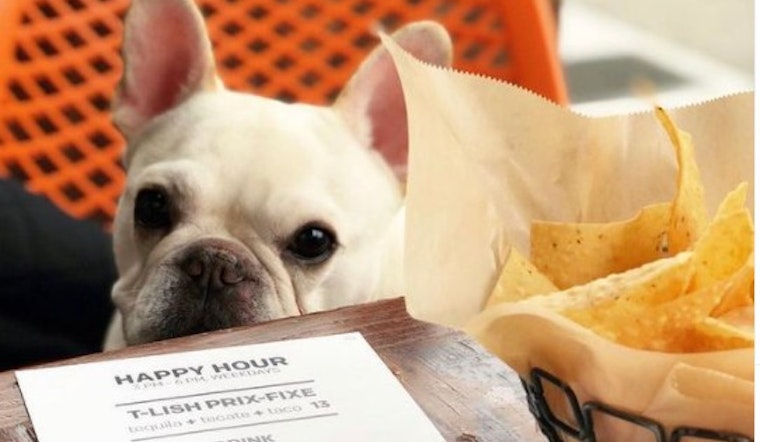 Published on October 05, 2021
Trendy taco mini-chain Tacolicious has really been barking up their hashtag #DogsOfTacolicious on Instagram lately, and we now know what they've been 'pup' to. Eater SF reports that the Marina location is starting up a weekly "Barklet Happy Hour" for dogs, at their outdoor parklet of course, and they may move the recurring event fur-ther out to their Valencia Street and other California locations.
View this post on Instagram
"We already have so many customers who order carne asada (hold the seasoning) for their dogs, so we thought why not?," Tacolicious' director of marketing and branding Sara Deseran wrote to Eater SF.
The doggo meetups will be every Wednesday going forward at the Marina Tacolicious, and may start at other Tacolicious locations too. But as the above post notes, "dogs will be asked to dine floorside."
View this post on Instagram
And dine they may! There will be dog-specific meals served, including unseasoned sweet potato and chicken ($6), unseasoned ground beef ($6), and "churro" chews ($2 a pop). Tequila, Tecate, and of course taco specials will be offered for the human set.
View this post on Instagram
Tacolicious also has their Mission District location on Valencia Street, with other locations in Palo Alto and a SoCal outpost in Manhattan Beach. Regrettably, they did shed a couple other locations late last year, in North Beach and San Jose.
View this post on Instagram
But with regards to the Valencia Street location, they did just today reopen their companion, next-door tequila bar Mosto for a true Taco Tuesday experience. Mosto will be open Tuesdays-Saturdays from 5-11 p.m.