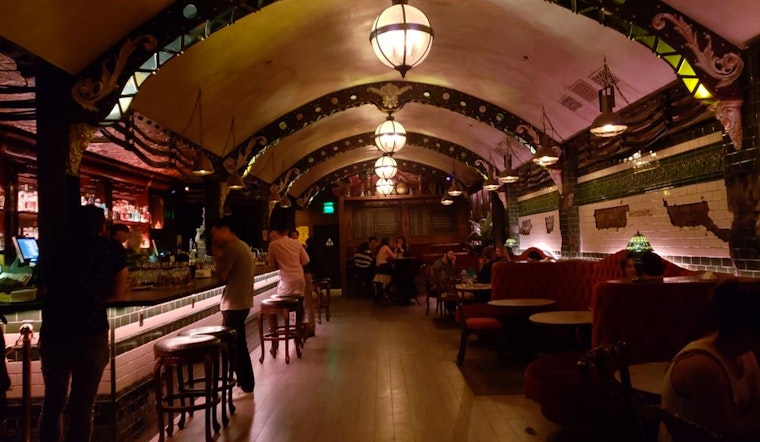 Published on October 19, 2021
Exactly one week from the six-year anniversary of its opening, the Tenderloin's fanciful gin emporium Whitechapel reopens its doors Tuesday night. The place had briefly operated as an outdoor parklet beer garden called the Barbican in the summer and fall of 2020, but the second COVID surge last winter doomed that venture after only about three months. Yet the interior of the steampunk-meets-London Underground station will reopen its doors for the first time since the pandemic hit, promptly at 5 p.m. on Tuesday, October 19.
View this post on Instagram

"WHITECHAPEL OPENS on Tuesday, Oct. 19th!," the bar's management team says on its website. "All new house cocktails and all new food! And a brand new pool table too!"
The gin bar, which at last count had more than 400 different varieties of gin, adds in the above Instagram post that "We have an ALL NEW food and drink menu from our new executive chef Alejandro Reccio and our beverage director Alex Smith that we know you're going to love." That menu is not yet publicly available, but Reccio is a veteran of Valencia Street's Limón, so Peruvian fusion options are likely to be on the table.
But the cocktails are the real attraction here, and Whitechapel is the gin equivalent of the exquisite rum bar Smuggler's Cove, also owned by Whitechapel owner Marin Cate. As we noted when it opened in October 2015, Whitechapel is "a recreation of a historical gin palace, a type of bar popular in London in the early 1800s — gin companies would spend lavishly to create ornate bar interiors bedecked with their brands, to encourage consumption."
And we don't mind pointing out that Whitechapel has probably the nicest bathrooms in the Tenderloin.

Whitechapel is at 600 Polk Street (at Turk), and will be open Tuesdats-Thursdays from 5 p.m.-10 p.m., and Fridays and Saturdays 5 p.m.-Midnight.