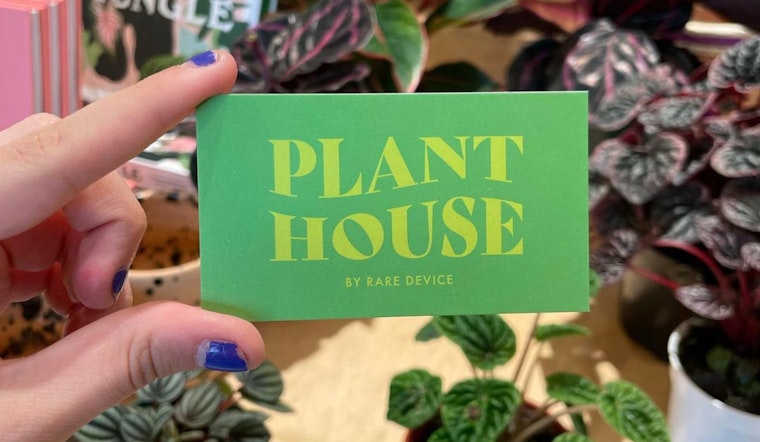 Published on November 03, 2021
Rare Device, the housewares and gift store and art gallery at 600 Divisadero, is opening up a spinoff plant shop across the street later this week called Plant House by Rare Device (505 Divisadero).
It's the first expansion for the Rare Device brand since owners Giselle and Phurba Gyalzen expanded from the Divisadero corridor to Noe Valley in 2014, and subsequently closed the Noe Valley location in early 2019.
"We've been selling plants at Rare Device for a number of years and through selling them, I've grown to love them and felt my confidence grow over time when I've had success in caring for my plants," says Giselle Gyalzen. "The plants at Rare Device have also been such a nice addition to the ambiance at the store, making the space feel even more inviting and calming."
Gyalzen adds, "Our hope [with Plant House] is to offer the public a place of aspiration, inspiration and creativity. A place where people can come together to plant ideas and see them grow and take shape."
Gyalzen and her husband bought Rare Device from founders Rena Tom and Lisa Congden in 2011, and have been operating the store and gallery ever since. Born in the Philippines, Gyalzen moved to the Bay Area for college at the young age of 16, and she's been here ever since. She says her primary focus with the brand is "to share my love of well-designed and functional things with the world."
She tells Hoodline that she's especially excited about a big ruffled fan palm (a.k.a. Licuala Grandis) that they have in the store, and her current favorites also include begonias.
As for inspirations and influences around the Bay Area, Gyalzen says, "I love visiting Paraiso in Berkeley whenever I'm in the area," and, "Of course, a visit to Flora Grubb's wonderful space is always so inspiring for me." And she adds that Blk Girls Green House in Oakland, the store owned by Kalkidan Gebreyohannes and J'Maica Roxanne, has been an inspiration along with their Instagram account.
Plant House by Rare Device opens on November 6 in the former San Franpsycho space, and it will also feature housewares, art, and other gift items like the parent store. The shop will expand Rare Device's existing selection of houseplants and gardening goods, and will also feature a potting area.
On opening day on Saturday, the first 30 customers to spend $50 will get a free gift with purchase. In the meantime, you can follow Plant House on Instagram.