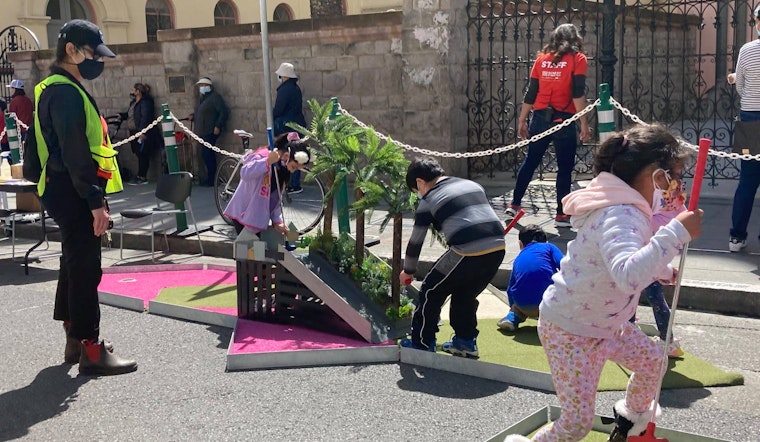 Published on November 05, 2021
Tomorrow, Saturday, November 6, a group of residents and advocacy groups will march through the Tenderloin to amplify a call for long-overdue efforts to improve safety for families, kids, and residents in the neighborhood.
On September 29, 2021, an 11-year-old girl was walking a younger sibling to school when they were attacked by someone clearly suffering from mental health issues. The older sibling was sent to the intensive care unit of the hospital for her injuries.
Less than two weeks later, six gunmen opened fire at 8:30 p.m. in the intersection of Golden Gate and Hyde streets, spraying 30 to 40 rounds of ammunition in a still-crowded neighborhood where families were walking home from nearby playgrounds, exercising themselves and their dogs, or visiting elderly residents. At least four people were injured, but the incident received little media attention.
In response, the Tenderloin Community Benefit District (TLCBD) and partnering neighborhood advocacy groups held a virtual meeting with District 3 Supervisor Aaron Peskin and District 6 Supervisor Matt Haney's offices, several city agencies, and Tenderloin residents. The intent was to raise increasing concerns from residents that the neighborhood's safety is deteriorating.
"There were many residents, especially from a typically underrepresented community," TLCBD director of neighborhood pride Christy Shirilla said. The children that were attacked in September were relatively recent refugees from Yemen, and there is a large population of Middle Eastern refugees in one of the nearby supportive housing units that provides lower-cost residences to families in the Tenderloin. Shirilla said the attacks on those young children, combined with the mass shooting, really expedited the creation of a neighborhood-wide effort seeking to improve safety. While the focus is on kids and families, the residents and advocates are seeking improvements for the benefit of all Tenderloin residents.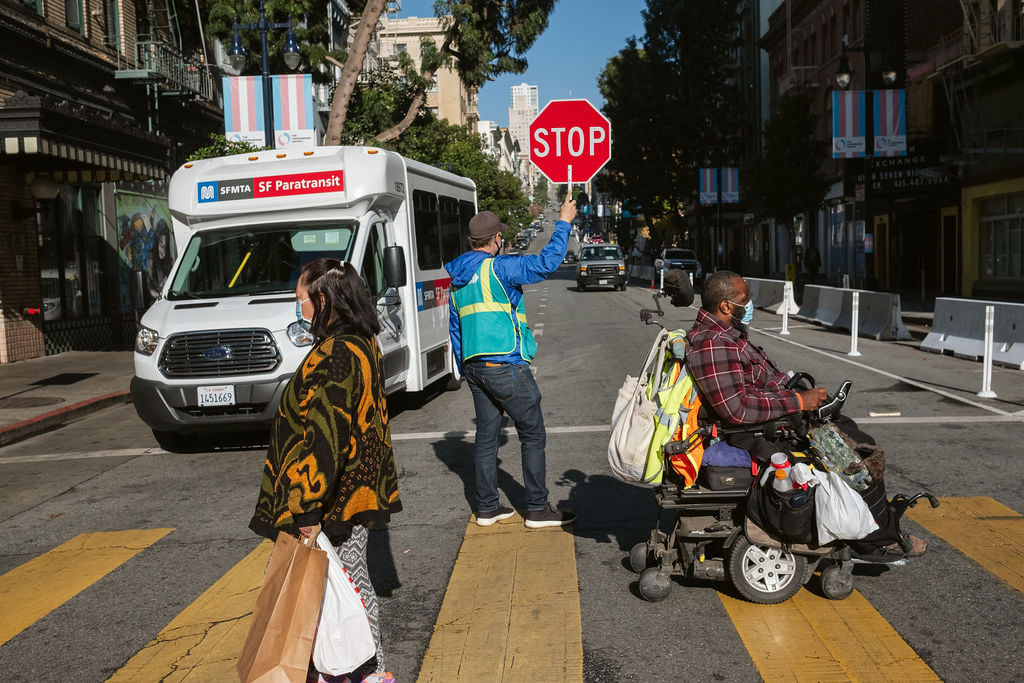 A TLCBD volunteer helps residents cross a busy street safely | Photo: TLCBD/Facebook
Families, local residents, mothers from La Voz Latina, and small business owners are organizing a march for Saturday, November 6, and circulating an open letter to Mayor London Breed seeking a multi-agency, consolidated effort to address the emergency conditions in the Tenderloin.
"We are immigrants and refugees," the open letter to Breed starts. "We are children and mothers and fathers. We are small business owners and the people San Francisco claims to respect and protect and celebrate. We are the Tenderloin and you have failed us."
"We're continually hearing from people saying 'I've lived here for 30 or 40 years and it's never been this bad,'" Shirilla said. While there are community ambassadors from Urban Alchemy patrolling the streets from 7 a.m. to 7 p.m. daily, there is still clearly a gap in oversight and it should be addressed from an executive level, she added.
The march on Saturday will start at La Cocina Municipal Market, at the same intersection where the mass shooting occurred, at 11:30 a.m. There will be a poster-making station indoors (vaccines are required to enter La Cocina) and also poster-making supplies available outdoors. Attendees will march to City Hall at noon, then hear from three resident speakers who have volunteered to voice their concerns.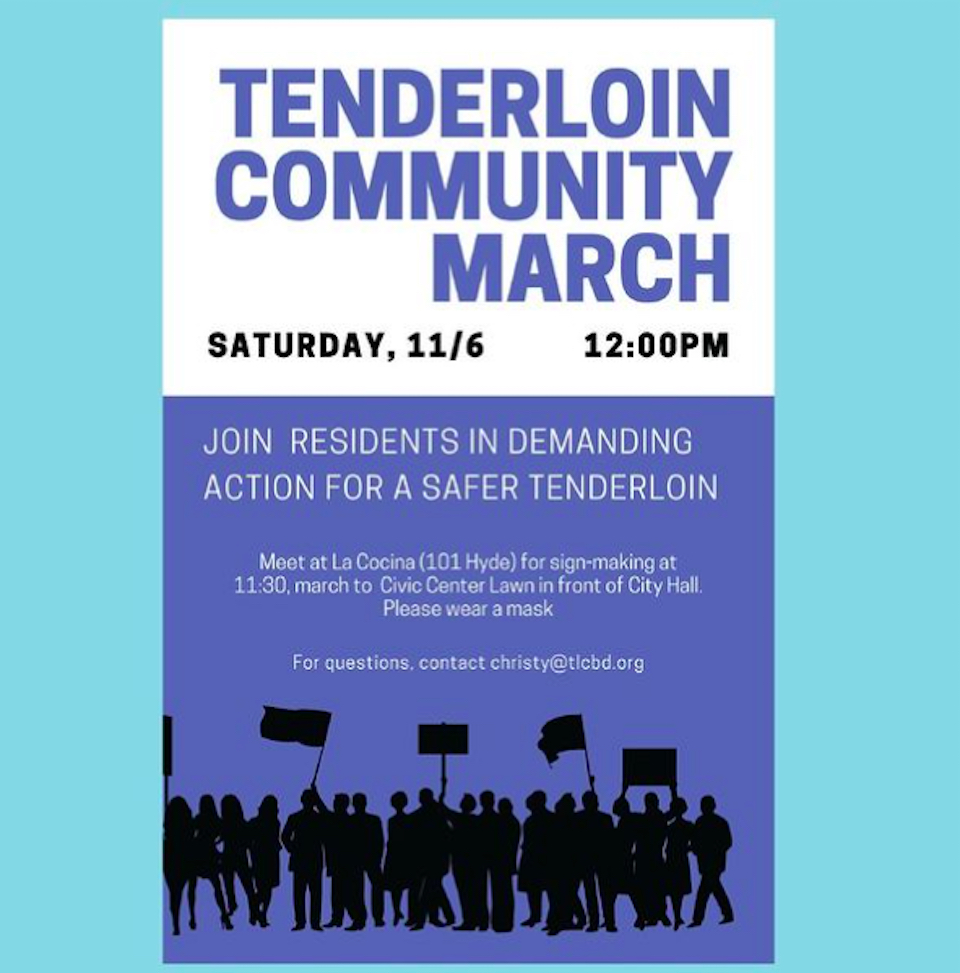 Image: TLCBD/ Instagram
Margarita, who has lived in the Tenderloin for over 16 years, will be one of the three residents speaking at City Hall tomorrow. Her daughter walks her granddaughter to school through the Tenderloin every day.
"Like most children who live in the Tenderloin, my granddaughter is scared to walk outside," Margarita will say in her speech tomorrow. "Living in fear of going outside should not be a concern for any child, but here in the Tenderloin, it is a reality that our youth live."
Residents and advocates that haven't yet signed the open letter to Breed will have the opportunity to at the march tomorrow, as well.
In the meantime, local organizations are still rallying to support Tenderloin residents, especially the children, Shirilla said.
"The District 3 office staff helps walk kids home from school one day a week… and the D6 office will be walking kids to school on Monday," she said. Code Tenderloin has also organized a "walking school bus" to help kids to and from school safely, despite its typical focus on training children to be technologically savvy.
"I am just helping to organize," Shirilla said. The community continuously steps up to support each other, she added. The TLCBD itself offers Safe Passage, which helps guide kids' commutes to and from schools, and advocates for additional pedestrian safety and improved public transportation access throughout the neighborhood.
"We have been treated as a containment zone for decades and it is time to stop," the open letter to Mayor Breed reads. "We know you did not cause the conditions in the Tenderloin, but we demand you put an end to them. We need you to treat this like an emergency."