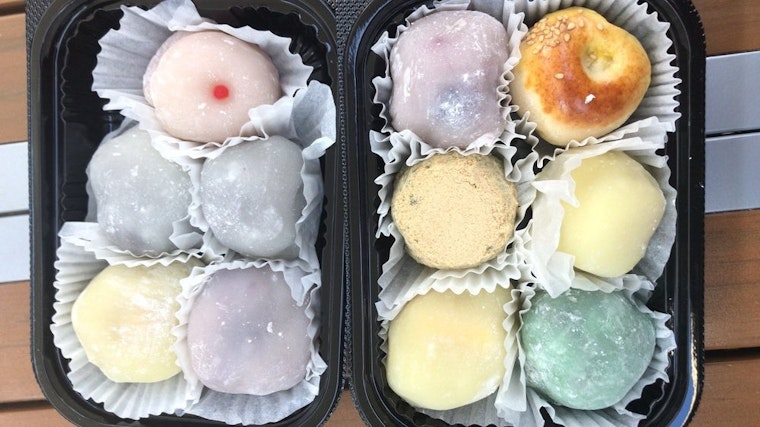 Published on January 13, 2022
When we reported last month on the closure of Benkyodo Company, the handmade mochi shop that's been operating in Japantown since shortly after the 1906 earthquake, we pointed out that after the New Year's break, the shop's website said they'd be open a little longer, declaring, "We will reopen with our normal operating hours on Tue, Jan 11 for walk-ins only."
So the Chronicle popped by the morning of Tuesday, January 11. They found "a line of eager fans stretched all the way down the block — some waiting as long as two hours." But they found something even more important than that. Namely, that Benkyodo Company would not be closing in the immediate future, but instead remaining open until March 31, 2022.
When KPIX broke the news of the closure in late December, they reported that third-generation owners Bobby and Ricky Okamura were retiring, but "hope someone will buy and take over the business." There are no developments on that front yet, but you still have another two-and-a-half months to buy the sweet rice confections. Payment is cash-only, and you cannot phone or email orders in advance.
The fascinating, 115-year story of Benkyodo Company is retold in a KQED profile from May 2021. The shop originally opened nearby on Geary Street and its first owner Suyeichi Okamura would be sent to a Japanese internment camp in 1942. He asked neighbors to run the ship for him, not knowing if he would return. But he and his wife did return three years later, and handed the shop to their children, who then handed the place down to their own children.
"Benkyodo's history is of survival and triumph against all odds," one of the first people who lined up Tuesday morning told the Chronicle.