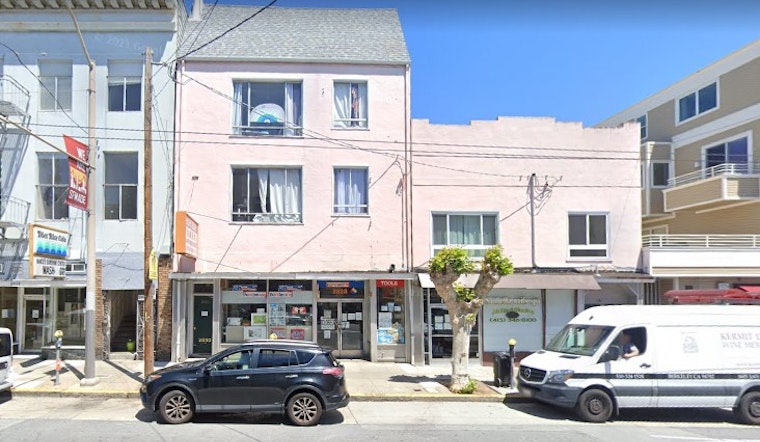 Published on January 05, 2022
It's been an incredibly busy week at the Pacific Heights True Value Hardware at California and Divisadero Streets, but the reason for that has nothing to do with shop-vacs, ladders, or propane tanks. It has everything to do with avocados, as the Chronicle reports the store's new owner found a giant avocado tree fruiting in the backyard and is rewarding customers with free avocados, pitting his shop with a sudden surge in popularity.
Behind a hardware store in San Francisco, a tree estimated at nearly 50 feet tall is bearing softball-sized, lime green avocados.

When free fruit from the tree was offered up online, the floodgates to a flurry of excitement were unexpectedly opened.https://t.co/hXhYCimZgs

— San Francisco Chronicle (@sfchronicle) January 4, 2022
"I think we have the biggest avocado tree in the USA located in the heart of Pacific Heights," the shop's new owner Ammar Swalim posted to Nextdoor on Sunday. "All neighbors eat (them) and they are tired of eating so much avocados."
Needless to say, his shop has been swarmed with avocado enthusiasts in the days since. "They're excited. They're happy to have free avocados," Swalim said of his newfound customer base.
Swalim has been collecting the avocados that fall each morning and giving them away, but there seems to be plenty still falling.
There is a conception that the San Francisco microclimate is too cold to grow avocados, but there are rare situations where the trees can flourish. In the case of this tree, its yard is surrounded by taller buildings, so it gets all of the sunlight and very little wind.
Arborist Gary Gragg of the nursery Golden Gate Palms estimates the tree to be between 40 and 100 years old, and figures the tree is of a rare lineage that is probably nearly extinct.
"A lot of these really old trees came from a much larger genetic bank of possibilities than what people are throwing out in their backyards today from seed," Gragg told the Chronicle.
So if you're an avocado fan, do some shopping at the Pacific Heights True Value Hardware store, and get yourself a free avocado or two. And don't throw out that pit. Throw it in your backyard, and see what happens in another 40 to 100 years.