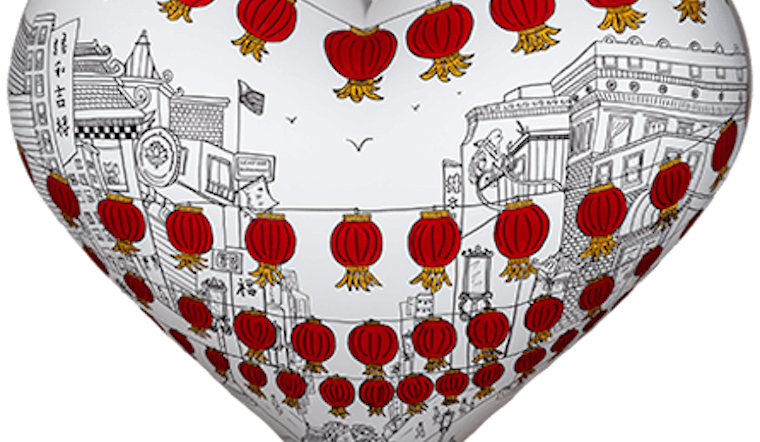 Published on January 21, 2022
The five-foot-tall, six-foot-wide, 400-pound Hearts in SF are a San Francisco Valentine's Day tradition, and despite the pandemic, those hearts were still out in 2021. And another new batch will be back for 2022, as the San Francisco General Hospital Foundation has just put out a set of sneak preview pictures of what the 2022 Hearts in SF hearts will look like.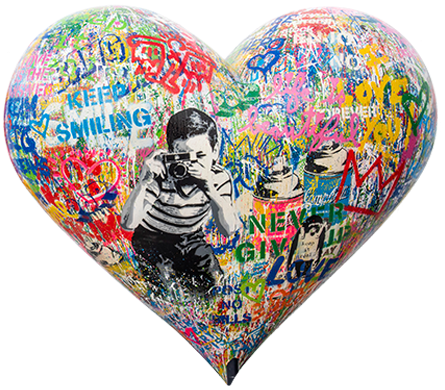 Image: sfghf.org
And above we see that this year there will be a heart designed by Mr. Brainwash, the protégé of street artist Banksy featured in the 2010 Best Documentary nominee Exit Through the Gift Shop. The foundation has not yet announced where this heart will be located, nor any of the hearts' locations — yet.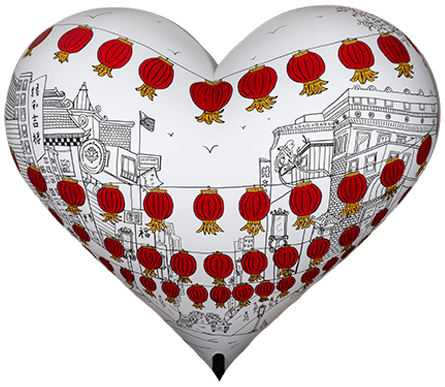 Image: sfghf.org
But it's pretty fair to speculate that the above heart "Chinatown Live" by Michele Bell will end up being located in Chinatown, if not right by the upscale restaurant China Live. There will only be four large hearts about town in 2022, just as the 2021 version was scaled back with only six.
View this post on Instagram
The hearts are sold as a benefit for the foundation, and of course, most of us cannot shell out the $50,000-$100,000 generally required to buy the 400-pound giant hearts. For us, there is a smaller and more modestly priced variety called a Table Top Heart, which are 25 inches in height. Arnaud Ghelfi's heart "San Franswissco" seen above is one of these, and they will also be displayed publicly at a site yet unannounced.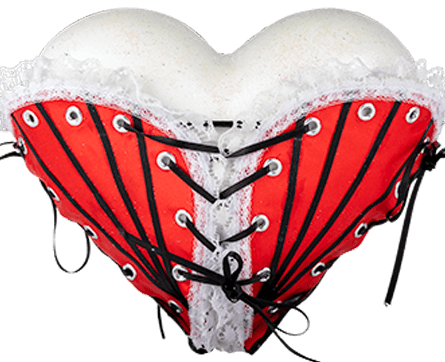 Image: sfghf.org
A still-smaller variety of heart called Mini Heart will be available, like Teresa Moore's clever "Of Coursets San Francisco," which does literally come dressed in a corset.
All of these hearts and their locations will be unveiled in a livestream called the 2022 (Virtual) Hearts in SF Gala on Thursday, February 10, 2022, from 6 p.m. – 7 p.m. The show is free, and you can register online at www.heartsinsf.org.