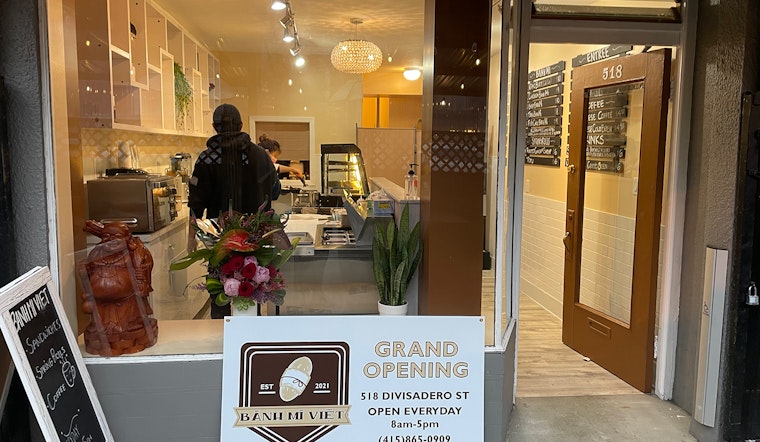 Published on January 07, 2022
A new banh mi shop, Banh Mi Viet, has quietly opened at 518 Divisadero, in a former beauty salon, offering both banh mi sandwiches and a couple of Vietnamese entrees as well.
The shop has a concise menu for takeout, with five banh mi options ranging from $8 to $10: dac biet (cold cuts), chicken, beef, tofu, or fish cake. There are also chicken, shrimp, or tofu spring rolls ($6), as well as a beef and vermicelli noodle entree and a chicken entree. There is also Vietnamese coffee, tea, cold brew, and pressed juice on offer.
For now, Banh Mi Viet is only operating during daylight hours, from 8 a.m. to 5 p.m. daily — and their grand opening sign wasn't even yet mounted when Hoodline stopped by on Thursday, with the awning still bearing the name of the former beauty salon. There does not appear to be any delivery option yet available by third-party apps.
The Divisadero food scene has gained several new offerings in the last two years, including Hina Yakitori (808 Divisadero), Hah Dough Bakery (1221 Fell St.), Sunset Squares Slice Shop (553 Divisadero) — in the former Namu Stonepot space and run by the same owners — and next-door competing pizza shop Pizzadero Slice House (559 Divisadero).
Coming soon, just off Divisadero at 1263 Fell Street, is Schlok's Bagels. Hoodline reported last spring on the coming bagel shop, which grew out of a pandemic-era pop-up, but the space remains under construction. The website promises an "early 2022" opening.