The long-awaited cocktail lounge and restaurant Lobby Bar (4230 18th St.) opens today on the ground floor of The Hotel Castro.
Lobby Bar is operated by gay sports bar Hi Tops co-owner Jesse Woodward, and his business partner Blake Seely.
Hoodline broke the news about the forthcoming Lobby Bar in June 2020. On Tuesday night, Lobby Bar hosted a soft opening ahead of its grand opening Wednesday, in order to make sure everything was running smoothly.
Hoodline readers will recall the boutique 12-room Hotel Castro opened at the end of 2021.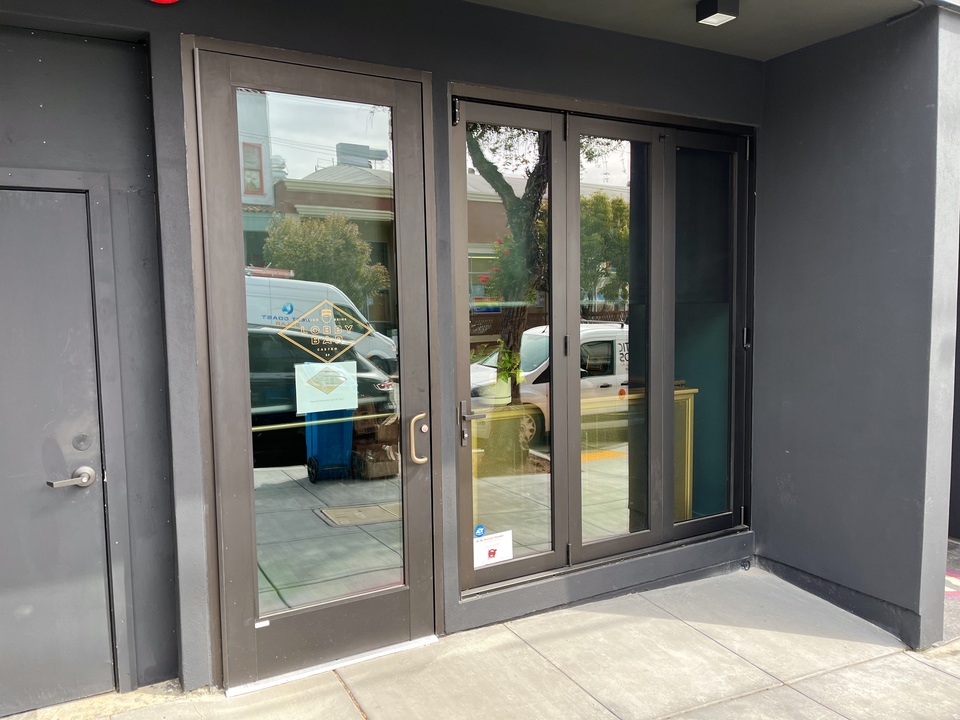 Lobby Bar opens today at 4230 18th St. | Photo: Steven Bracco/Hoodline
Woodward tells Hoodline the project was more than two years in the making after signing the lease in October 2019.
Since that time, Woodward, Seely, and the Lobby Bar team have built out the space and developed the food and drink menu.
"We're excited now that we're open," said Woodward. "New construction is always difficult and Covid on top of it threw everything for a loop."
With no real lobby, Lobby Bar has taken over the retail space below Hotel Castro with seating for approximately 50 customers.

Banquette seating upfront at Lobby Bar. | Photo: Steven Bracco/Hoodline
Customers are greeted with banquette seating upfront, an eight-seat bar, a nook with a handful of tables, and additional two-person tables across from the bar.
The interior was designed by Jon de la Cruz (de la Cruz Interior Design), who also designed Divisadero restaurants Che Fico and Che Fico Alimentari.
"It feels great to have real furniture in and everything to finally be in place," said Seely.
Woodward, who's called the Castro home for over 20 years, said he opened Lobby Bar in the neighborhood because "we both wanted to do something gay-focused in the gay neighborhood, that's gay-owned and operated."
"Even if it's not the typical Castro bar, we felt like there was a need for something different," added Woodward.
"We wanted a place that we would go to have good food and drinks," said Seely who lives in Bernal Heights.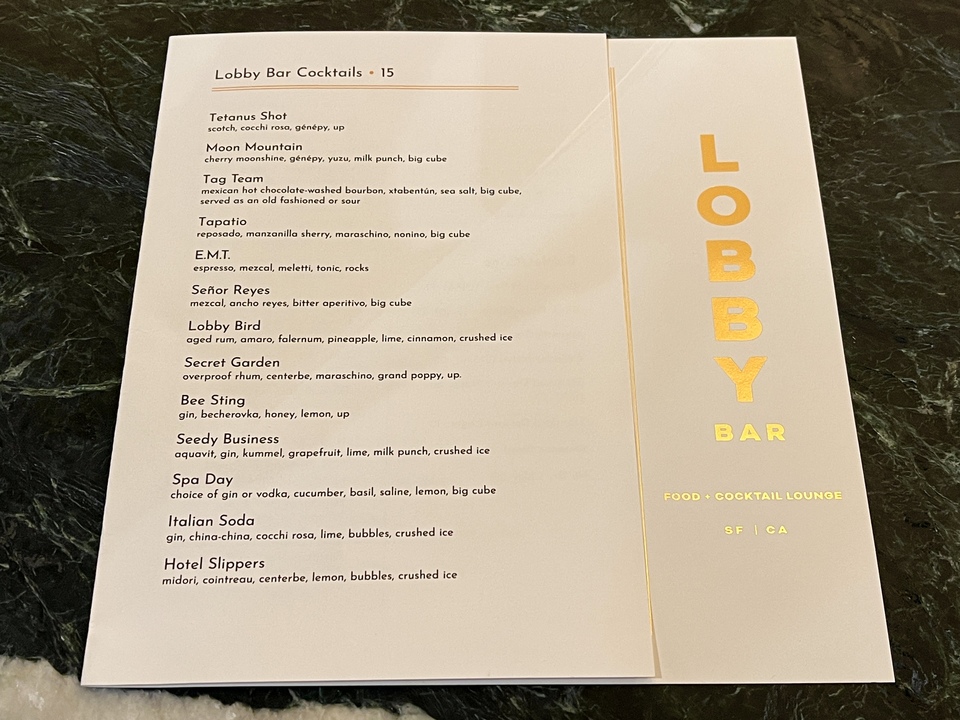 Lobby Bar's cocktail menu. | Photo: Steven Bracco/Hoodline
Lobby Bar's cocktail menu was developed by general manager Kelly Corso (Hi Tops) and consists of 13 craft cocktails. All of Lobby Bar's signature cocktails are $15.
"It's a seasonal menu," said Corso. "We plan on having things that people don't necessarily recognize off the bat, but it's palate-approachable."
"So it might be scary to have a moonshine cocktail," added Corso. "But when you try it, the cocktail has a great balance."
Cocktail menu highlights include the Moon Mountain (cherry moonshine, génépy, yuzu, milk punch), Seedy Business (aquavit, gin, kummel, grapefruit, lime, milk punch, crushed ice), and the Lobby Bird (aged rum, amaro, falernum, pineapple, lime, cinnamon, crushed ice).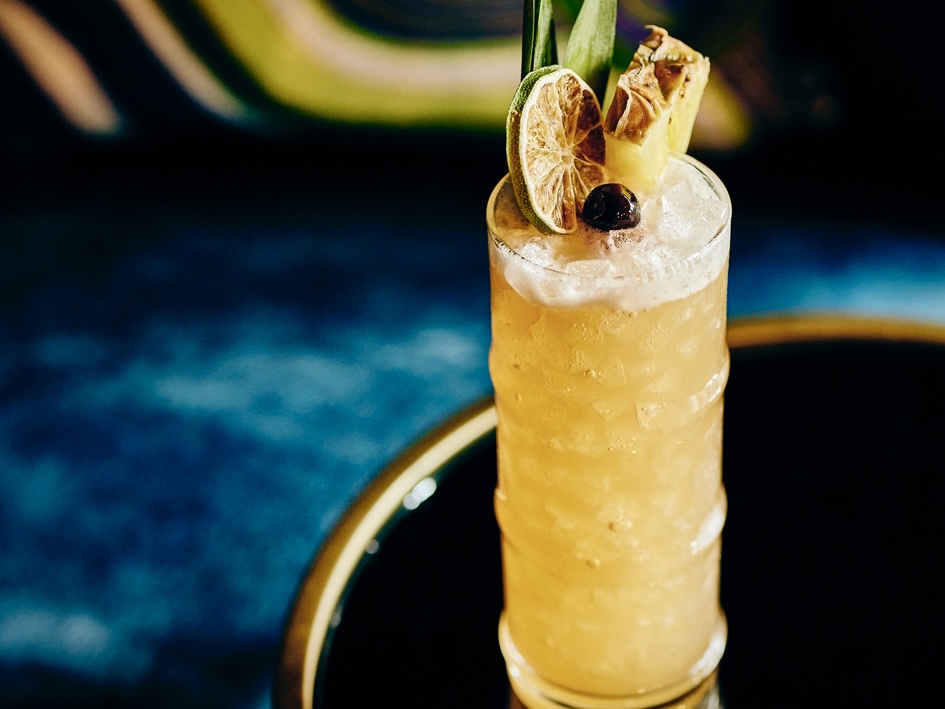 Lobby Bird cocktail at Lobby Bar. | Photo courtesy of Lobby Bar
Woodward explained that all the cocktails will be easy to assemble so people can quickly get their drinks. Customers will also be able to order their drinks and food from servers while they are seated.
Additional drink options include bottled and canned beer and a selection of sparkling and natural wines.
Woodward said the food menu contains a variety of options that are meant to be shared.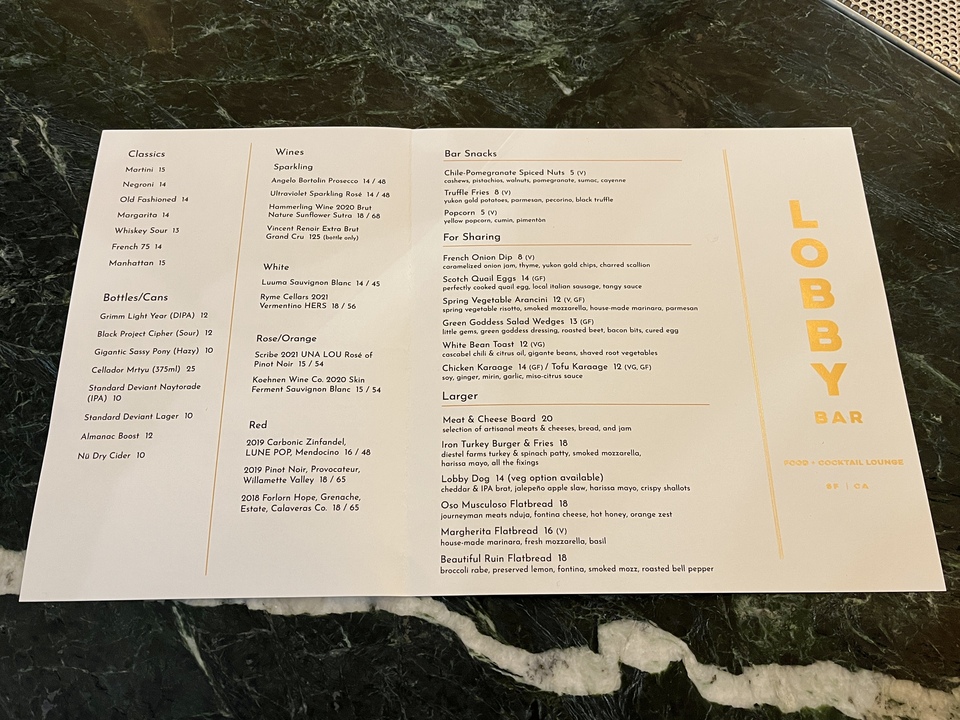 Lobby Bar's food menu. | Photo: Steven Bracco/Hoodline
"Some of our original design was Castro 70s, so we started with food there," said Seely. "From there, the design evolved in a bunch of different directions."
Seely said some of the food highlights were the Chicken Karaage ($14), Scotch Quail Eggs ($14), Green Goddess Salad Wedges ($13), and the Iron Turkey Burger & Fries ($18).
In the coming months, Woodward said Lobby Bar will also be adding sidewalk Cafe Tables & Chairs along with a Shared Spaces Program platform once they get settled in. There's also the possibility of hosting events and parties on Hotel Castro's rooftop deck in the future.
Lobby Bar will be open Mondays-Thursdays from 4 p.m. to midnight, Fridays from 4 p.m. to 2 a.m., Saturdays from 2 p.m. to 2 a.m., and Sundays from 2 p.m. to midnight.