Thanks to a recently passed law, you can't just open a new business in San Francisco if the place used to be a laundromat.
Last October, the SF Planning Commission passed a set of laundromat protections, responding to the fact that a third of San Francisco's laundromats had closed over the last eight years. Any business hoping to open in a space that had been a laundromat now needs to get a special conditional use permit to do so, a policy that hopes to preserve SF's remaining neighborhood laundromats.
But what if the laundromat has been closed and vacant for four years? The same rules still apply. The former Everyday Cleaners at Divisadero and Golden Gate Avenue, which has been shut down since 2018, needed a special permit from the Planning Commission to reopen as a new dispensary called Obsidian SF.
On Thursday, the new dispensary got that approval. The Planning Commission unanimously approved a "Conditional Use Authorization to remove a Laundromat use" so the Obsidian SF cannabis dispensary can move into 1017 Divisadero Street.
Owner Alex Asefaw actually grew up near Divisadero Street. "Being born and raised in the neighborhood, I have a certain understanding and connection with this place," Asefaw told the Planning Commission. You may know Asefaw's father for a string of restaurants he owned in Oakland.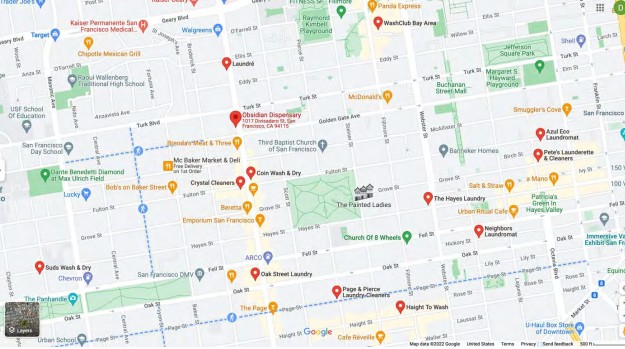 Image: SF Planning Department
Even though the laundromat has long been closed, the commission still had to consider whether or not the neighborhood had a laundromat shortage. They concluded there is no laundromat shortage, with two other open and functioning laundromats within 600 feet of the storefront.
Moreover, no one wants to put a laundromat there. "The current property owner Karen Maxwell indicated that when she purchased the building in 2018, the laundromat was not operational," according to documents submitted to the Planning Commission. "Ms. Maxwell also stated that no one has expressed interest in leasing and renovating the storefront as an operational laundromat for the past four years since she has owned the building."